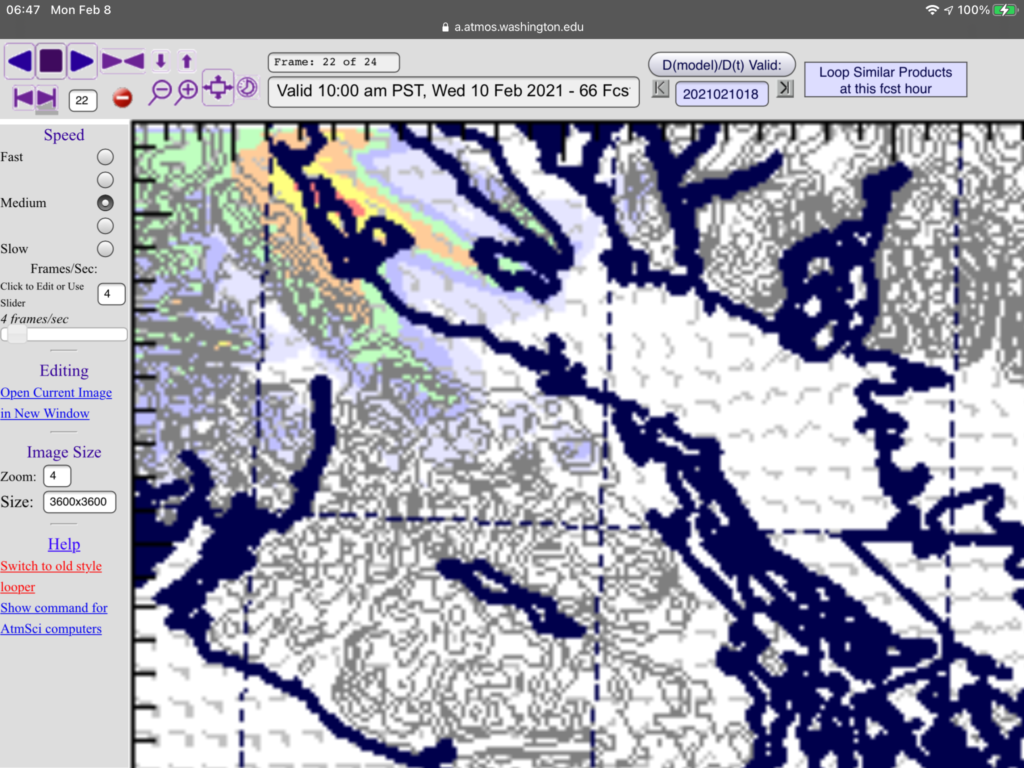 It's below freezing again this morning and it's going to be well below freezing all week all across the Island. The good news is the cold dry air should release us from the fog and least part of the time especially as we get colder midweek.
Expect lows down to minus 9°C on Wednesday and Thursday morning. Windchills may make it feel below -10 particularly on the East side of the Island.
Strait effect snow Wednesday
The models shows pockets of strait effect snow starting to pop up overnight Tuesday and into Wednesday morning as outflow starts to pick up out of the mainland Inlets.
The Parksville/Qualicum and Errington areas look to be the targets first between 10PM Tuesday and 1AM Wednesday.
Then it develops into a line that stretches north toward Bowser, Hornby, and across the Strait to Texada in the 1-4AM period.
Notice the strong (cold!) winds coming out of Howe Sound (top right box) in this picture as well. Considering that those winds are directed squarely at the South Island and Gulf Island there is possibility of snow there too but the air might be too dry to support it.
More widespread and stronger snowfall starts up after sunrise Wednesday for areas on the east side north of Qualicum as well as into Cumberland and possibly flurries reaching into the Alberni Valley.
It will also stretch into the mountain passes including possibly Sutton Pass.
Dry for the foreseeable future.
After the minor brush with snow on Wednesday the models are dry FF or the remainder of the week and into next week. Hopefully that also means sunny for Port Alberni but as we warm up toward lows closer to zero by Sunday expect the chance of fog to rise as well.
Happy Chilly Monday!