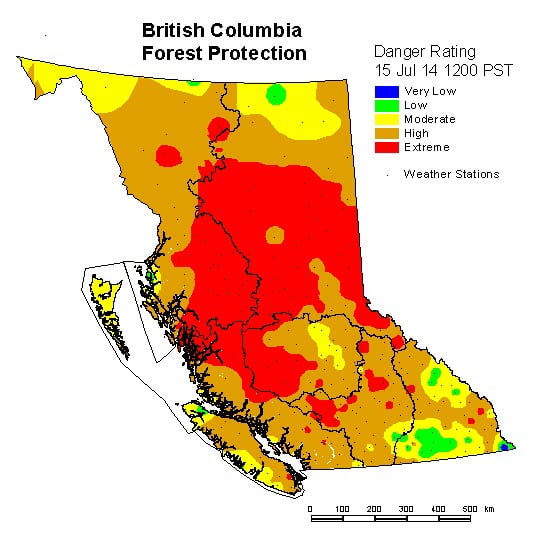 UPDATE 7PM:
The fire rating has officially moved to Extreme for the Valley. The entire Island is now at least Moderate. You can see the difference between yesterday and today's fire rating picture below.
This is today's.


This is yesterday's
Update 12PM
The Coastal Fire Centre has issued a campfire ban that will start tomorrow, Thursday July 17 at Noon.  Please be careful out there!
Summary:
The heat wave is ending. There might be scattered showers Friday night or And through the weekend but not much in our immediate area.
Details:
We only just got over 30°C yesterday. We should do the same today but this will mark the end of our heat wave.
It will cool to the mid-twenties starting Thursday and Friday night we have a chance for some rain on the west and east coast of the Island but it doesn't look like we will get any here.
Here is the chart for rainfall between 5AM Friday/Saturday. Notice the dry pocket here in the Valley.
Most of this rain will fall between 11PM Friday and 5AM Saturday. Perfect for the gardens. But there will be showers across the Island through Saturday and into Sunday.
Wildfire risk in our Valley will go to Extreme at any time. A Campfire ban might follow. Here is the current fire risk map.

Most of the Island is currently in the High rating.
The Valley (measured at Beaver Creek) is forecast to go to extreme (5) today.
They will update the ratings this afternoon and I will update this post if our rating goes to extreme or any other important messages are issued. The weekend moisture on the coasts might save us from having a total campfire ban imposed until after the weekend, but we will just have to see what comes of that rain.
Next week looks pleasant again. The showers will clear out Monday and we should be back to warm weather, though not as crazy as this past week.