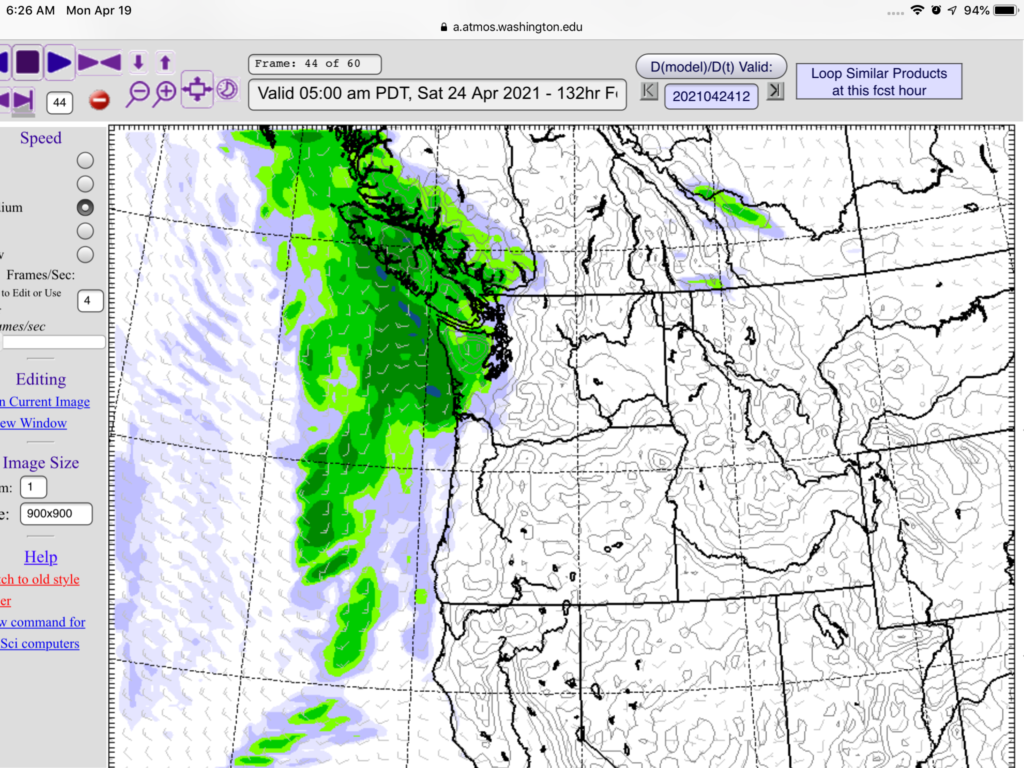 Record breaking days ending
As you might imagine we have had several record breaking days as we moved through our first heat wave of 2021. The airport broke high temperature records on April 14, 15, 16, and 17. We were close yesterday but were 1.8°C short of the 27.9°C record.
Monday and Tuesday mostly sunny but with clouds.
It should still be mostly sunny to start the week but it we might see some fog in the morning and there will be some clouds Monday evening. Highs will drop below 20°C on Wednesday and Thursday but it will still be pleasant and dry.
Dry until Saturday.
There is no moisture in the models until Friday night when a system moves over the Island and delivers rain for Saturday morning and through Saturday night.
Since this is towards the end of the forecast period though, we'll wait before making any predictions on amounts and things.
Anemometer and station to be replace.
Yesterday I was able to do some testing and determined that I will need to replace both the anemometer and the remote transmitting station it plugs into. The anemometer spins and produces data but it has a recurring squeak which indicates a bad bearing. The transmitter station, however, appears to be dead. Since both are more than 10 years old, I will just replace them both. They're about $150 each. I have a few things I am going to sell online to fund the replacement but donations by etransfer to alberniweather at gmail.com or chris.alemany at gmail.com are appreciated :). I expect it'll be a few more weeks before new hardware will arrive.
Happy Monday!