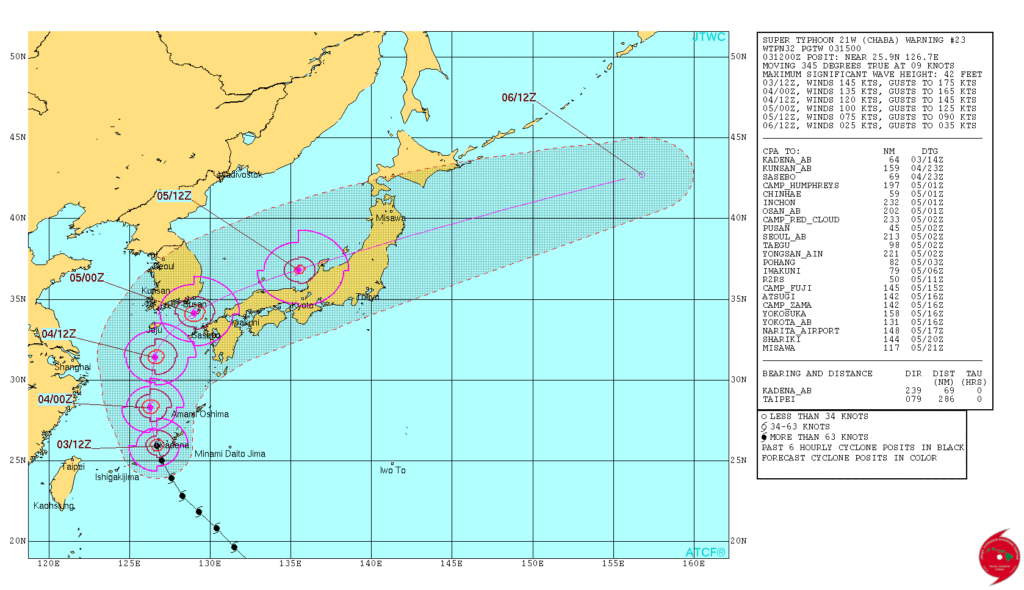 We have many things to be thankful for here in Port Alberni on Vancouver Island, and one of them is not having to worry much about things like Major Hurricanes.  As beautiful as they are to watch from above (check out Matthew's eye "breathing") they are ridiculously powerful.
Interesting to watch the eye of Matthew expand and contract (via @UWCIMSS https://t.co/5zdWTgiWS2) pic.twitter.com/OrrMcYCSoK

— Radiant Solutions | Weather Desk (@Radiant_Weather) October 3, 2016
Here is another great bit of data from an ocean buoy that rode out the hurricane perfectly. (80knots = 150kph)
Hurricane #Matthew made a rare direct hit on a buoy in the Caribbean, NOAA buoy 42058 located near 15N 75W, and survived. @NOAA @NHCDirector pic.twitter.com/lnYiNzXT7C

— NHC Atlantic Ops (@NHC_Atlantic) October 3, 2016
This category 4 hurricane is going to have a potentially large impact on Haiti, eastern Cuba, and the Bahamas.
On the other side of the world, Typhoon Chaba is sweeping south of Okinawa, Japan and north of Taiwan.
Chaba will curl through Japan and then its remnants will head on over in our general direction by Thursday.
For us here in God's country, we can only expect a little rain this evening and then again Tuesday midday and through the afternoon and evening.
We should have a fairly dry 2nd half of the work week but Friday and the Thanksgiving weekend look pretty soggy and wouldn't you know it? By Monday we start to see remnant energy from Hurricane Chaba.
Check out the progression below.  EX-Chaba appears in the first picture in the top left corner in the Aleutians.  Watch its energy whip and gather moisture as it heads West.
Weather is cool.  Happy Monday!