The driest and warmest place in Canada (today) is Tofino.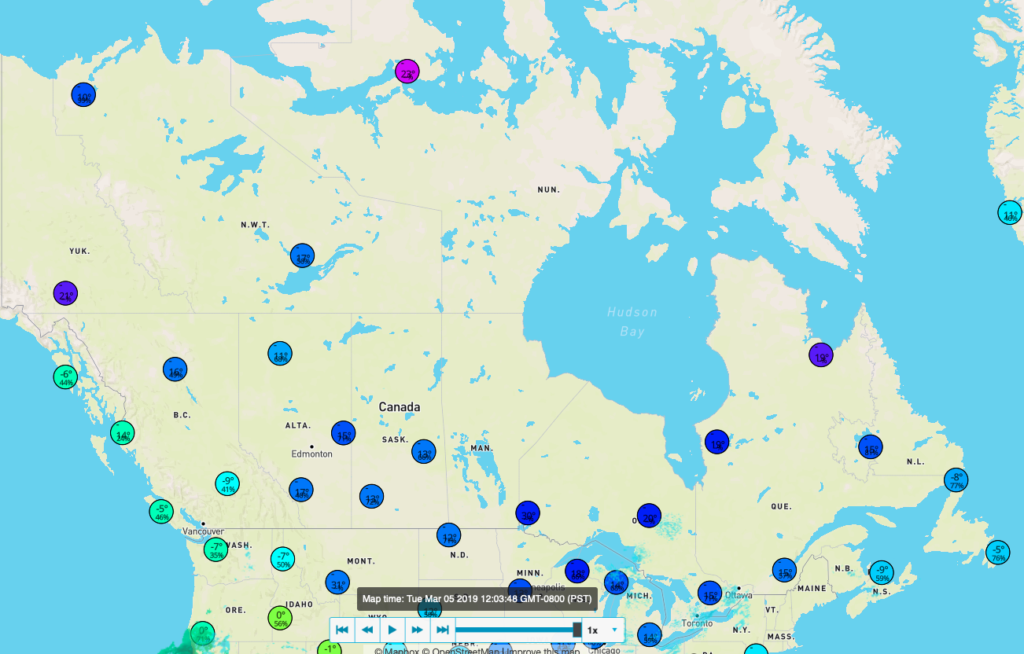 This wasn't my idea.
I was inspired to write this after reading Cliff Mass's blog today of the same sort about Seattle. So credit where credit is due!
Fun fact: Port Alberni and Tofino and other Island locations are among the driest places in North America today.
After reading that Seattle had the driest air in the USA, I had to see if the West Coast of Canada was similar, and it turns out indeed it is. The map is from Weather Underground…. bluer colours are wetter, greens and yellows are dry.
Most of the country is around 50-60%. But zoom in on southern BC and we see a pretty clear picture of where the dry air is.
The driest? Port Alberni is not far. This station is currently reporting 32% relative humidity, the Airport is reporting 29%.
You can see the same information on the Islandweather stations. Humidities are around 30% all over the west side of the island. Dididaht school actually has the lowest right now on their system at 28%.
But the title of driest place in the Country goes to Tofino:
It's not only a very pleasant 11ºC (7ºC at the Tofino Airport) it is also extremely dry at just 20% humidity. Tofino airport is reporting 28% (at 12PM). A quick scan around the continent reveals this is probably the driest spot in North America right now. Whodathunk!
Why is it so dry? Cliff Mass has a great explainer and a nice little graphic. Go check it out… but basically, prevailing winds are currently blowing from the east, off of the Continent. As they travel down from the Rockies to the sea, the pressure rises and the air naturally warmer and sucks in more moisture, making it feel much drier.
Now you know why you can zap your neighbours so easily! Or, in my case, I've noticed when I am petting one of our cats it's like I'm starting a lightning storm just by running my hand over her fur!