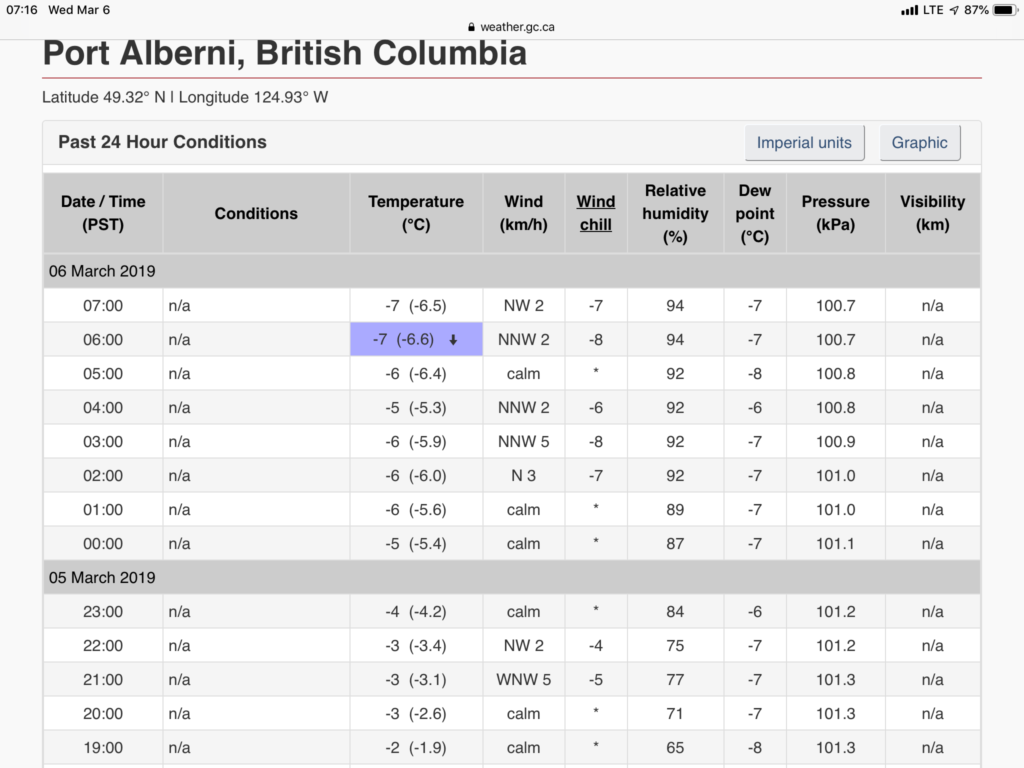 Only tiny chance of it sticking at lower elevations.
Don't get too excited by the mention of flurries in the forecast. The models have a very meager bit of moisture coming in off the Pacific starting overnight and through Thursday.
The model does not have any moisture falling at low elevations before 4PM Thursday.
Precipitation, including snow, will fall over the mountain ranges Wednesday evening and through the day Thursday.
Just one millimetre of precipitation is expected in the Alberni Valley, most of this will actually fall Thursday night. It may be a shower or a flurry.
Once the system passes on Friday we should clear back up and get back to sunny, dry and cool weather for the weekend.
Not even close to a long term low temperature record.
The Airport is reporting -6.6°C as the low this morning.
That is a record low for the airport station since 1995. Its previous low was -6.2°C in 2012.
However, it is not a record low for the Valley. It is 0.1° away from the record low reported by WXAlmanac for this day set in 1975, likely from the Somass River station.
It is quite a ways from the all station record for this day set in 1951 at the City of Port Alberni station of -11.7°C.
I will post again on friday with a weekend and early week forecast! Happy Hump Day!