Environment Canada issued a special weather statement yesterday afternoon and evening. Here it is:
Special weather statement continued for:
East Vancouver Island, B.C. (081300)
West Vancouver Island, B.C. (081400)
Inland Vancouver Island, B.C. (081500)
Current details:
Significant rainfall after the long dry spell…

The more intense front is still expected to sweep across the coast on Thursday bringing even wetter conditions through Thursday and into Friday morning.

Rain has advanced over Vancouver Island and is beginning to spread over the rest of the South Coast. Rain will intensify overnight and continue through Thursday with amounts expected to be in the 15 to 25 mm range for each 12 hour period. Amounts will be greatest along the north shore Sunshine Coast Howe Sound and west facing slopes of Vancouver Island mountains where total amounts could exceed 50 mm.

The public is advised to monitor future forecasts and warnings as warnings may be required or extended.
As for timing, there is some rain happening right now on the East Coast, but this should taper off a bit in a hour or two.
The real meat of the storm won't start until around 1PM.
As you can see below, by 2PM, we are plenty wet. Pink is 8mm in the 1-2PM hour.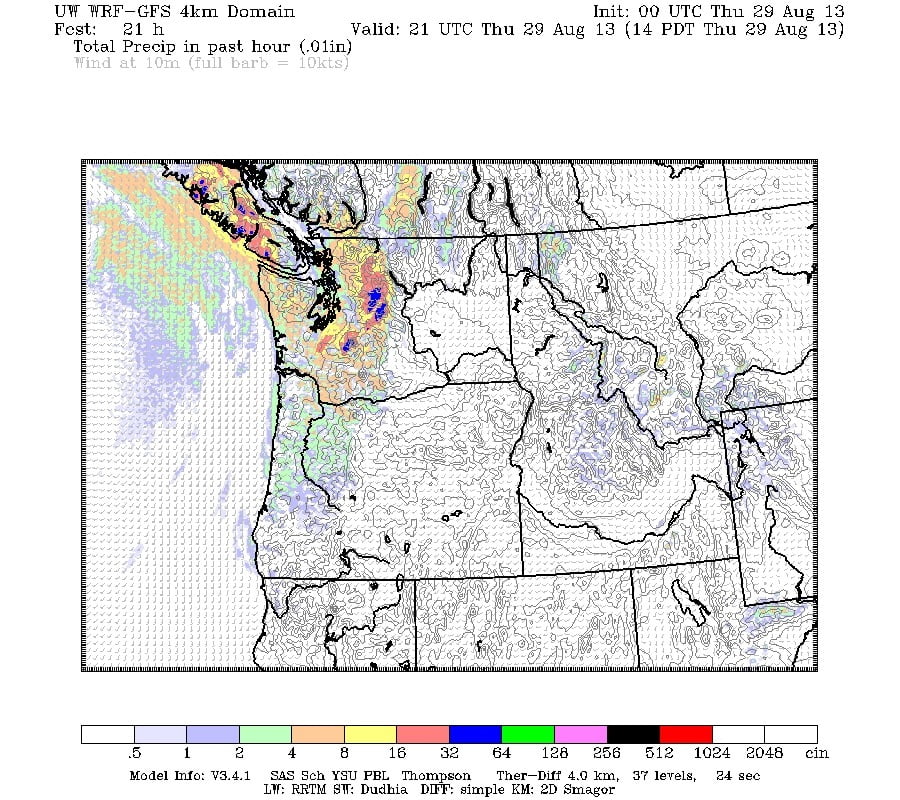 By Friday afternoon everything should dry out. We will have received around 30mm if the forecast pans out. So far we've got 6mm of rain, so we still have another 25mm to go. It's really going to feel like November except warmer.
The good news is still there though! Saturday and Sunday look beautiful, warm and sunny! Hang in there, the gardens will love it!