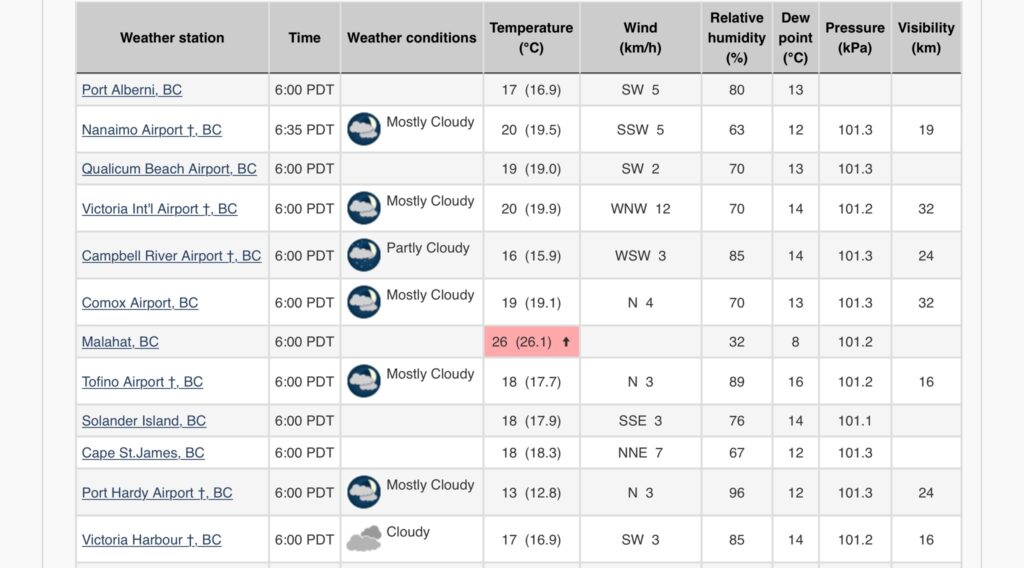 UPDATE SMOKEY SKIES BULLETIN ISSUED
From Earle Plain at the Ministry of Environment Air Quality office:
Good morning.  A smoky Skies Bulletin (attached) has been issued for all areas of Vancouver Island as wildfire smoke has moved into the area from fires burning in Washington State and the Interior of BC.

SMOKY SKIES BULLETIN ISSUED FOR
EAST VANCOUVER ISLAND, GREATER VICTORIA, INLAND VANCOUVER ISLAND, NORTH VANCOUVER ISLAND, SOUTHERN GULF ISLANDS, AND WEST VANCOUVER ISLAND

(September 05, 2017 08:00 PDT – Nanaimo) A Smoky Skies Bulletin has been issued for East Vancouver Island, Greater Victoria, Inland Vancouver Island, North Vancouver Island, Southern Gulf Islands, and West Vancouver Island. This bulletin has been is- sued by the Ministry of Environment and Climate Change Strategy in collaboration with Island Health because of forest fire smoke that is covering the area. Smoke concentra- tions will vary widely as winds, fire behaviour and temperatures change.

Exposure to increased smoke concentrations is particularly a concern for infants, the el- derly and those who have underlying medical conditions such as heart or lung disease. Those at risk should avoid strenuous activities and prolonged exposure to smoke. Indi- viduals who experience any of the following symptoms, should contact their health care provider: difficulty in breathing, chest pain or discomfort, and sudden onset of cough or irritation of airways.

Should symptoms develop (such as an irritated throat or cough) individuals may wish to consider limiting their activity and exposure. Residents can stay informed of air quality and the air quality health index for their area by visiting http:// www.bcairquality.ca.

This advisory will remain in effect until further notice.
Happy Back to School!
Thank goodness it is a short first day for most since the schools will be packed and many of them don't exactly have the greatest A/C in the world!
It has been very warm overnight. Right now it is 19°C in Port Alberni. It is 26°C on the Malahat!
It is harder to tease out "highest low" records so hopefully Environment Canada includes that in their information statements that will inevitably be released tonight after another record breaking day.
Last night they released stats from Sunday and Monday on historic day high records that were broken.
Port Alberni beat a record going back to 1909! The archival websites are offline at EC so I can't say whether todays potential high will break a similar all time high but it will definitely break the short term record for the Airport of 31.2°C.
There is smoke from the interior creeping into Vancouver and the Fraser Valley but we will just have to see whether it makes it over to Port Alberni later today or tomorrow.
The smoke has come! (It was dark when I started writing this post!) This is likely to limit the heat today, which is a bit of a blessing. We will see how it turns out.
Thankfully, the heat wave should break for Thursday. It will be 27°C and cloudy for the first evening of the Fall Fair with just a slight chance of drizzle and then down to the low 20s for the rest of the week with a chance of rain Saturday afternoon and evening.
I would be remiss if I didn't mention Irma.
She surprised last night and strengthened to an Extremely Dangerous Category 5 Hurricane. When a hurricane looks that symmetrical and perfect and huge on satellite, you know it's powerful.
Head to http://www.nhc.noaa.gov and click the Forecast Discussion for the most up to date information on this storm. It is likely to hit a number of Carribean nations and the biggest question will be whether it hits the mountains of Hispaniola (Dominican Republic/Haiti or of Cuba. If it does those countries will be devastated. If it doesn't it will likely stay extremely strong and hit Florida.  Either way, it will be a huge concern for the next week.
Have a wonderful week, good luck in all your classes if you are headed to school or college, and see you at the Fall Fair! I will be in the Transition Towns booth for the first time in a long time on Saturday night.