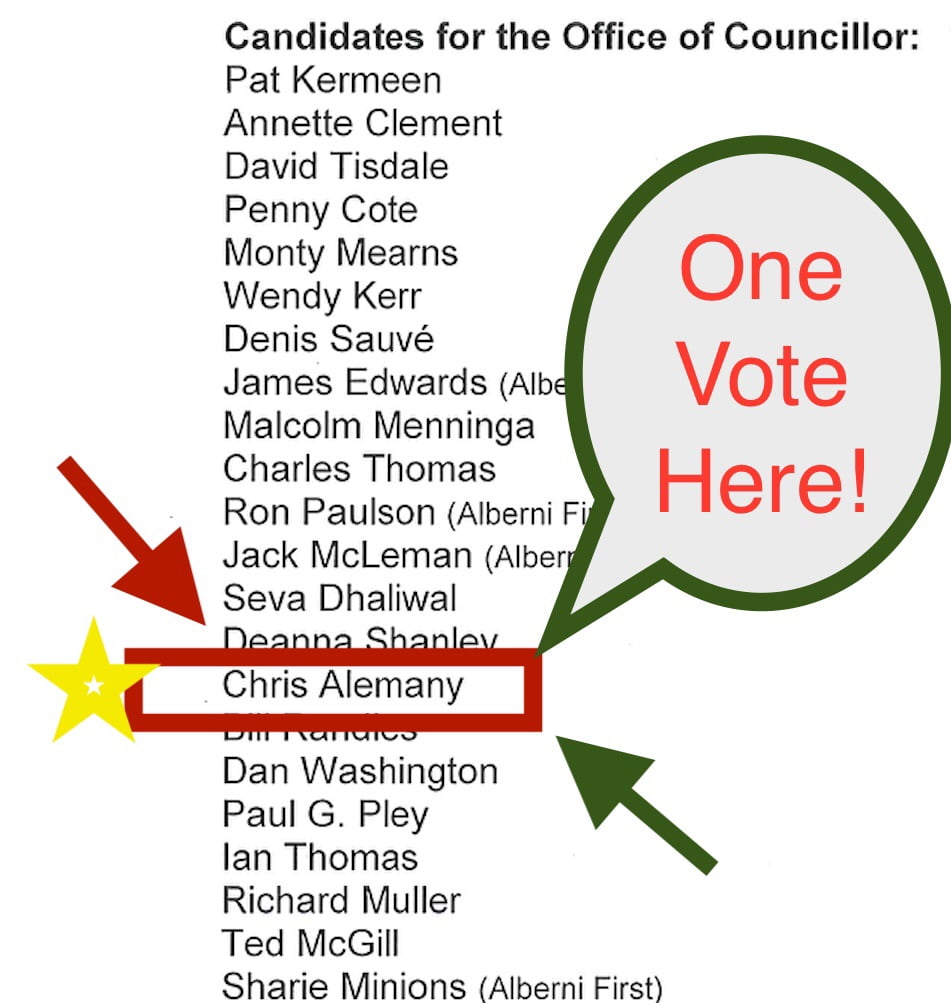 UPDATE: AIR QUALITY ADVISORY – Issued for Port Alberni – and Accident on Highway 4 likely due to ice drive safely!
"AIR QUALITY ADVISORY AND OPEN BURNING RESTRICTIONS
IN EFFECT FOR THE ALBERNI VALLEY, WITHIN 15 KM OF THE
PORT ALBERNI CITY HALL
(November 14, 2014 – Port Alberni, B.C.) The Ministry of Environment in collaboration with the Vancouver Island Health Authority has issued an Air Quality Advisory for Port Alberni and vicinity because of high concentrations of fine particulates that are expected to persist until weather conditions change.
Persons with chronic underlying medical conditions should postpone strenuous exercise until the advisory is lifted. Staying indoors and in air conditioned spaces helps to reduce fine particulate exposure. Exposure is particularly a concern for infants, the elderly and those who have diabetes, and lung or heart disease.
Open burning restrictions are now in effect for the Alberni Valley within 15 kilometres of the Port Alberni City Hall for a period of 3 days. No new fires may be initiated and no additional material may be added to existing fires.
For more information on burning restrictions, see the section below entitled 'Mandatory Emission Reduction Actions.' For more information on current air quality, see: www.bcairquality.ca.
Vote vote vote Saturday! Kick Nanaimo's butt!
I have resisted using this site for my political campaign for councillor but today will be the exception. Please get out and vote tomorrow 8AM to 8PM at the Athletic Hall. Drag your friends and family along. Even if you aren't registered, as long as you live (own or rent) in the City, all you need is ID and a proof of address.
I hope you have come to know me through this website as someone you can trust to bring timely, accurate and thoughtful information. My sincere wish is that I can bring those same qualities to you through Council for the City of Port Alberni.
There has been amazing voter turnout so far, double last election so let's keep it up no matter who you vote for!
Contest: Who will have most voters per capita? @cityportalberni @cityofnanaimo @City_Parksville @QualicumBeachBC @ladysmithPRC #bcpoli

— Mid Island News (@midislandnews) November 14, 2014

As you can see from the tweet above, we are in an unofficial race with other Island communities to see who can improve their turnout the most! Let's kick some electoral butts! 🙂
Record breaking cold – snow contest tomorrow night
The low this morning at Alberniweather was -5°C, the low at the airport was -6.9° C -7.2° C, both broke the short term record at the Airport set in 2009 of -3.9°C.
I would expect the Airport to easily break another record tomorrow and Sunday.
The snow contest will start officially tomorrow at 8PM. It is all ready to go and will post automatically here. And maybe just in time… 😉
Wet snow possible on the changeover.
The snow contest is going to start right away Saturday Night because there is a slight chance we could see white stuff on Monday evening. It will likely be only wet snow and may not stick at all, but with the cold air sticking around from the weekend, anything can happen.
A weak front is supposed to move over us Monday evening. Here is the picture Monday 10PM.
The Canadian Ensemble also gives a possibility for wet snow in the Valley.
The biggest chance for snow will be the highway passes so please plan accordingly if you are going to be driving on Monday evening or Tuesday morning. There looks to be similar fronts moving in with cold rain, but no snow, as we go through the week next week.
Happy Friday! And get out and VOTE tomorrow! It is your right and privilege!
www.chrisalemany.ca