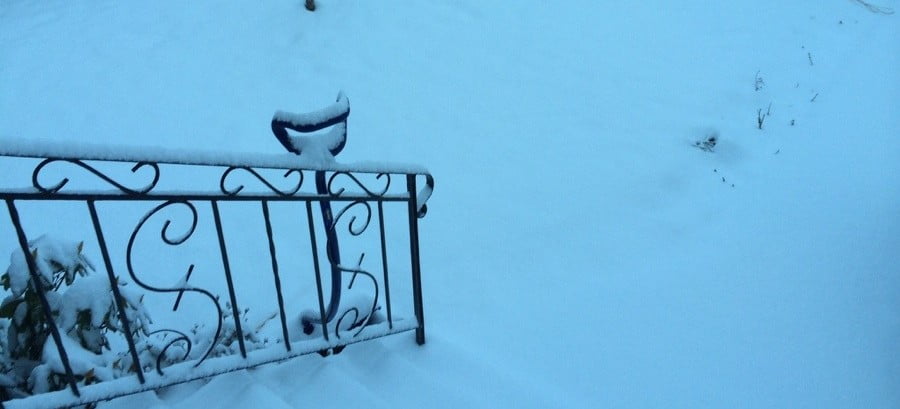 The 1-2cm of snow  on Friday November 28 was just enough to declare Teresa Pavin the winner of the snow contest!  Yay Teresa! You have won a fabulous gift package from Healthy Habits!
The Question: When will we get measurable snow at
Alberniweather? 
Enter your guesses in the comments of this post only or by email at [email protected] check the rules at the bottom so you know what you need to give me for your guess to be valid!
Entries are open until 8PM Saturday November 22nd.
Because I started the contest later than usual, if it snows before the entry period closes, don't worry… closest will still win, AND we will have a second contest as soon as the snow melts!
The Prize
Kari at Healthy Habits has once again donated a fabulous gift package for the lucky winner!  Thanks Kari! 🙂
If any other businesses would like to donate prizes we could do a 2nd and 3rd closest too? Just putting it out there. 🙂
So when do you think it will snow? Your guesses will appear in the calendar below as you submit them.
Good Luck!
Here are the rules:
#1: You must pick a date, hour, and minute (eg. Nov 3 12:45). Minutes should be on the zeros or fives. You will end up with a 5 minute "window" (eg. Nov 3 12:45-12:50).
#2: Closest time wins.
#3: A winner will be chosen when there is enough snow on the front lawn of Alberniweather HQ to measure with a standard ruler.
#4: If it snows before the contest entry period closes, a prize will be awarded and a 2nd contest will commence as soon as the snow melts.
#5: You need to be able to come to Port Alberni to get your prize!
#6: You must enter your guess in the comments section of this post or by email at [email protected]
#7: You can only pick one date, but you can change the date at any time during the entry period.
#8: You have 1 week to make your choices, choices must be entered by 8PM November 22, 2014.
#9: If my wife (Theresa) wins she will get a prize as will the next closest contestant. 🙂
#10: I reserve the right to add to these rules since I probably missed something. 🙂