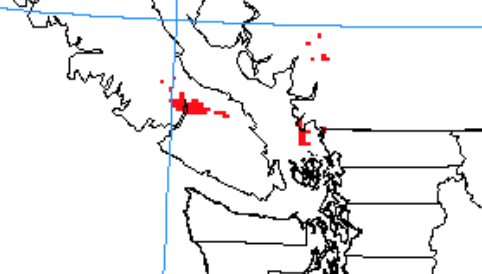 It has been a pretty quiet few months really, so the next few days might seem surprisingly active in comparison.  Click through and check it all out!
Possible Thunderstorm Thursday
Here is the 24hour rainfall map from Thursday 5AM to Friday 5AM.
You can see rain focused on the Alberni Valley and the East Coast of the Island.  This rainfall, which may include some thunder and lightning should begin around 3PM.  It is forecast to be focused around the Beauforts and Mt. Arrowsmith to start and then gradually expand to the East and West.
There is thunder/lightning also predicted in the models. Below are the images for the Island for 2-5PM and 5-8PM respectively.
The risk of thunderstorms will go away after sundown and rain will end overnight. There does not appear to be any further risk after today.
Calm Friday
There is a slight chance of rain in the afternoon on Friday but it will be light if there is any at all and it will be focused on the higher elevations.
Rainy Saturday
Hello, what's this?  It looks like some real rain on Saturday morning!
Rain is slated to begin before noon on Saturday and last all day and through the evening.
The 24 hour accumulation is going to be between 8 and 16mm with higher amounts in the mountains.  Depending on how strong the rainfall is, it might cause some higher streamflows or at least be a bit of a surprise for places like Dry Creek and Roger Creek which are already quite low.
It should also melt a good amount of the snow left on the mountain tops.
Sunday will sort of be a mishmash of unsettled weather.  There are indications of a return to some sun and heat next week though.
Happy Thursday!