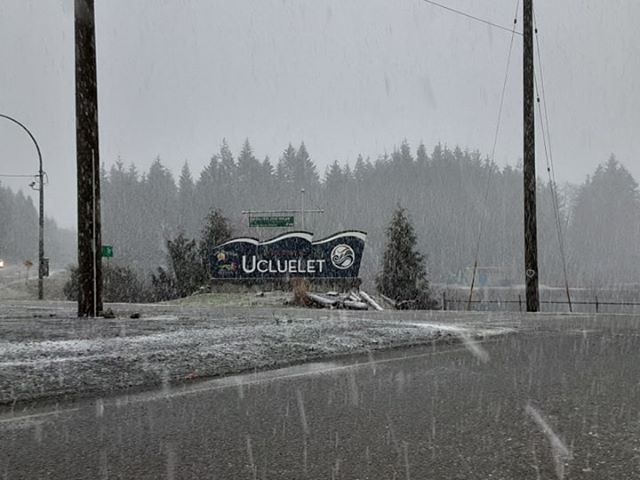 Friday and Saturday are going to be Interesting! Timing below…
Not something you see too often in March on the West Coast. Thanks to Rob Frolic for the heads up and the picture!
Yet there is just some fog in Port Alberni and not a cloud in the sky in Nanaimo! It's going to be a weird day of everything…
I'll update this post over the next few minutes, but just wanted to get this out there for folks driving west from Port Alberni.
Mix of Rain and Snow Friday
It's already snowing in Ucluelet, and it looks like the West Coast is going to get some more through the day. Here is the imagery for today.
Greys and blacks are rain, greens and blues are snow.
As you can see from the series of images above, after this morning's bout of snow on the West Coast, showers will start to move inland. A stronger band of rain and snow will move onto the Island this afternoon with possible snow on the West Coast and Bowser area of the east Island with rain in other places. This tapers off by this evening.
We get a bit of a break overnight, but Saturday gets interesting.
Saturday mid-morning Island snow?
Here's the progression for Saturday. The action stars in the 7-10AM period with showers turning to possible widespread snow across the South Island including Port Alberni, Courtenay, Parksville, Nanaimo and Lake Cowichan.
The snow showers should taper off to rain showers by noon on Saturday but there might be a mix, especially at higher elevations, through the afternoon and into the evening.
Sunday looks much drier and more spring like with sun in the sky! 🙂
Happy Weekend!