Heavy rain on Highway 4 – Vancouver Climate talks the worst we can do for the economy and climate is nothing.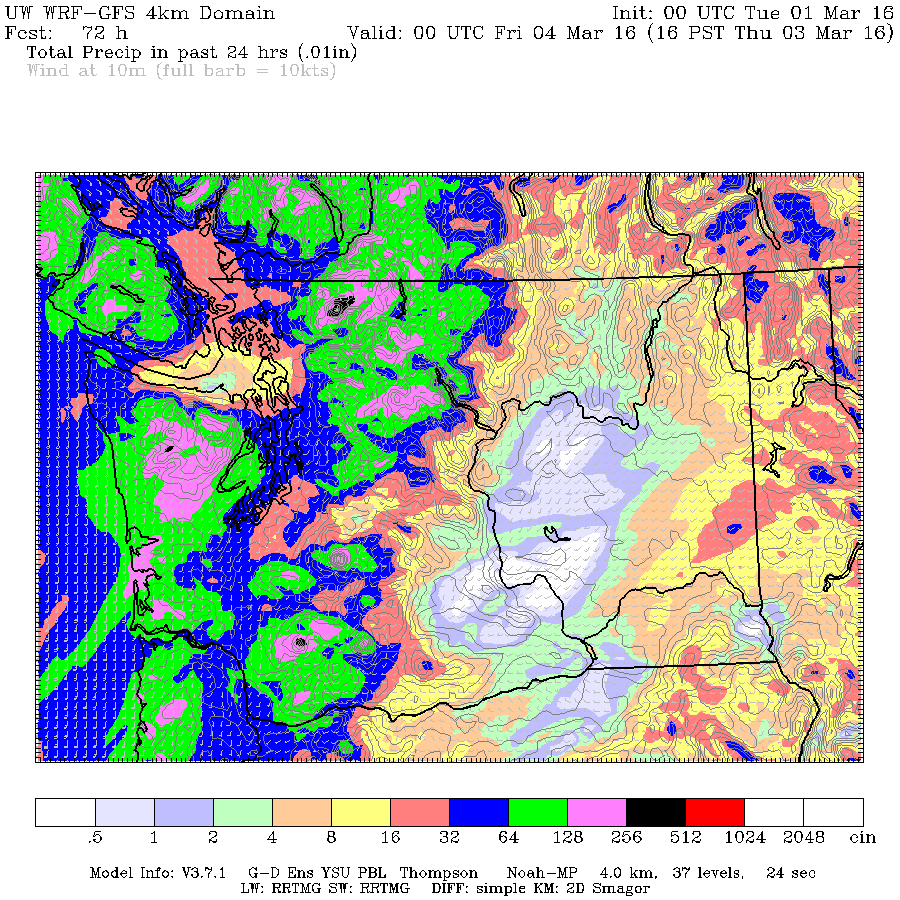 Update 7PM
The Ministry of Transportation has announced that the truck will be removed from Cameron starting  Wednesday at 6AM.  No indication how long it will take so expect delays.
#bchwy4 vehicle recovery tomorrow, Cameron Lake , expect minor delays 6am onwards #portalberni @TranBC pic.twitter.com/06alQrPukJ

— Van Island District (@TranBCVanIsle) March 1, 2016
Update 6PM
So the wind decided to pay us a visit!  61kph per hour gust so far. That should be the worst of it but it may be gusty for a little bit longer
The rain also stuck around and was a little heavier than was predicted this morning.  It was closer to yesterdays model run. We are currently at 50mm for the day.  The prediction yesterday was for up to 60mm.
Happy first day of Meteorologic Spring!
On the meteorological  calendar. March 1st  is the first day of the March/April/May months of spring. And it's definitely going to feel like spring as it remains quite warm and wet all week.
There were some patches of very heavy rain between Port Alberni and Parksville this morning particularly going up the hump eastbound and going around Cameron Lake.  The wind is also more blustery on the East side so please take care out there.
Forecast backs off on total rain Tuesday.
Last nights forecast backed off from the prediction of up to 60mm between 4AM Tuesday/Wednesday and we are now in the green 30mm range.
The rain should end before 4PM this afternoon.  The majority will, obviously, this morning.
Next up Wednesday afternoon.
Another front will sweep in around 4PM Wednesday.
It will deliver rain through the night Wednesday and leave us with lingering showers on Thursday.
Total will be in the blue/green 16-30mm range.
There is more rain coming Friday, Saturday and Sunday…. nothing torrential, but it will add up. 🙂
Canadian First Ministers meet on Climate Change.
I would be remiss if I did not mention the very important meetings starting today in Vancouver where all the Premiers of the provinces and territories of Canada will meet with the Prime Minister and First Nation leaders to discuss Canada's plan to reduce greenhouse gas emissions.
It is long past time that Canada got serious about this, and now, during a downturn and slump in the fossil fuel industry, is the perfect time to pivot the Canadian economy to retrain those affected by the slump to create new jobs with renewables while putting a price on carbon.  This is both the carrot and the stick and we need them.
The worlds remaining carbon budget to stay under a potential warming of 1.5°C is shrinking extremely fast and we must be at zero GHG emissions before 2050 to achieve that.
I am most hopeful this will mean big investments in green transportation infrastructure like (electrified) railways, public transportation, walking and biking infrastructure and electric vehicle incentives.
There is also a huge gap in home renovation incentives and the Canada Building code should have much more stringent efficiency standards.  That alone would create jobs in the construction industry and spur economic activity.
Yes climate change is scary (the Arctic is at an all time low for its annual maximum this year) but there is also opportunity that we should not be scared of. Canada is on the front line of climate change, especially its North. We will feel its effects the most of almost any country and yet we can also thanks to our highly advanced economy, be a leader in addressing it.
The worst thing we can do for both the economy and climate, is nothing.