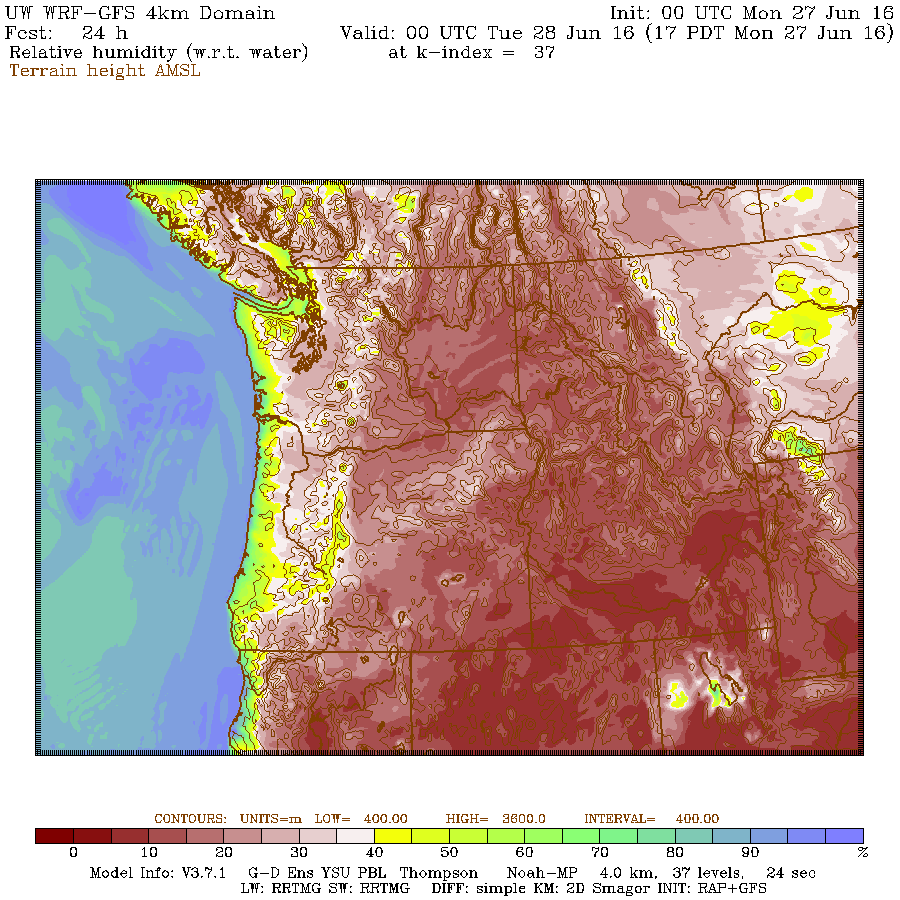 We have a perfect forecast for the beginning of the summer vacation.  No doubt there will be plenty of people at Rogers Creek Park, and swimming in the Somass, Canal Beach and at Sproat Lake.
The models this morning are not quite as hot as the official EC forecast so it will be fun to see who is right, but it is really only academic since no matter what, we will have a very pleasant day.
The EC forecast is for us to hit a high of 32ºC today and a humidex of 34ºC. That humidex would make it the hottest day of the year.
However, the UWash model has us slightly cooler at between 29ºC and 31ºC.
And a Relative Humidity of between 20-25%
At 25% Relative Humidity it would actually feel slightly less hot than the actual temperature, between 27-30ºC. (Calculator here)
This is similar to Sunday when Alberniweather got up to 28.6ºC in real temperature but the Humidity dropped to between 27% and 30% leading to a maximum Humidex of only 27.5ºC.
We'll see who is right.
Just for fun, here are some more model predictions.  The Canadian models are cooler than the US models.
You can see from the final one that today should be the peak of the heat and then the trend will cool as the week goes on.  It will still be quite pleasant though.
There is a slight chance of a few sprinkles on Saturday but
the long range forecast below show that from now until the 12th of July, there is only expected to be about 6mm of rainfall.  It is definitely summer.
Fire Danger Likely to Rise
AS you can see below we are currently at just a Moderate rating for wildfire danger.  However, as the dry weather stretches out, I would expect that to start to rise.  I'll keep an eye on the fire danger forecasts.
Have a wonderful week and enjoy the sun! 🙂