Awaiting West Coast Tsunami Centre statement on NZ area Earthquake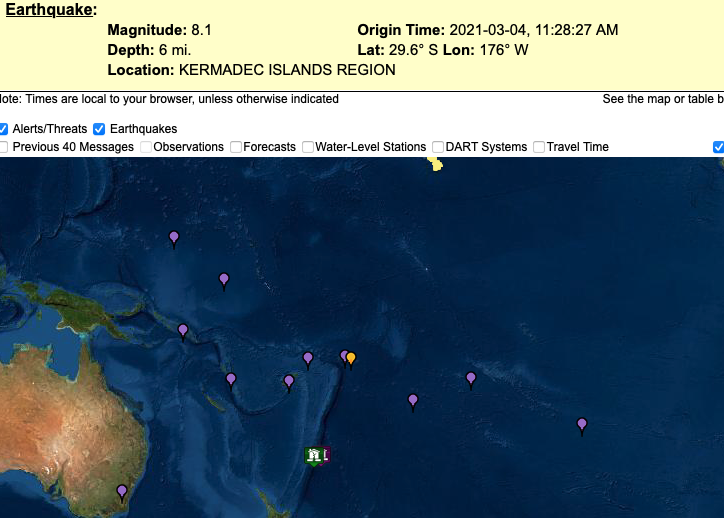 NO Tsunami threat for BC – 2:30PM
The word has come down and it is good (and not unexpected) for us.
Here is the official message. No Tsunami expected for our area from the 8.1M quake. Other areas of the Pacific and Australia are under a threat.
I won't post any further updates unless something major changes.
Waiting for distant water measurements! 2:15PM
We have plenty of time before any potential tsunami would impact our shores so the authorities are waiting for measurements from sensor stations closer to the earthquake to see what kind of wave has been generated if anything.
So much activity! 1:45PM
There have actually been 3 major quakes, two related to each other. We are still waiting as of 1:45 to hear if we will get a tsunami advisory or warning.
Update 1:30PM. Evaluating…
Update 1:15PM – No local info yet.
Still waiting to hear an update for our region.
In the meantime here is a picture of this morning's activity near New Zealand (still 1000km away from their shores)
There are Tsunami Advisories posted for a number of regions of the Pacific right now after a 2nd earthquake in a 4 hour span shook the Kermadic Islands near New Zealand causing a Tsunami Warning to be issued for that country this morning. Early indicators are that the first quake was 7.4, the second 8.1. The first major quake at 9:41AM was classified as No Threat of Tsunami for our AK/BC/WA/OR region.
I am monitoring this website for messages for the Alaska, BC, Washington, and Oregon region.
I will update this post as I hear more. Like the 9M Japan earthquake in 2011, it would be several hours before any tsunami generated impacted our area.