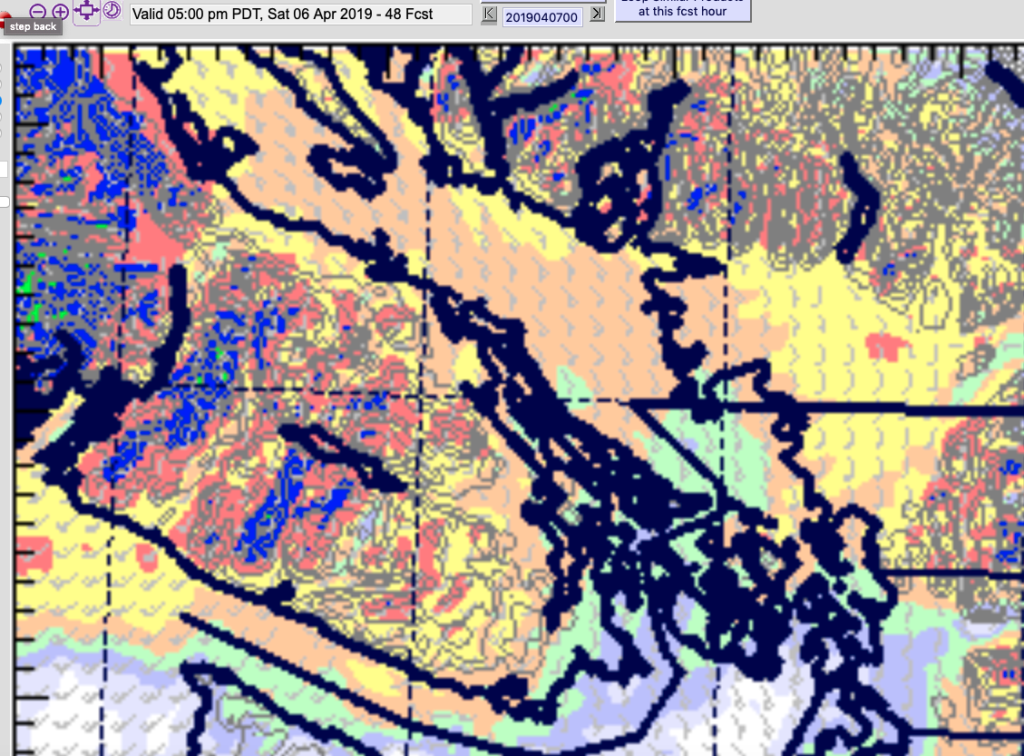 We have a long bout of rain coming over the next few days so here's a look at when the strongest bits and breaks might be. Totals from Friday through to Sunday morning should be in the 30mm range for Port Alberni and other inland areas.
Friday
There was some fairly heavy rain before sunrise this morning. That should taper off by 8AM and there will be a break with just showers between 8-11AM as you can see below.
It will pick up again between 11AM-2PM for most areas of the Island.
And then intensify in the afternoon 2PM-5PM slot.
Winds will be blustery in the afternoon with the rain and that will continue as the rain eases off in the 5-8PM period tonight.
Saturday
Showers will continue off and on throughout the night Friday night and intensify into rain for the early morning of Saturday. Below is the 5AM-8AM picture showing plenty of rain.
Things will taper off to just showers gradually through the morning but there is more rain lurking off of the coast in this 11AM-2PM picture.
That big system of rain (and some blustery wind) sweeps onto the Island in the 2-5PM period Saturday. with the strongest rain happening in the Courtenay/Campbell River area and stretching down into Port Alberni.
It is short lived though as it blows through and we see a break in the 5-8PM period.
Sunday
There are showers throughout the night on Saturday with some heavier bits of rain but by Sunday morning we might see a real break in the clouds. The 8-11AM picture on Sunday is almost completely dry for the South Island.
Some minor bands of showers pop up through the day on Sunday but for the most part it looks quite dry in comparison to what will feel like a deluge from the previous two days.
There are a few more lingering showers through Sunday evening and Monday but no big systems are in the model between Sunday and next Friday.
Happy Weekend! And don't forget about the Forest March on Saturday morning, 10AM at the Forest office on Cherry Creek road! I'll be marching to raise awareness to protect our watershed (so that rains like these are retained within our watersheds!)