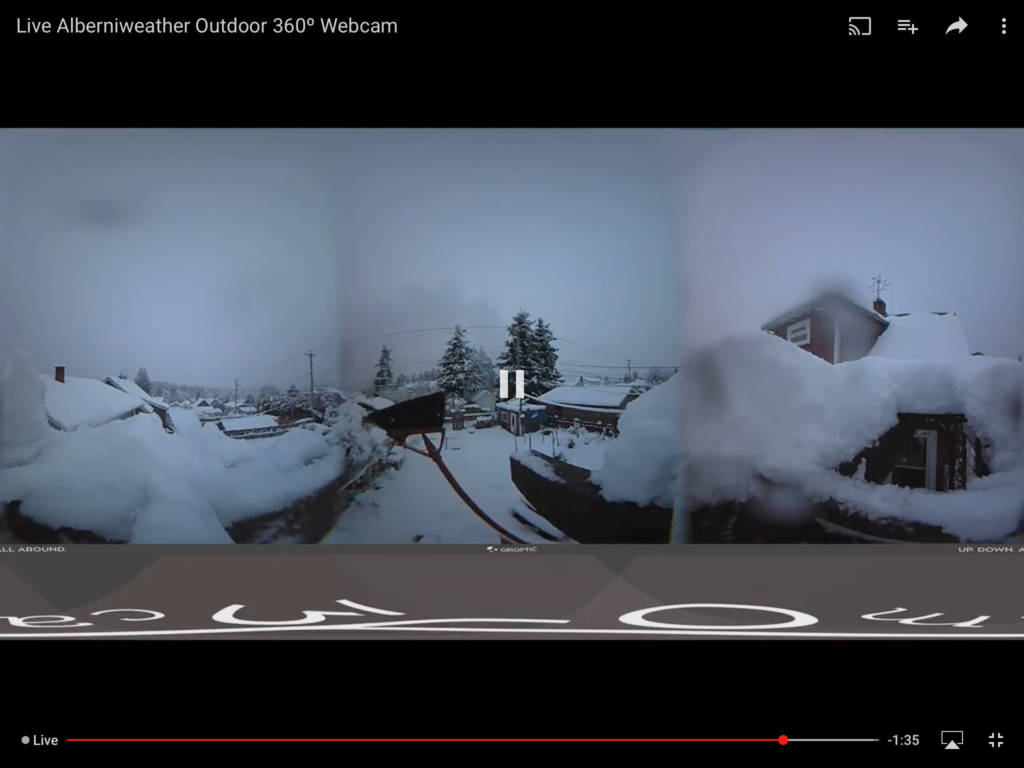 Well, depending on where you are in the Valley you likely woke up with as much as a foot of snow, 30cm, on the ground.  We received a whopping 18.5cm here at Alberniweather.  That is the most we have had for a number of years. (2009?)
There was so much snow my webcam had tunnel vision, had to brush it out! lol!

Wow, was the normally very good UWash model wrong! It is a good thing we have so many other models and tools to rely on.  Other models DID predict this and the professional weather forecasters at EC were a lot more bullish on snow.
So what to expect today?
Well at this moment, it is snowing again.  You can expect this off and on all day.  We ahould not get large accumulations, maybe 5cm at very most.
Tonight however, we could be in for another dump.  The picture below is a little hard to make out but you should see "YAZ" which is Tofino airport.  They will be getting a big dump of rain or wet snow and you can see the orange heavy orange area stretching in to the middle of the Island, us!
In the flow set-up this eve, areas adjacent to S Georgia Strait: #YVR near the coast, #YCD, #YYJ hit the least, inland more, Mountains most pic.twitter.com/v6KepRp20G

— Chris Doyle (@ensembleator) February 4, 2017
So be prepared. Now that it appears we might get more, we probably won't, but if we do. You have been warned. 😉
Hope you can get out and do some sliding!  Winter Wonderland!