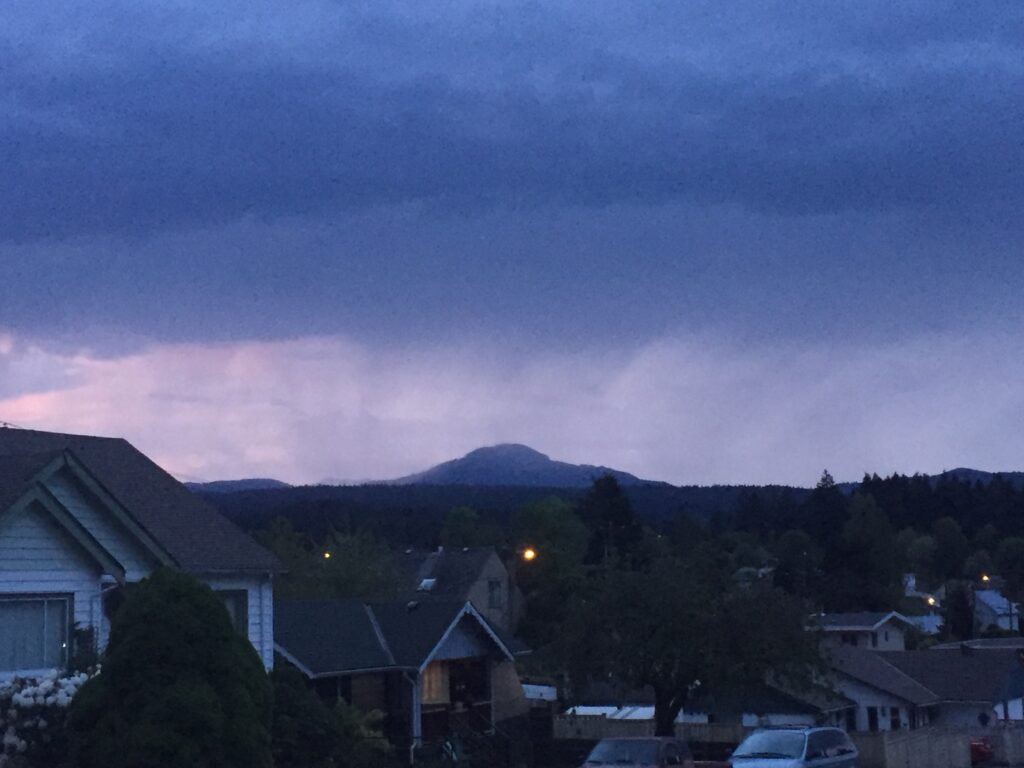 Addition
I just learned that we actually had a pretty good Thunderstorm last night too.  I wear ear plugs often to bed so I totally missed it 🙁  Booo-urns.  I am told it featured some strong winds too, which explains why we got gusts to 50kph just after 2AM last night.  I guess it was a mostly dry storm though since no rainfall has been recorded on the station.
It ended with a bang.  Port Alberni was blessed with a pretty great ending to what was a hot 3 days.
Officially we were half a degree shy of an all time record for the day.  The record was 30.6ºC in 1934 in the City.  The Airport got up to 30.1ºC.  Had there been an Environment Canada weather station in the City itself I'm willing to bet it would have eclipsed that mark.   As it is, that 1934 heat was partially beat.  The next highest temperature for the day was set on that same day by the historic Beaver Creek station at 29.4ºC.  So 30.1ºC will take its place as second highest temperature ever recorded for that day in the official records.
Unofficially the story is a little different.  The Islandweather.ca stations, including alberniweather got the following highs: Alberniweather: 30.00ºC, Alberni Elementary: 28.4ºC, Maquinna Elementary: 29.4ºC, Neptune: 31.4ºC.
That last reading obviously easily beats the record.  And interestingly, Neptune is often the cooler of the stations, not the warmest.  So unofficially at least, we did indeed register the hottest April 20th on record.
I went back into the archives to see if we came close to setting a record for the hottest temperature ever in April, and indeed we did come close, but not quite.  The all time April heat record was set at Beaver Creek on April 28th, 1926 at 31.7ºC.  
Back to Normal April Temperatures – Friday Showers
It will feel decidedly cooler, but when you're running double the normal for a few days, you should expect that. 🙂
We should get up to 18ºC today, which is still 3ºC higher than our normal for the year of 15ºC.  We'll be hovering up and down around that normal mark for the rest of the week.
There were some scattered showers, mostly in the mountains, this morning that will go away.
Showers will return Friday though across most of the Island starting around sunrise and then moving on after 8AM.
Saturday looks mostly dry with just a chance of very scattered and light showers during the day.  More serious showers will begin overnight Saturday and into Sunday morning though.
They should continue through most of the day Sunday.  So if you have stuff to do outside, like mowing the lawn.  Get'er done on Saturday!
Happy Thursday everyone!