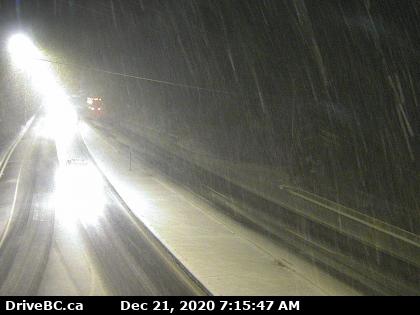 Update 9:00AM Rain changing to snow.
Multiple reports across the Island that rain has changed to snow and we have now changed to sleet here in Port Alberni.
If you are on the road, please drive carefully. We can expect this to last until mid-to-late morning on the central Island.
Precipitation should end from north to south starting around 10AM and ending in the early afternoon in Cowichan and Victoria.
Update 7:30AM Snowfall Warning continues. Rain to turn to snow.
The rain is here. So far people going over the Hump and Sutton Pass report no snow as temperatures are still around 3°C. EC has updated its warning to expect heavy rain to turn to heavy wet snow at higher elevations. So if you are commuting beware that things could change and worsen very rapidly.
Drive safely out there folks and take care.
Update 8:30PM Sunday Snowfall Warning issued!
15-25cm possible! I would still wager this will be mostly focused in the Cowichan Valley but all parts of the east and South Island should be prepared.
Keep an eye on the radar on the "satellites" page and the webcams to see where the heaviest weather is in the morning.
Starts and ends in Victoria and Cowichan
A band of showers and potential snow is currently off the coast of southern Washington, you can see it in the forecast map and radar image below.
There is only a slight hint on the radar right now of moisture down there so we have awhile to go yet.
By late tonight the moisture should make its way up to the Island. What's most critical though is that this low may produce strong and cold northwesterly winds that will drag cold air out of the Interior and onto the Island, producing potential heavy snow.
Light rain or snow at higher levels should begin tonight in the 2-5AM period across Southern Vancouver Island from Courtenay and Port Alberni south.
You can see the northwest wind barbs intensify offshore after 5AM and heavier precipitation start to move through. Expect more regions to have rain turn to snow as intensity rises and temperature drops. Low level snow potential is focused on Ladysmith, Cowichan, and maybe even Victoria.
Notice the dark blue areas in the picture below. Heavy snow in the 7-8AM hours in and around Victoria, and Cowichan as the low pulls away to the east and south.
It doesn't look like Port Alberni will get a lot of snow out of this. If we do get some it will probably be before sunrise and then change to light showers as the front moves off in the mid to late morning. Cowichan and Victoria and parts of the East island could see around 10cm before the front finally moves away after 10AM.
Expect chilly breezes on Monday afternoon and night as we get down below freezing for most of the week.
Showers on Christmas
It looks like we will have some warm air return Thursday evening and Friday and possibly bring a few light showers for Christmas Eve and Morning. Hopefully if we do get any snow it will stick around long enough for Christmas 🙂
Happy Sunday!