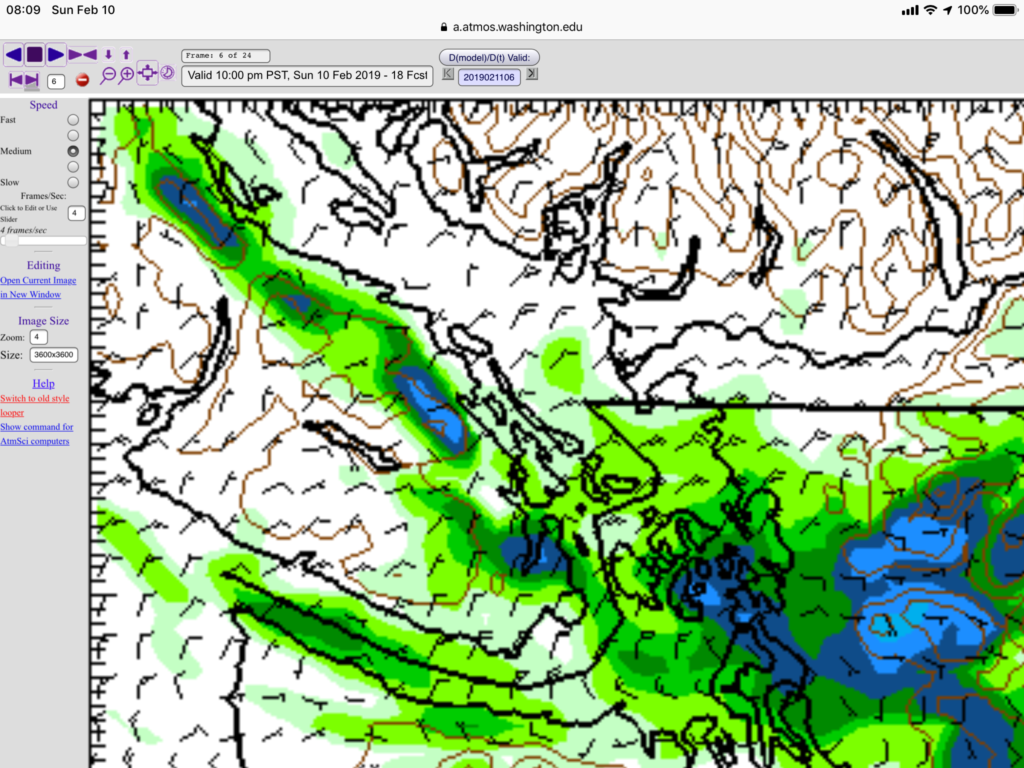 Final Update
Schoold District 68 in Nanaimo and 71 in Cowichan are closed Monday. VIU is also closed at all campuses Monday except Powell River. Follow the new post Monday for more details of snow Monday night and Tuesday.
8:05 PM PST Sunday 10 February 2019
Special weather statement in effect for:
…Another snowstorm for the BC south coast late Monday and Tuesday…

A one-two punch for the south coast of BC as another low pressure system is poised to move towards Vancouver Island on Monday and stall for 12 hours before dissipating.

Snow will fall for all areas south of Port Hardy to the U.S. border beginning Monday afternoon for Port Alberni, late afternoon for Greater Victoria and early evening for Metro Vancouver.

Current assessment suggests 10 to 15 cm of snow with locally higher accumulations for parts of the Island by midday on Tuesday.

Outflow winds will continue through Howe Sound and the Fraser Valley Monday and Tuesday which may result in poor visibilty in snow and blowing snow for those areas.
The Snowfall warning continues for East and Inland VI:
Issued at 2019-02-11 03:30 UTC [7:30PM PST] by Environment Canada:
Snowfall warning continued for:
East Vancouver Island – Duncan to Nanaimo, B.C. (081310)
Inland Vancouver Island, B.C. (081500)
East Vancouver Island – Nanoose Bay to Fanny Bay, B.C. (081320)

Current details:
Snowfall with total amounts of 10 to 25 cm continues.


A low pressure centre deepened rapidly over southern Vancouver Island this afternoon.

Bands of heavy snow accompanying the low have produced widespread accumulations of 12 to 19 cm over southeastern Vancouver Island and 5 to 7 cm around the Lower Mainland with higher accumulations locally.

An additional 2 to 4 cm is expected for Vancouver, Victoria and Inland Vancouver Island.

Over Metro Vancouver, the western Fraser Valley, the Malahat Highway, the Southern Gulf Islands, East Vancouver Island from Duncan to Nanaimo and the Lake Cowichan area, an additional 5 to 10 cm is expected this evening.

Pictures from Alberniweather readers:
Earlier updates.
Original post.
We had our coldest morning of the year this morning. The temperature at Alberniweather got down to -8°C and -10°C at the Airport.
A snowfall warning is in effect but even though it is for Inland sections, the snow is only expected to reach as far north as Lake Cowichan. Port Alberni will probably only get a little hint of it in the early afternoon and maybe late evening.
Here are the warnings for Inland VI and East VI between Nanaimo and Duncan. However, see below for more. I don't think this covers everything.
Warnings
4:53 AM PST Sunday 10 February 2019
Snowfall warning in effect for:
Inland Vancouver Island
Snowfall with total amounts of 5 to 10 cm is expected.

A low pressure centre forming just offshore this morning will move eastward onto southern Vancouver Island this afternoon. Snow amounts of 5 to 10 cm accompanying the low will begin in Greater Victoria and the Southern Gulf Islands this afternoon and end this evening. Snowfall over the Inland Vancouver Island will mainly be confined to the Lake Cowichan area.
The UWash models agree that snow will stick to the East side and south end of the Island however, it has snow extending along the entire east side all the way up to Courtenay and Campbell River.
Snow starts as light flurries this afternoon betweem 1-4PM across southern VI. Some flurries may reach Port Alberni around 2PM.
UWash then expects light snow to blossom across the entire East side between 4-7PM with heavier pockets around Buckley Bag and south Nanaimo and reach into Victoria.
Tonight the winds pick up and the snow continues and may intensify in pockets in Hornby Island/Buckley Bay, Ladysmith, and Duncan.
Send in your reports. I will keep the post updated through the day with twitter updates at the top.