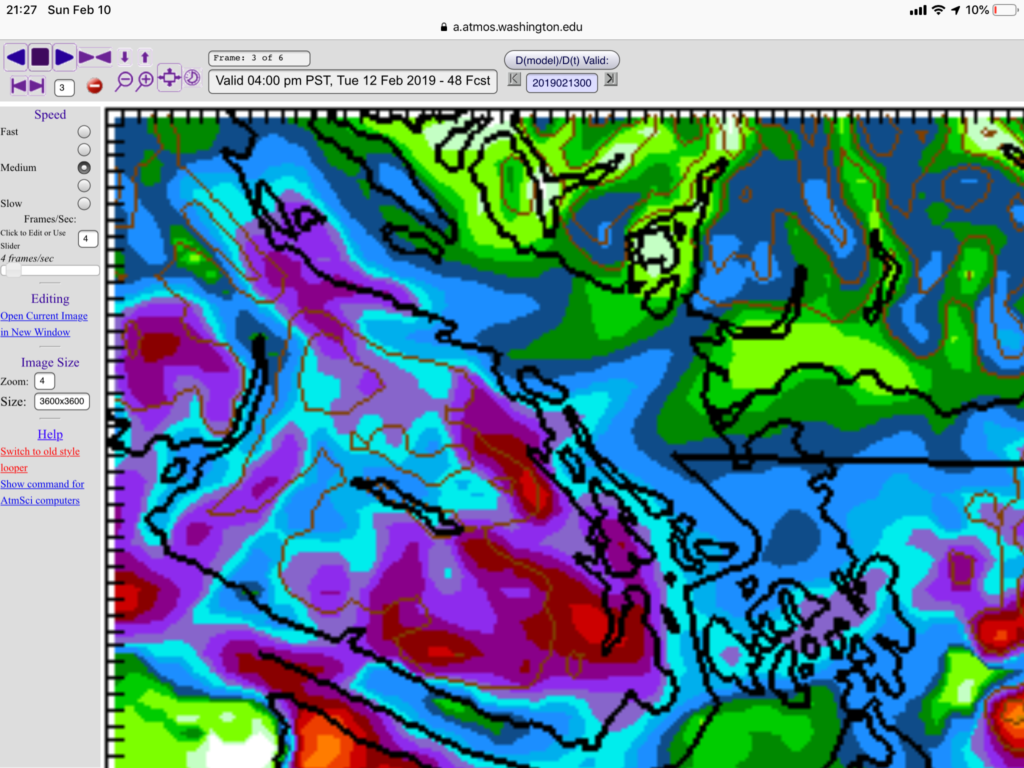 Updates:
Here is a twitter thread predicting times… we'll see how accurate the Storm Radar app is.
---
SD70 schools are OPEN
New Snowfall warning issued Monday.
Warnings
4:51 AM PST Monday 11 February 2019
Snowfall warning in effect for:
Inland Vancouver Island
A long period of snowfall with total amounts of 10 to 15 cm is expected.

A second low pressure centre in as many days will give more snow to the South Coast beginning this afternoon and continuing into Tuesday morning. This second disturbance will spread snow to virtually the entire South Coast with heaviest amounts falling tonight. Total snowfall amounts will vary across the region with 10 to 15 cm falling in most areas with somewhat higher amounts possible on Vancouver Island.
I just did a scan of Drive BC webcams and all of Highway 19 looks bad as well as east parts of Highway 4. Don't go if you don't have to and if you do, drive slowly. Stay under the speed limit at all times. Get there safely. More updates through the day.
Schools are closed across the Island but NOT Port Alberni/SD70. Sorry kids! Maybe tomorrow!
Original post.
Nanaimo and Cowichan school districts have also announced closures. Check your local areas for closures in your area.
There has been a lot of snow for many people on the Island from Campbell River down to Victoria. Well, here comes some more.
Got the picture from the excellent ensembleator:
EC has issued a Special Weather Statement and I expect that to shift to a Snowfall Warning for most if not all of the Island by Monday morning.
8:05 PM PST Sunday 10 February 2019
Special weather statement in effect for:
Inland Vancouver Island
…Another snowstorm for the BC south coast late Monday and Tuesday…

A one-two punch for the south coast of BC as another low pressure system is poised to move towards Vancouver Island on Monday and stall for 12 hours before dissipating.

Snow will fall for all areas south of Port Hardy to the U.S. border beginning Monday afternoon for Port Alberni, late afternoon for Greater Victoria and early evening for Metro Vancouver.

Current assessment suggests 10 to 15 cm of snow with locally higher accumulations for parts of the Island by midday on Tuesday.

Outflow winds will continue through Howe Sound and the Fraser Valley Monday and Tuesday which may result in poor visibilty in snow and blowing snow for those areas.
Current predictions are for the snow to start around 4PM in Port Alberni, earlier for southern parts of the Island and then spread to the entire South and East Island through the night.
As EC says, the low is expected to stall over us. So it is going to keep snowing in parts of the Island all day Tuesday which could lead to up to 30cm of snow falling between 4PM Monday and 4PM Tuesday.