Update 8:45PM – Unconfirmed reports – The Hump is closed.  Working to confirm.
Update 8:30PM –  Teresa Pavin is the winner of the snow contest!
The unexpected, and heavy snowfall continues.  Remember that even the best model said it wasn't going to start until at least 10PM, and it was only supposed to happen on South Vancouver Island.  This is quite a dramatic departure from those forecasts.
And the crazy thing is, the current forecast that was just released in the past hour still has the snow only on the South Island.
Update 7:15PM – WE HAVE A SNOW CONTEST WINNER!
Teresa Pavin! She guessed 1:30PM
And a very honourable mention to Astrid Braunschmidt who used her super meteorologist powers to predict exactly the right time, but she didn't get her guess in before the closed!
It is beautiful at Harbour Quay!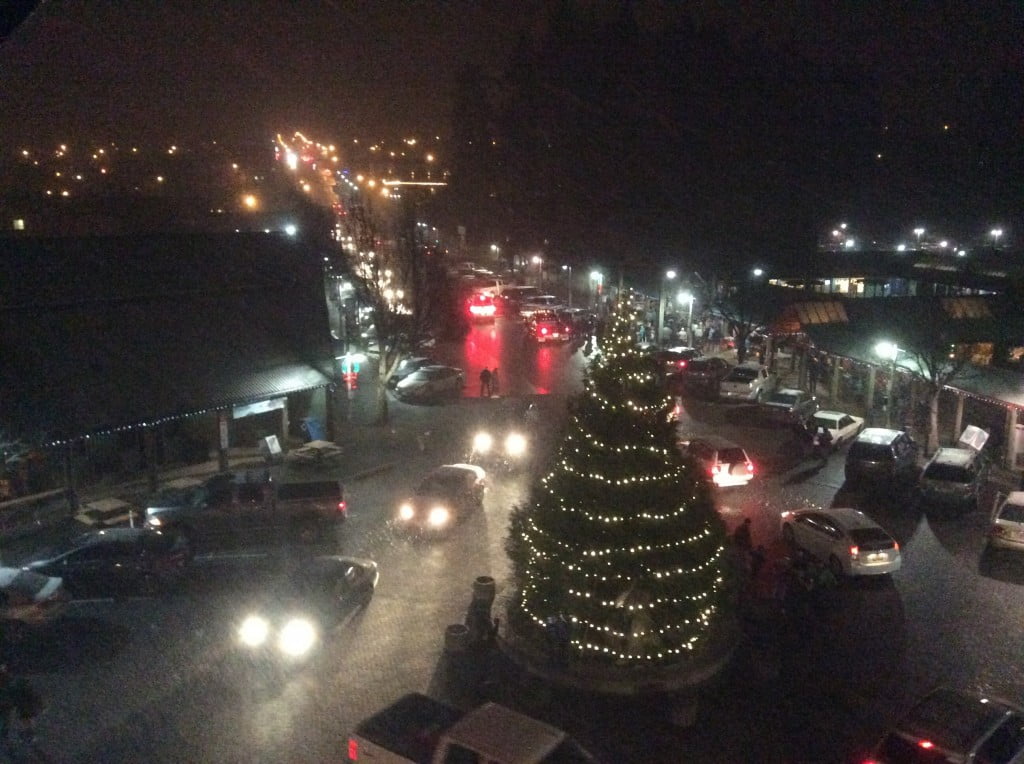 Update 4:35PM:
It has started quite early.
Light snow, likely not sticking, on the radar and being reported all over the South Island including Port Alberni.
Update: 3:25PM – Possible snow for Port Alberni – One model says so.
Scott Sistek of KOMO news in Seattle just tweeted this photo:
Update: 3:15PM – This post will be updated as needed.
Snow is still unlikely for the Port Alberni area.  However, on the East Coast, EC is now predicting possible snowfall "similar to lake effect" and "brief blizzard-like" conditions overnight at times.   That's right folks, for a select few of you, it's like our own mini-version of Buffalo snow.
Read it yourself!
First light snow over the South Coast…

A ridge of high pressure building over the BC Interior is forcing Arctic air south through the Fraser Canyon and west through the mainland inlets and valleys along the coast. The leading edge of the cold, dense outflowing air – the Arctic front – will cause wind speeds to increase as the air temperature decreases.

A small influx of moisture with the Arctic air will create light, fluffy, very low-density snow. As the ground freezes and the wind persists, the accumulating snow will reduce visibility in blowing snow.

The Arctic air will absorb moisture from the sea as it crosses the Strait of Georgia. When the modified Arctic air moves onshore along the East Coast of Vancouver Island, local snow streamers – similar to lake effect snow – may develop. Snowfall accumulations will vary significantly over small distances, ranging from a trace to 5 to 10 centimetres. Rapidly variable and brief blizzard-like conditions may develop in snow-belt and blizzard prone areas of the Lower Mainland such as Sumas Prairie, the Gulf Islands, and on the East Coast of Vancouver Island.

The public is advised to monitor future forecasts and warnings as warnings may be required or extended.
Thank goodness it is happening overnight and should be done by first light!
I will update more as we go tonight and tomorrow morning.  PLEASE DRIVE CAREFULLY TOMORROW.