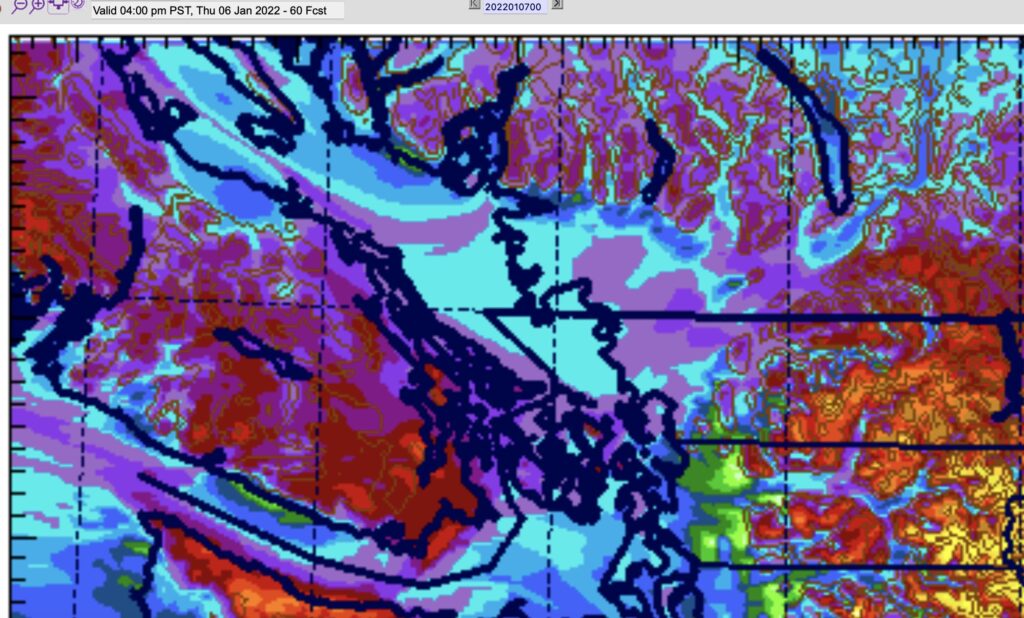 Old Post —-
Adding to the slush and ice
In case the slushy and icy roads weren't enough, we have a bigger mess on the way.
Environment Canada has issued a Winter Storm Watch for nearly the entire BC Coast here is the text for our area:
Threat: Rapidly accumulating snow, possibly affecting the Thursday morning commute. There is a risk of freezing rain for the Fraser Valley.

Remarks: A low pressure system is forecast to approach the B.C. coast later Wednesday. Due to the recent cold temperatures, snow will develop Wednesday evening with snowfall accumulation ranging from 10 to 20 cm by midday Thursday.

Rapidly accumulating snow could make travel difficult over some locations. Travel is expected to be hazardous due to reduced visibility in some locations. Surfaces such as highways, roads, walkways and parking lots may become icy and slippery. There may be a significant impact on rush hour traffic in urban areas.
The System – Timeline Overnight Wednesday
A strong front will move through and bring rain, snow and/or freezing rain starting in the 4-7PM on Wednesday.
It will intensify overnight.
It will be strongest around midnight.
The skies should clear after 7AM for most of the Island.
Storm Totals – Heaviest totals South Island – Also Windy and possible Freezing Rain
Above is the 24hr total between Wednesday and Thursday. The heaviest looks to be toward Shawnigan Lake, Cowichan and Victoria.
Campbell River: up to 15cm
Courtney: up to 10cm
Port Alberni: up to 10cm
Nanaimo: up to 15cm
Ladysmith and Duncan: up to 20cm
Cowichan: up to 20cm
Shawnigan and Victoria: up to 25cm
Add wind and possibly freezing rain in there too
Through all of this we could see Freezing Rain as well as strong winds over 50kph. Below is the picture for around midnight Wednesday night which looks to be the peak of the storm. We could have blizzard-like conditions overnight. Don't drive.
Take care out there.
Happy New Year! 🙂