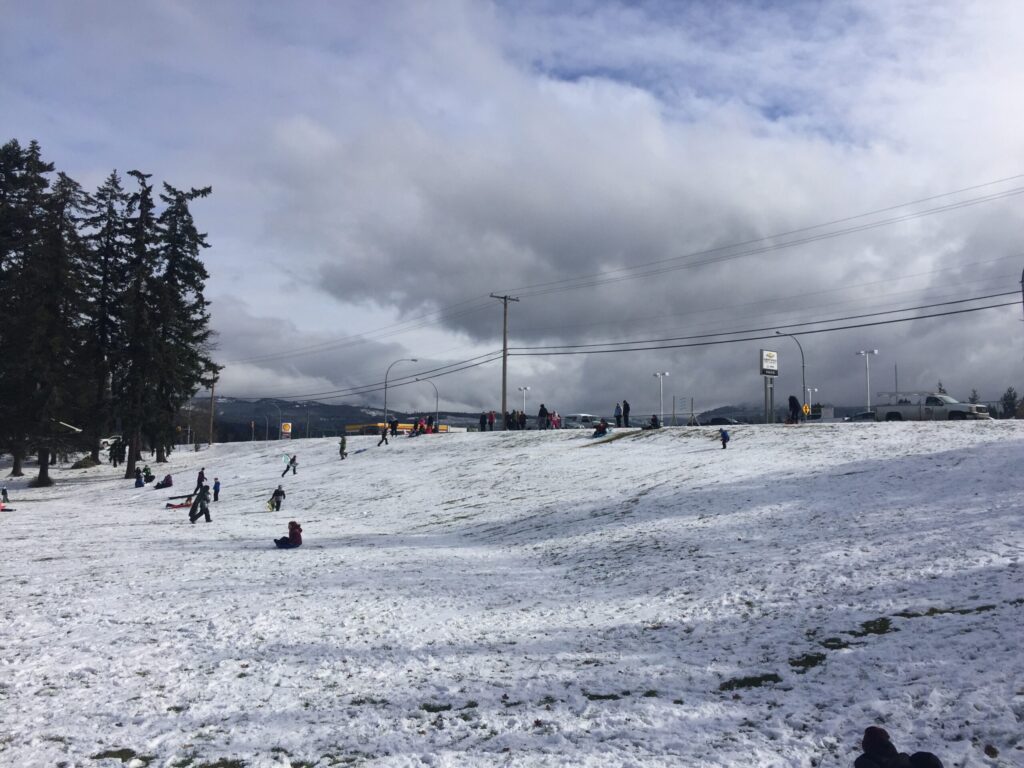 West Coast winters never disappoint.
Is your back not quite sore enough? Do you feel like you need a bit more cardio? I have great news. Here comes your Big Orange Blob of Pain.
Blob – Cementing you in starting Sunday Morning
That's right folks, don't be fooled by the pretty colours!
Green doesn't mean go, it means snow. And probably heavy snow. Not so much heavy as in a lot falling from the sky. I mean heavy as in you might want to wait for your neighbour to shovel your sidewalk. It's going to start between 7-10AM.
Do you live in Ucluelet or Tofino? You get a special treat! If you've "forgotten" to shovel your driveway, don't worry. You probably won't get any more snow at all. Instead, it'll rain and turn your driveway into a new beautiful kind of cement, but more slippery. Karma. Will you shovel or will you wait for it to magically disappear? That is the question.
Port Alberni, Lake Cowichan and the East side of the Island will have a much better time though. The picture below shows the snow still going strong for those regions right through Sunday afternoon and evening.
The liquid sunshine won't start falling until well after the sun goes down. Probably 7PM or later. So you'll have plenty of time to get your sidewalk clearing "reps" in!
It's going to snow this much — but how much will it weigh?
Accumulations (please lift with your legs):
Port Alberni, Bowser, Courtenay: 2-5cm (5-20kg)
Parksville/Qualicum, Victoria: 1-2cm (2-5kg)
Nanaimo, Cowichan: 5-15cm (10-100kg)
We should get more details from Environment Canada soon. Until then, check out their Special Exercise Statement here.