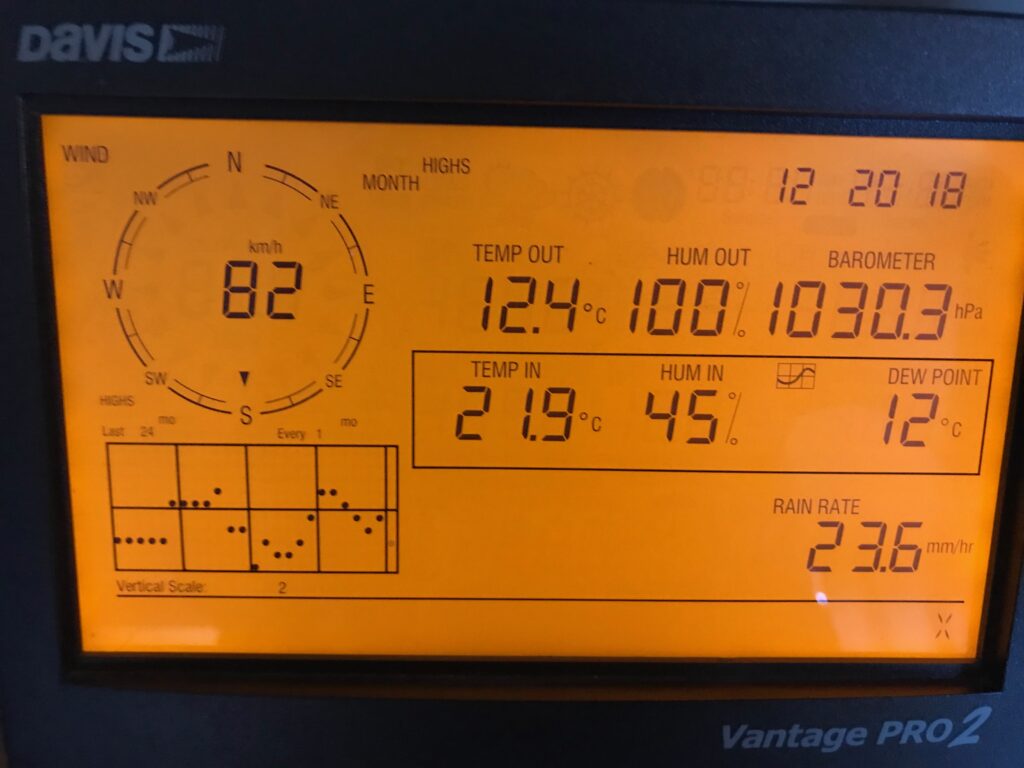 The First Post of Winter! We just passed the Winter Solstice at 2:23PM this afternoon. So in honour of the shortest day of the year, and after the epic day we had yesterday, this will be a short post! 🙂
The picture above is of the highest wind yesterday. It peaked at 82kph (51mph or 44.5knots).
The last time we had December winds this strong was in 2014, when we recorded 102kph. The famous windstorm of November 2006 measured 103kph. 80-90kph gusts are not unusual, but the intensity of the storm yesterday and its duration and combination with rain made it quite destructive. It's destructiveness was on par with the 2006 storm especially in the Whiskey Creek, and Little Qualicum Falls area.
Tonight we have a chance at a snow as a new but weaker system pushes onto the Island. Green is snow in the image below, grey is rain.
The model does not predict any snow to accumulate at sea-level but given how chilly it is today there will be the possibility tonight and Saturday that some of the precipitation falls as snow, or at least a 'wintry mix'.
Please be careful driving out there.
Sunday will be showery as well but the good news is we will dry out Christmas Eve and Christmas Day and may even see the sun on Christmas!
Happy Winter Solstice!