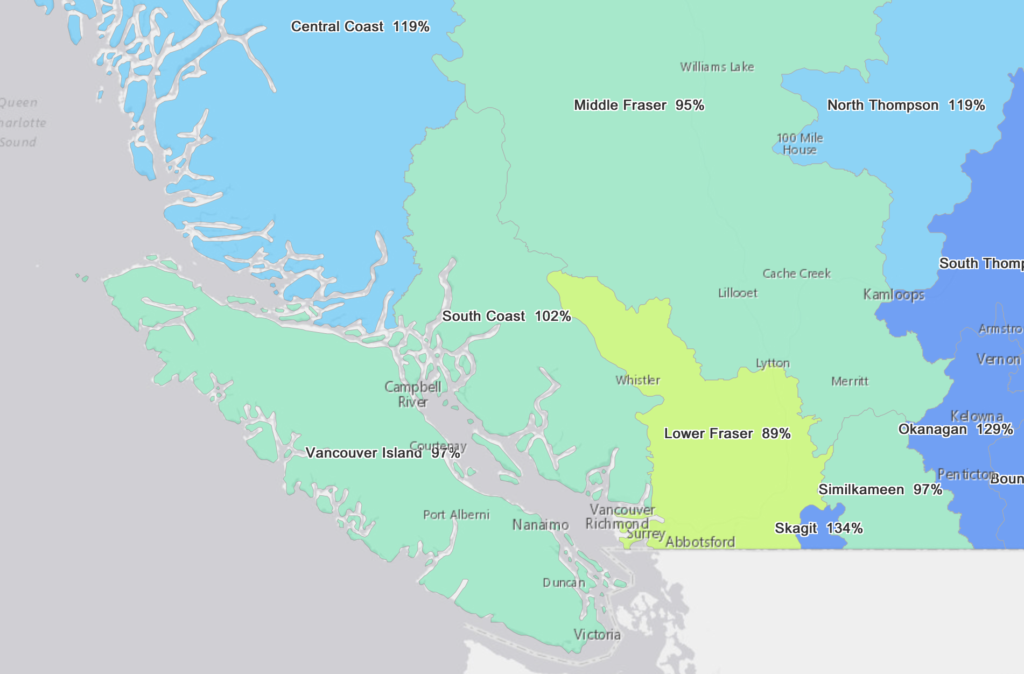 The weather is going to be fairly static until Friday when there is a chance for some moisture to creep back into the picture.
So let's talk snowpack.
Snowpack looking good on Vancouver Island
So far, there is a little bit of conflicting information for the snowpack. By the map below you would think things are just fine.
However, the weekly raw numbers have the snowpack around 87% for north Island and 78% for the South Island, down a bit from a high around 90% on February 1st.
(Click the image for a larger version)
As you can see the numbers are the best they have been this season but still almost 25% below normal on the South Island for this time for year.
They were supposed to update their snow bulletin last week but never did, which is odd. The latest update is from January 16.
The February 1st Snow survey and water supply summary indicates that with our currently neutral, (non-El Niño or La Niña) conditions in the Pacific, rain, snow and temperature conditions are less predictable for the spring melt season.
By mid-February, we have also received most of the moisture that we receive through the fall and winter snowpack building period.
So really what we should still be hoping for is a bunch more good bouts of cool rain in the low lands, and snow on the mountains.