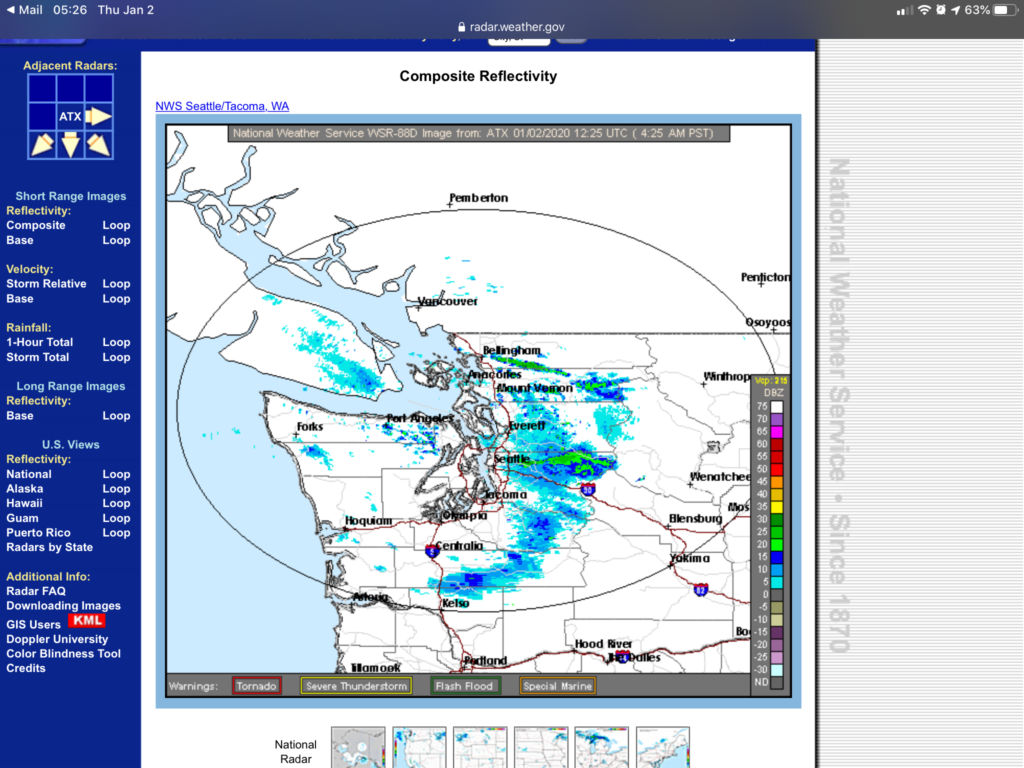 Updates toward the top…
We have winners in the First Snow Contest!
I'm calling it at 7:10PM!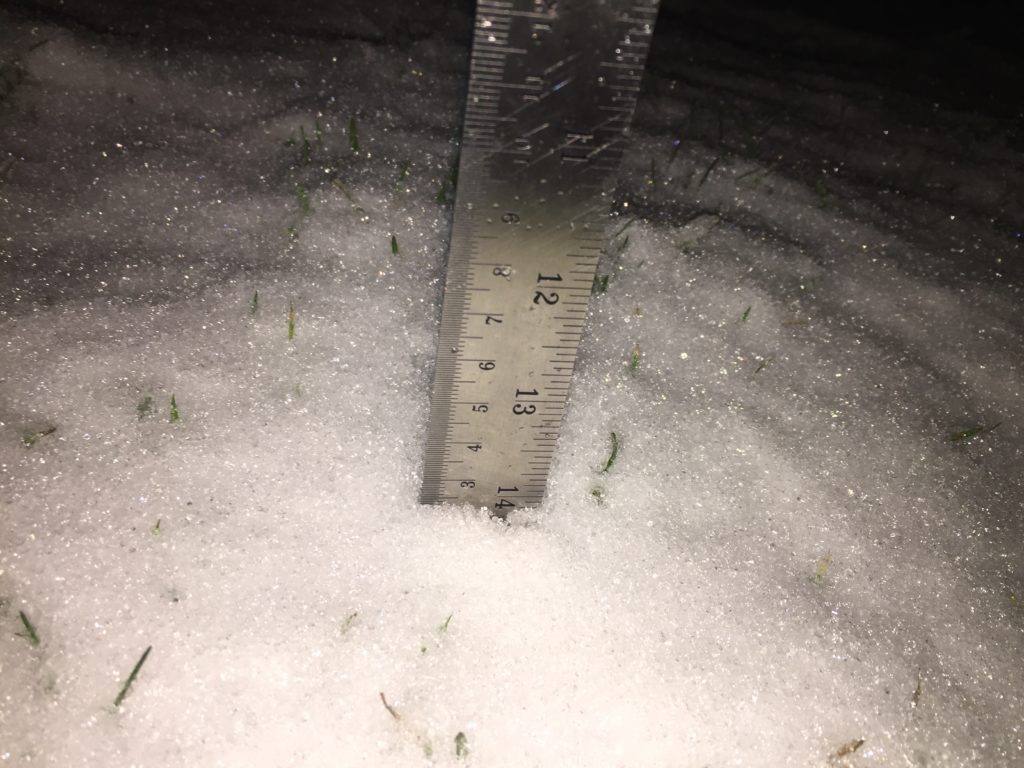 Winners to be announced soon!
EC issues Snowfall Warning for North sections of East vancouver island.

Issued at 2020-01-03 01:24 UTC by Environment Canada:
Snowfall warning issued for:
East Vancouver Island – Courtenay to Campbell River, B.C. (081330)

Current details:
Snowfall with total amounts of about 10 cm is expected.

A Pacific warm front is giving snow to the northern sections of East Vancouver Island. At 5 pm, 5 cm of snow had been reported near Campbell River Airport.

Total snow accumulations up to 10 cm can be expected over inland sections before the snow changes to rain late this evening.

However, near the water, snow will be mixed with rain and no significant accumulations are expected.

Surfaces such as highways, roads, walkways and parking lots may become difficult to navigate due to accumulating snow.
10:30AM: Morning model indicates heavier rain (likely mixed with snow) around 12PM.
This morning's UWash model run is updating now. It has showers starting this hour (as they have), and the intensity will pick up through the rest of the day.
Expect the heaviest rain and most likely snow mixed in, in the 3-4PM hour. It will then begin to taper off. UWash is still *not* predicting any low level snow to fall, so we should hopefully only get a slushy mix at sea level.
Watch out on the mountain passes though and other localized areas for sudden changes from rain to snow.
As for the wind on Friday, expect it to be blustery all day. It looks like the strongest winds will happen Friday afternoon between about 12PM and 5PM. Winds offshore will be int eh 40-45knot range.
It is always very directionally dependent for the Valley, but we should prepare for 60-70kph in Port Alberni.
I will tweet updates as the day goes on, especially if there are rapid changes. You can tweet with the hashtag #alberniwxstorm and #bcstorm on Twitter and Instagram.
Expect possible snow this morning – changing to rain – then maybe back to snow.
I may update this post today if conditions change rapidly or EC provides more information.
The temperature dropped like a rock last night.
Likewise, the temperature has dropped to zero across much the Island this morning.
Environment Canada has issued a Special Weather Statement for today and tomorrow warning of significant rainfall and the possibility of snow especially at higher elevations.
12:43 AM PST Thursday 02 January 2020
Special weather statement in effect for:
A strong Pacific storm is on the way for this afternoon and Friday for the BC coast.

The storm will approach the coast today. Precipitation spreads onto Vancouver Island late this morning and onto the south coast early this afternoon. Strong southeasterly winds will also develop this afternoon.

Initially temperatures will be cold enough to allow some of the precipitation to start as wet snow over higher elevations of Vancouver Island and the south coast.

By this evening warm air accompanying the storm will drive freezing levels and temperatures higher so that precipitation changes to rain for most communities. The exception may be Whistler and the Sea to Sky Highway from Squamish to Whistler where snow could persist longer.

The heavy rain and strong winds continue all day on Friday. The highest rainfall amounts will be over the central coast, north and west Vancouver Island. Areas of Squamish, northern sections of Metro Vancouver, and the Fraser Valley will also significant amounts of rainfall.

In areas where snow does accumulate, a higher chance of localized flooding is possible due to rain on snow.
More detailed timeline:
Moisture is starting to build on the radar now.
Last night's UWash mode, expects rain or snow to begin on the central island in the 7-10AM period, possibly sooner,
The Canadian GFS expects Port Alberni to start with snow around 10AM, up to 6cm.
The snow and rain will spread across the Island and continue until Friday morning. Then, as you see above, we could get some very strong winds.