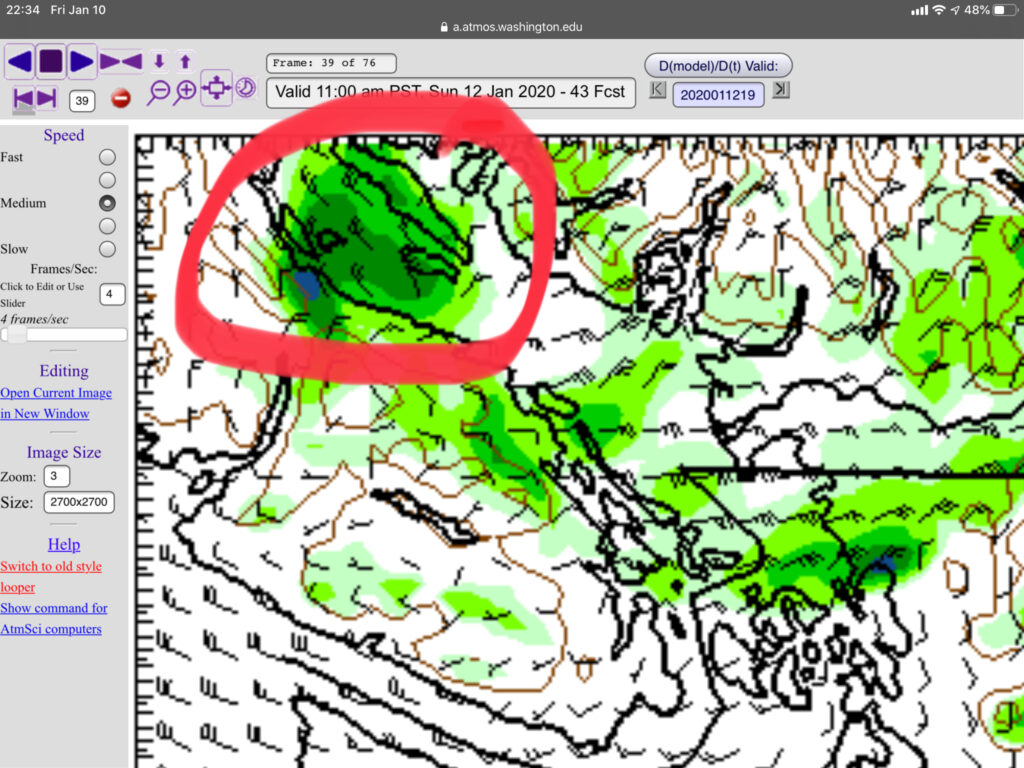 The latest model is out and it's snowy.
Saturday wind – expect Ferry cancellations.
Strong north westerly winds will begin on the West Coast tonight. By 5AM they will have begun in northern parts of Georgia Strait. By 7AM they should surround the Island and start to cancel ferry sailings. (Note the barbs in the image below. One full barb is 10knots/19kph)
The winds should peak around 40knots (70-80kph) on the water by 11AM but the strong winds will continue until sundown, around 3 or 4PM. Ferries should hopefully be able to run Saturday evening.
Being from the north, you can expect the wind to feel plenty cold.
Sunday strait effect snow.
Winds will shift to the southwest Sunday morning bringing snow to the high elevations and mountains of Vancouver Island, however, strong easterly and southeasterly winds invade from the Fraser Valley and the conversion of the two over Vancouver is going to mean a whole bunch of snow is expected to start in Vancouver around 7AM.
The model predicts that the southwesterlies are then going to basically lose the battle and the easterly outflow winds from the Fraser Valley, Howe Sound and Central Coast will start to spill across the Strait, dragging snow across to the Island starting around 9Am for Nanaimo and the Gulf Islands.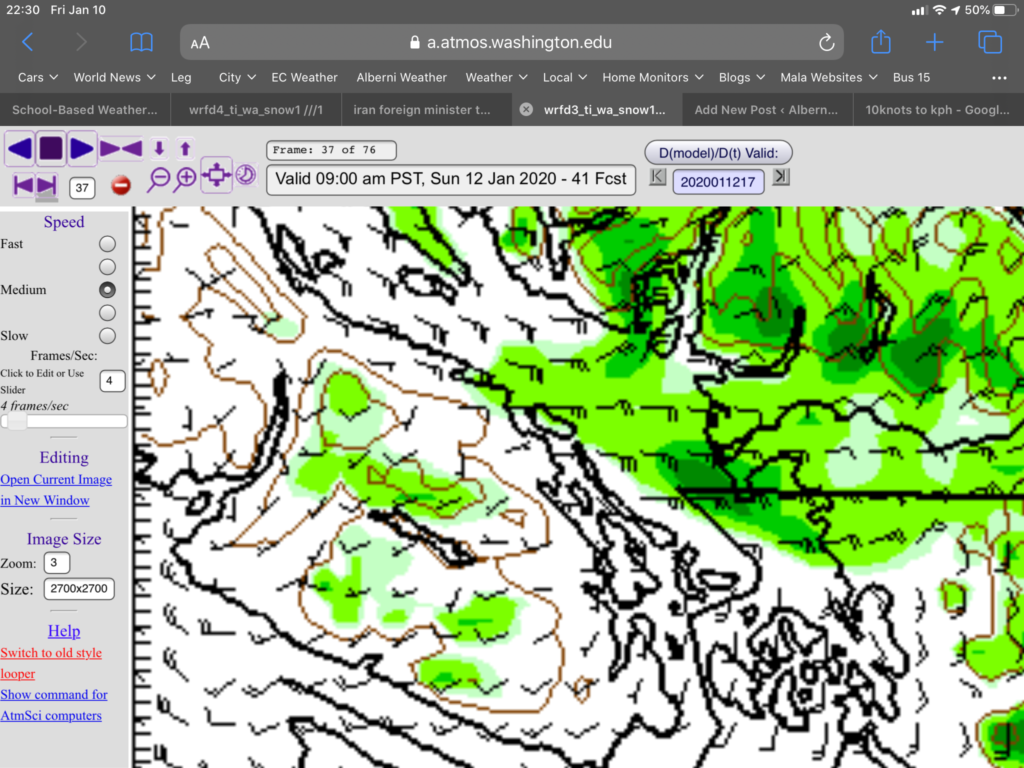 Snow spreads across more of the east Island, from Mill Bay all the way to Courtenay by 10AM.
Look for a heavy pocket of snow to start just south of Courtenay around 11AM and start to move down the East side. This is the most likely time Inland parts of the Island like Port Alberni might see some snow. You could expect heavy snow 5cm in an hour from this one pocket on the east coast. Circled below. I've posted the hourly pictures so you can see it move down and dissipate.
By 3PM there should only be pockets of light snow, but given all the activity, we could see significant accumulations of snow, 5-10cm an it will not be washed away by rain.
I would avoid driving on the east side especially on Sunday if you can. The easterlies will also bring freezing temperatures.