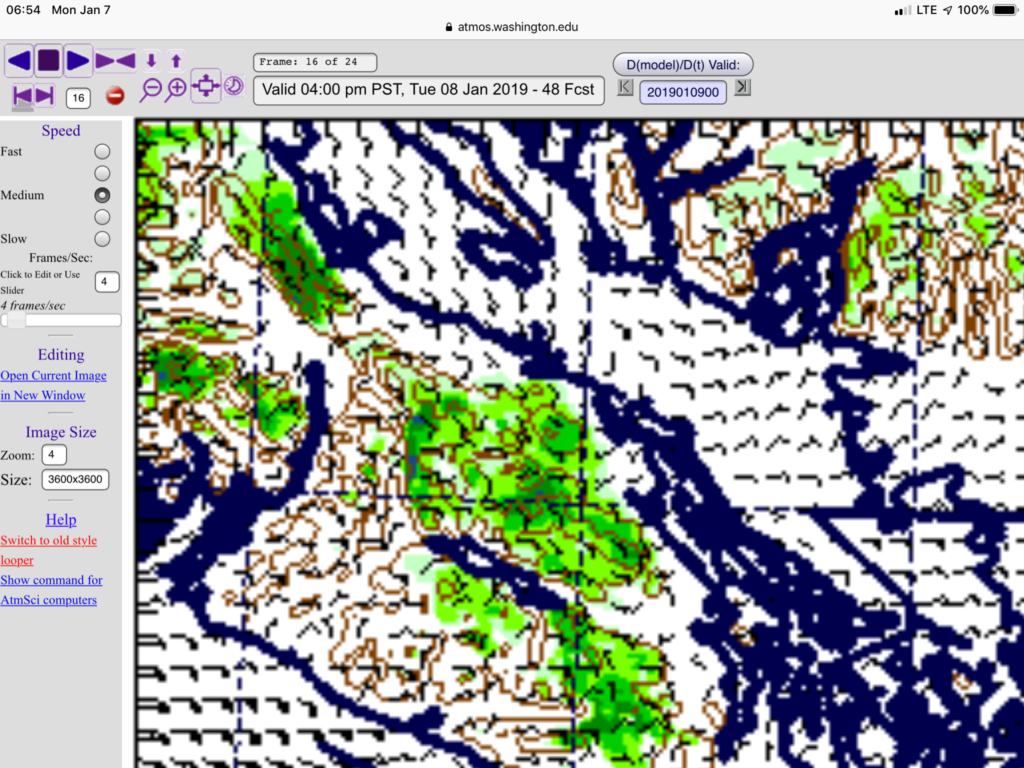 Update 6AM: the temp has popped up to 3°C but the windchill has us below zero still. The snowfall warning remains in effect. I expect it now to start as rain and then switch to snow but we will see.
Yup, we have a snowfall warning! Below is the warning in full. I have more timing details below that. I will post updates here throughout the day tomorrow!
10:14 PM PST Monday 07 January 2019
Snowfall warning in effect for:
Inland Vancouver Island
Snowfall with total amounts of 5 cm near the coast and 10 to 20 cm inland is expected.

An approaching Pacific frontal system will spread precipitation across Vancouver Island Tuesday. A cool air mass currently over the region means that precipitation will begin as snow Tuesday morning. Snow is expected to continue through the day as snow levels remain near sea level, though near the water snow may become mixed with rain in the afternoon. Gradual warming through Tuesday night will cause snow to change to rain by Wednesday morning.

Near 5 cm can be expected over East Vancouver Island today. 10 to 20 cm is possible for Inland Vancouver Island by Wednesday morning. The heaviest snow is expected over higher terrain and locations away from the water.
Ice, Snow, Freezing Rain, Rain. Possibly in that order but not necessarily.
Here is what we know for sure. It is cold enough for snow. It is currently -1°C (ok actually -0.9) and dropping. There is a light easterly breeze which might give us a windchill down as far as -3°C. Great conditions for frosty windshields and icy roads!
It is also setting us up for possible snow on Tuesday. EC is predicting snow to start in the morning but the UWash model has it starting right at noon from this chart below which shows rain in grey, but that is going to fall as snow so long as the cold air sticks around, which it should. Given the disagreement in timing, just prepare for the snow to start falling anytime after daylight.
Rain/Snow will spread across the Island the rest of the day. The heavier the precipitation amounts, the more likely it will fall as snow. Then it will become a bit of a guessing game to see what area turns to freezing rain or just rain. Higher elevations are more likely to see snow accumulate. Port Alberni itself might see no snow at all in town and just wet snow that doesn't accumulate. Or you could see up to 10-20 centimetres by the end of the day before the winds shift to the southeast and bring the warmth in.
Be prepared for it all!
And in case you're wondering, Faye Carnahan has the closest snow contest guess! She guessed Sunday!