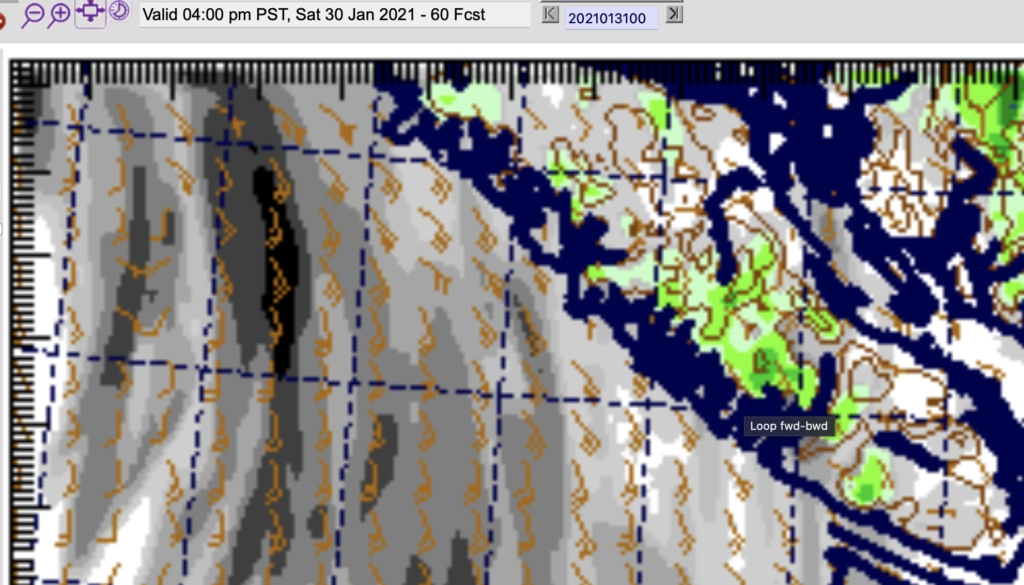 Glimpses of sun Thursday and Friday
We got a nice glimpse of the sun yesterday and again this morning. Hopefully we get a few more breaks in the clouds today and tomorrow before the next system rolls in on Friday night.
Switch back to warmer temperatures
The system on the weekend will usher back in warmer temperatures above 5ºC as tropical air again swoops in from the south. Southerly winds will reach the Island by Friday afternoon and we should see rain in all areas of the Island before 4PM.
However, there is always a chance with these crossovers that some lingering low-level cold air will cause the first bout of rain to hit the ground as snow or freezing rain. Beware if you are on the road on Friday night.
The system intensifies Friday night, particularly on the West Coast. You can see that there is still snow expected in the mountains so be careful on the Hump or Sutton Pass.
The image above shows the tail end of the front coming onshore just before 4AM. So expect the front to pass in the following early morning hours as the sun rises.
However, showers will linger throughout the day on Saturday and another front will sweep in with stronger winds on Saturday night and into Sunday morning.
I would expect by Sunday that we might see some temperatures nearing 10ºC as the warm air fully invades and takes over.
A 4th Air Quality sensor – in Cherry Creek
If you go check out the Air Quality readings page you'll see a 4th Purple Air sensor has been added to the network at Cherry Creek Community Hall.
We have great coverage now in Northern and West sections of Port Alberni. We'll have to get a couple on the South side of town. These will be great ways to monitor neighbourhood air quality levels.
Happy Thursday!