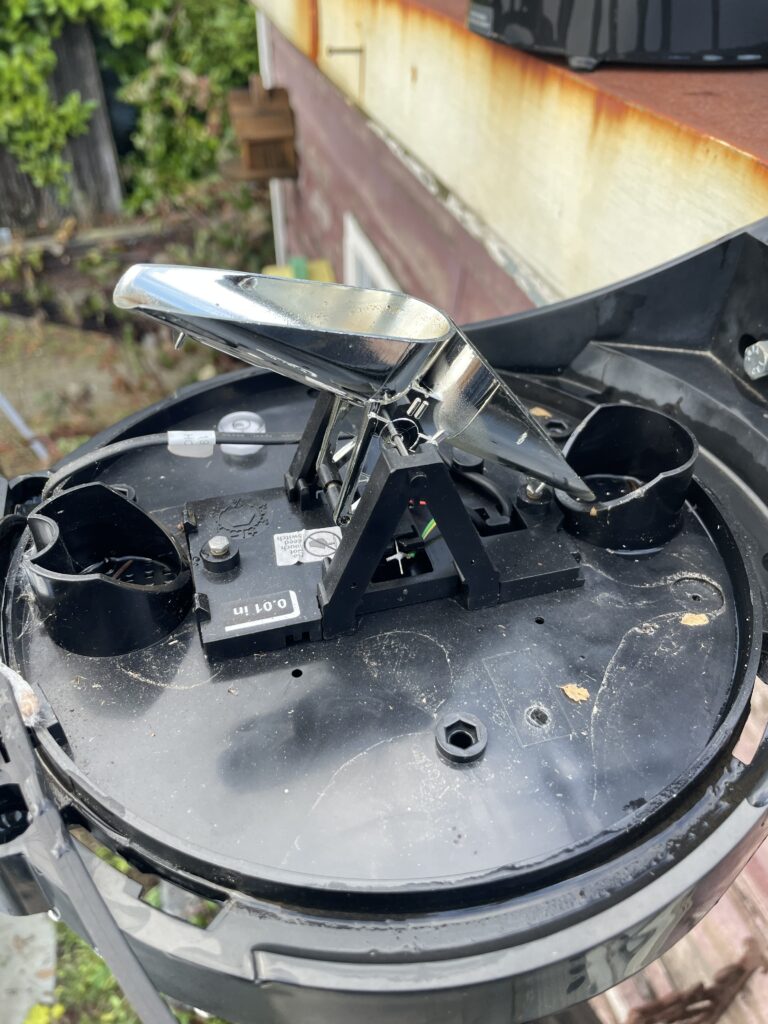 A seedy situation
Once the rain finally stopped last weekend, I ventured into the yard to get the ladder and get up on the side of the shed to inspect the rain collector.
And there it was… full to the brim with water. Obviously it can't measure much water if no water is flowing through it!
Off comes the cone, and I look down inside. The debris filter also seems to do a great job hosting algae and not such a great job filtering out sediment (and seeds).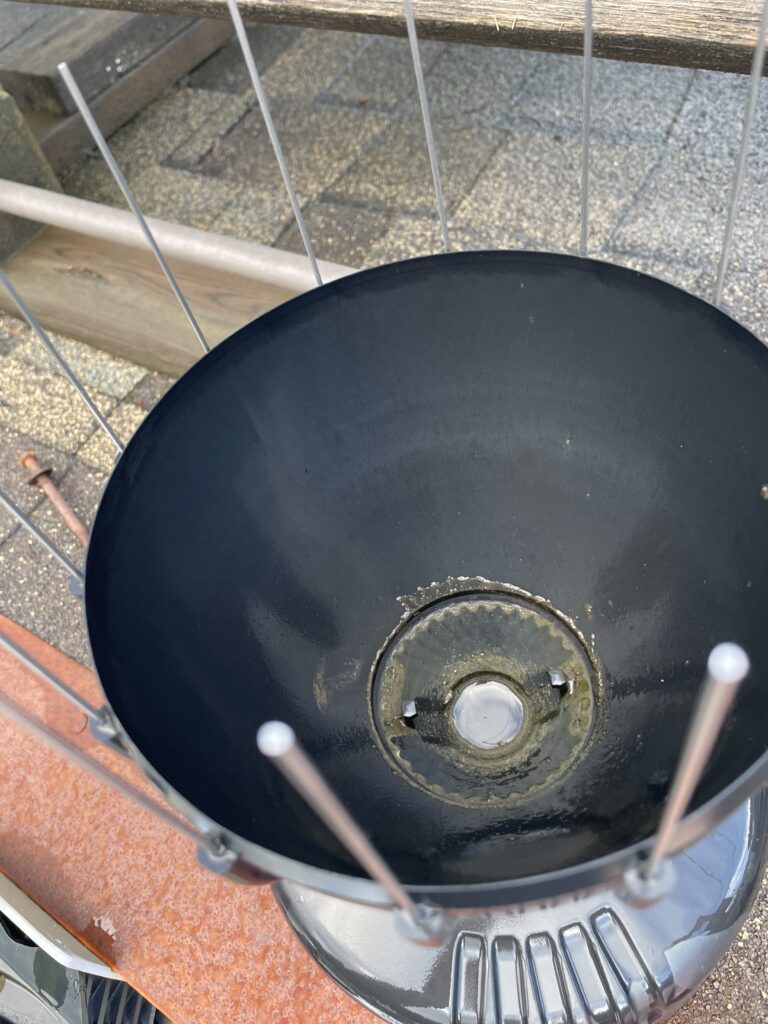 As proof at just how little rain was getting through, the tipper was bone dry even though it rained last night. I actually wonder whether any rain was being measured at all or if it was some sort of anomalous electrical or radio transmission weirdness.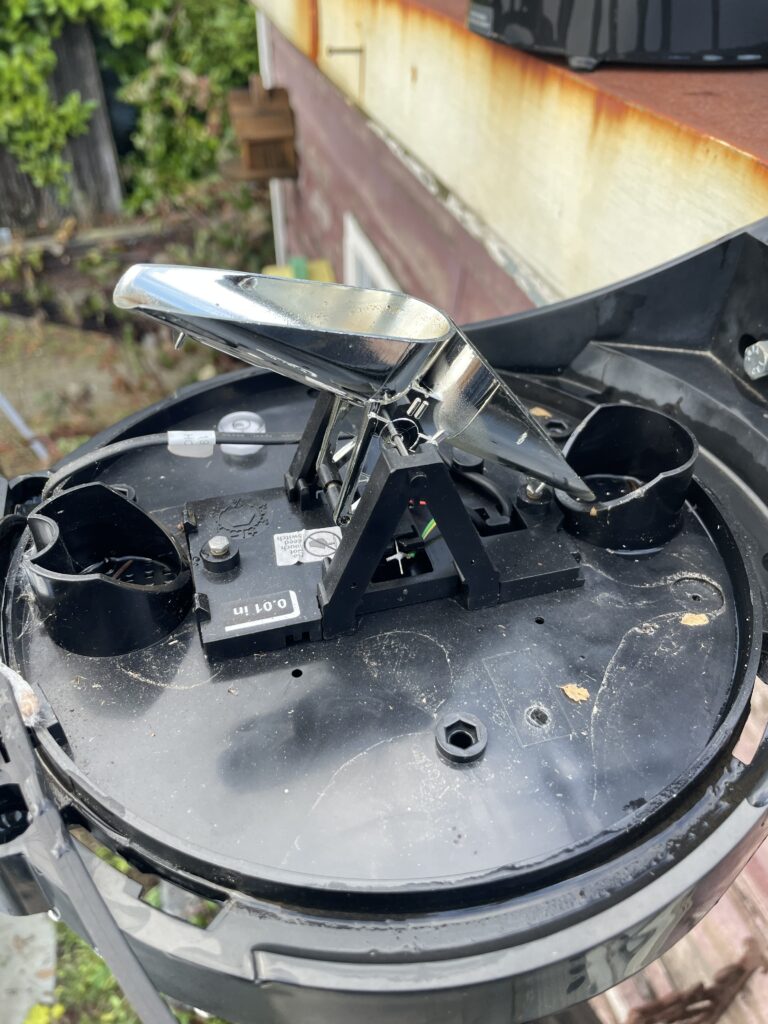 The tippers were completely dry. They had some crusty sediment built up on them, which is normal. You can see some of it on the inside of the tipper in the picture. I try to clean them every 6 months. It's actually quite a precise instrument. The one thing I didn't do was make sure it was still level in all directions. I will try to do that next weekend. But it looked pretty good.
I took the collector inside to give it a good wash and what did I find in the bottom plugging the roughly 2mm in diameter drain hole?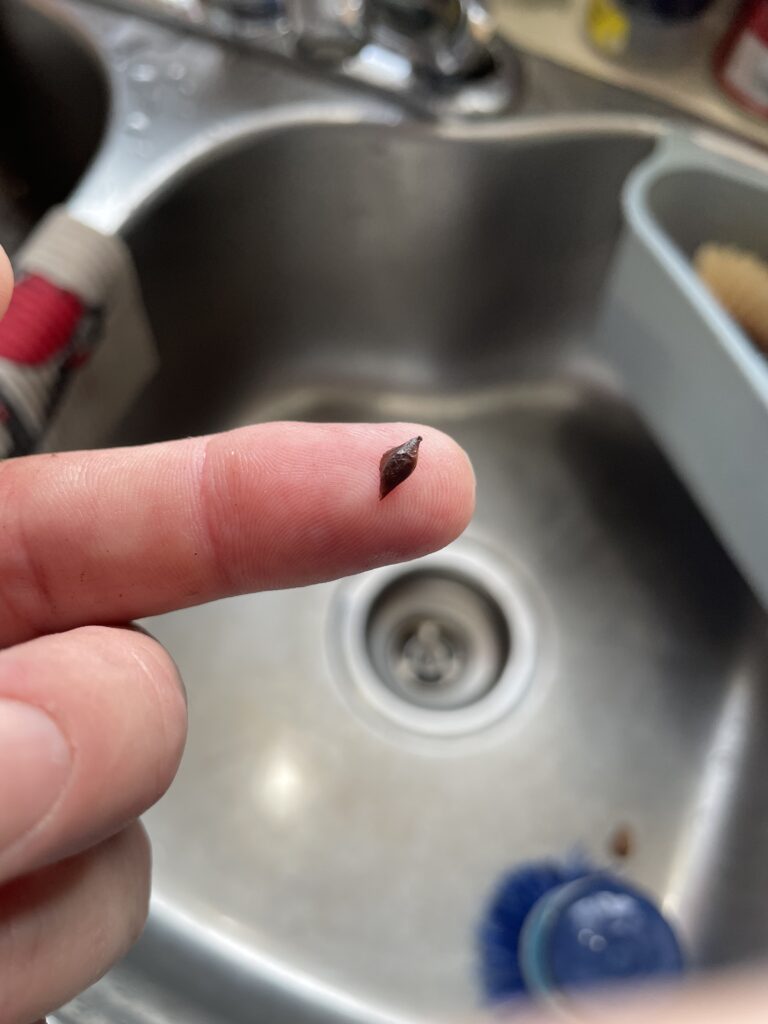 It appears to have been a seed. Likely from one of the cedar/fir trees that are across the alley from the shed where the collector is perched.
Data inline with Alberni Airport
The impact has been immediate. Even though we just had drizzle through most of the day on Monday, the station recorded 6.4mm, which was actually 1mm more than the Alberni Airport's 5.3mm.
Just in time for Rain! Then, snow.
We have a few more days of rain and showers to get through.
Rain should start early this afternoon.
We should see some strong southerly winds develop this afternoon and into this evening.
There will be two waves to this system. The models show the first pushes through quickly this early evening. It will have moved past the Island before 7PM but showers and strong winds will linger afterward as we can see in the 7-10PM picture below.
The following front will move through overnight. It looks even shorter in duration but possibly more intense rain and wind. Peak period between 1-4AM.
The Island should be done with that system by noon Wednesday and might even see some sunny breaks as the clouds move out before noon.
A break Thusrday/Friday then possible rain/snow mix Saturday
We get a break at the end of the week but then the temperature drops just enough for it to get interesting on Friday night into Saturday morning. Another front is expected to move through overnight. Friday.
However, the model does show a possibility of some mid-to-low elevation snow on Saturday morning.
This could translate to snow on Sutton Pass, the Hump, and/or the Malahat. We'll see what it says as the time approaches in a couple days.
One last thing – Hopefully website is a little snappier
I've made some improvements and removed some legacy stuff from the backend of alberniweather.ca in the hopes that it speeds it up a little bit and makes it more reliable when high-traffic occurs. Let me know if you see anything wrong but it should all be pretty transparent to the regular viewer.
I've also switched the email-updates to a new service. If you usually get an email when a post is made please do provide me with any feedback if the changes spur any.
Have a great Tuesday!