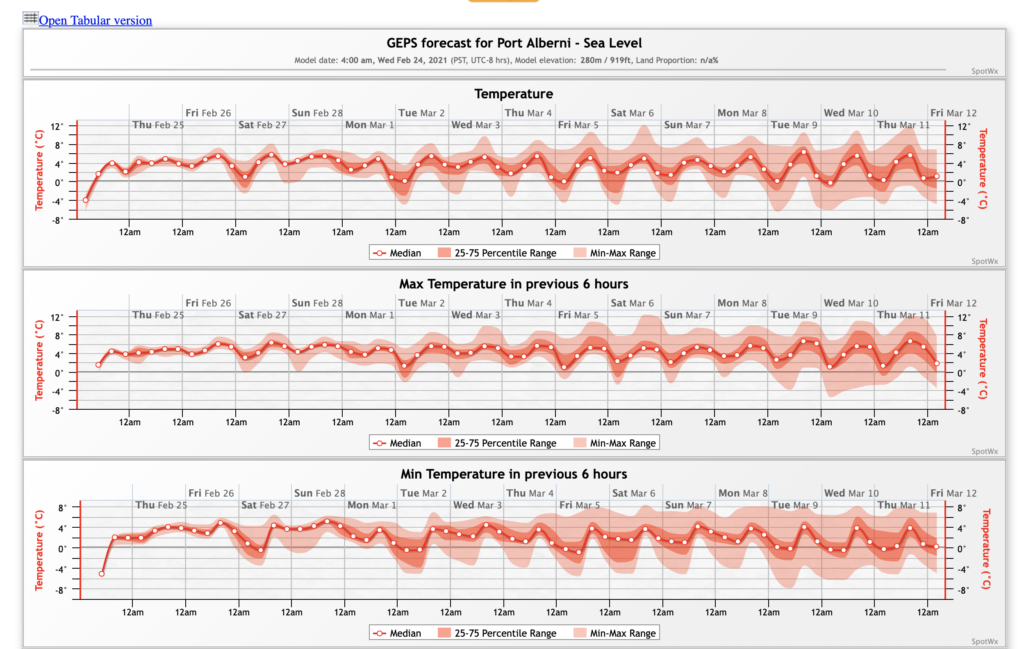 After a couple quite pleasant days and chilly mornings we will have a return to precipitation Wednesday night.
Expect rain to begin around 10PM Wednesday and last through the night. There will be wind with this system as well.
Thankfully though, it should be all pushed through and into Washington State and the BC Interior before sunrise on Thursday.
Spotty showers and wind will persist through Thursday and Friday but won't amount to a lot.
There is a chance of high elevation snow with this system but it should be both minimal and short-lived.
The long range models are pretty firm that we have turned a corner and the chances of any kind of Arctic outbreak like we had a few weeks ago are dropping very rapidly.
That said, it's not unprecedented for us to get a last shot at cold air in late March and even early April, so we'll keep an eye out. At this point though, I'm looking on the charts to see if we will be getting any big pushes of dry Californian air.
Upgrade to Data View
I'll be taking the next couple days to upgrade the Data View on the webpage. There are some very useful features that have been upgraded, most importantly a harmonization of units so that I can display barometer readings in kPa across all of the views.
As I work on the upgrade the Data view may become unavailable or inconsistent and there may be short interruptions in data to the rest of the website. I'll try to keep the disruptions to a minimum.
Thanks and have a great Wednesday!