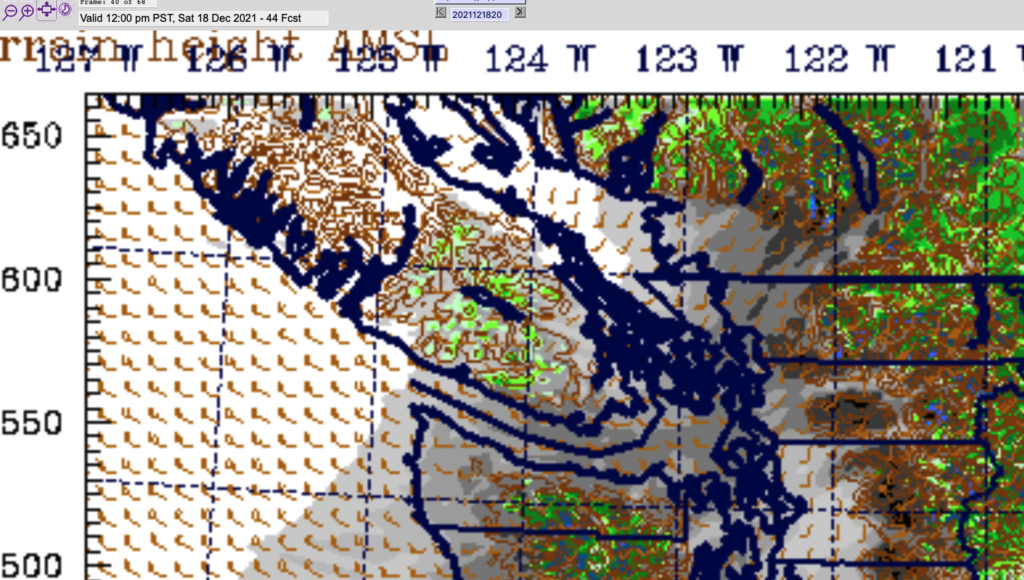 EC Issues 15cm Snowfall Warning.
Looks like the forecast has changed slightly. And it has more snow. Environment Canada has issued a snowfall warning for Port Alberni (and other places).
A strong Pacific frontal system will move onto Vancouver Island later today, bringing heavy snow tonight followed by rain tomorrow. Upwards of 15 cm of heavy, wet snow is expected tonight. Warmer air will push onto the island early Saturday morning, with rain forecast tomorrow.

Rain will give way to showers near noon Saturday, and these showers may become mixed with wet snow later in the day.
Original Post
We have a strong system coming Friday night and through Saturday. There is a snowfall warning for East Vancouver Island, particularly for higher elevations. There may be other warnings issued later today.
It will get messy in Port Alberni. And you can expect wind early Saturday morning on the coasts too.
Precipitation begins after sundown
Expect things to get started around 5PM tonight for most of the Island. The picture below shows snow in green and rain in grey falling by 7PM. Notice the grey in the Alberni Valley and at sea level along the East and West coast of the Island with snow sticking to the mountains.
However, it is probably not going to be this clearcut. Temperatures will be hovering around 1-2ºC for most areas, particularly on Friday night. So if we get heavier precipitation, it could turn to heavy wet snow as the freezing level gets dragged down. I don't expect large accumulations of snow, but expect a messy mix which could pile up in some areas in a short period of time.
Dangerous Freezing Rain also possible
Also thanks to the cold air that is going to be lingering around, we could see bouts of freezing rain anytime between Friday night and Saturday morning. If you are on the road, you're going to want to be very alert for icy conditions.
By tonight (9PM), the high resolution "HRRR" model has snow over much of the Island.
However, by Midnight, in the picture below, we start to see a mix of rain, heavy rain, sleet, and possibly including freezing rain as well (in pink). So it's going to be messy.
Ends Saturday Morning
Everything should turn to full rain by around 5AM and the back of the front should sweep down the Island and end the rain by around 11AM or 12PM Saturday morning.
Take care out there.