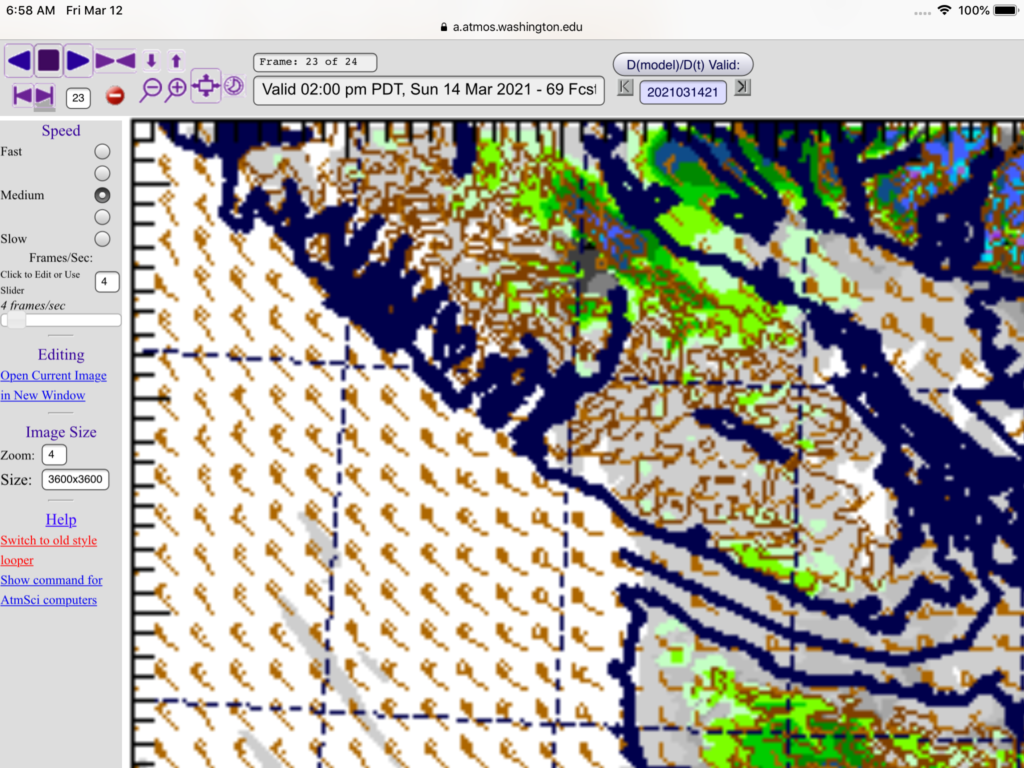 All things considered it has been quite a pleasant week with the sun shining in the afternoons and the buds on the trees and bushes growing fast! Friday and Saturday should be cloudy as we set up for a short but intense but of weather on Sunday.
Sunday – Leap Forward into Snow?
Sunday is the start of Daylight Savings! But it might still feel a little wintery! I will include the progression of images for Sunday all at once below starting with the 10-1AM hour Saturday night. Rain is in greys and blacks. Snow is in greens and blues.
As you can see, the party starts for the Central Island around 1AM Sunday and doesn't stop until at least 5PM Sunday evening!
There is a good chance that, like our last bout of snow, heavy rain overnight could turn into heavy wet snow. Especially just before sunrise. Notice there is no snow in the forecast from Environment Canada though yet! So there is obvious disagreement in the modelling.
If you are planning on driving on Sunday you should be prepared for anything. The last two images above, for Sunday afternoon show pockets of wet snow developing in the Qualicum and Courtenay areas especially but also possibly Port Alberni.
We are nearing the Spring Equinox and that always means we could see some wild and very changeable weather.
Nice and Warm Monday
The really good news is though that the clouds should clear out quickly Sunday night and we should see sunshine and 15 degrees on Monday! Yay!
Happy Friday!