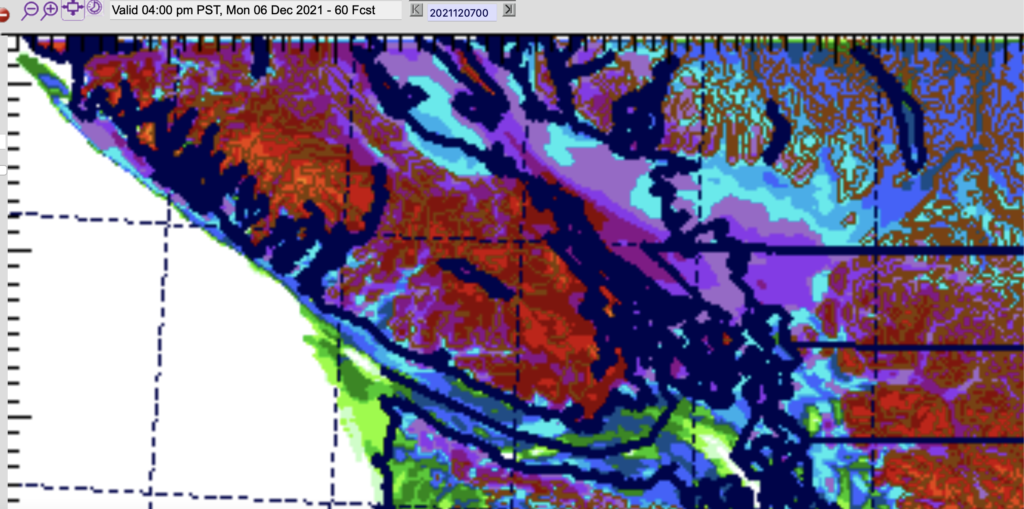 Update Sunday 7AM – Snowfall Warning In Effect
Here is the warning for 15-20cm. I will update this post again if the forecast changes significantly but otherwise get ready for snow!
I wouldn't want to get the kids excited but… and beware, it will turn to rain.
This is kind of the perfect forecast for a snow day on Monday. Light snow is expected to begin around Midnight Sunday night across most of the Island.
Real snowfall is expected to begin in all areas in the 1-4AM. Notice the heavy band of snow across Port Alberni and another further south across Shawnigan Lake, the Langford area and Saanich Peninsula. These bands could produce up to 10cm of snow in that single period.
Then we have the 4-7AM period:
Now see a further 10cm or more in the same areas plus a strong band of 10-15cm in light blue through Port Alberni and into Ladysmith and Nanaimo.
However, notice also there is some light green and white on the west coast as temperatures warm and the snow turns to rain on the West Coast.
By the 7-10AM on Monday we are into a messy mix that will be very hard to predict. Some areas might switch over to rain earlier, or later, than this picture would suggest. It seems very likely that the West Coast will be turned over to rain after 7AM but Inland areas, Port Alberni, Cowichan, Errington, Ladysmith and others might take longer.
Totals – Plenty
The 24hr totals, from 4PM Sunday to 4PM Monday are impressive.
Port Alberni: 10-20cm (4-8in)
Courtenay: 5-15cm (3-6in)
Tofino/Ucluelet: up to 10cm (4in)
Cowichan/Nanaimo/Ladysmith/Langford/Saanich Peninsula: 15-30cm (6-12in)
Victoria: 5-15cm (3-6in)