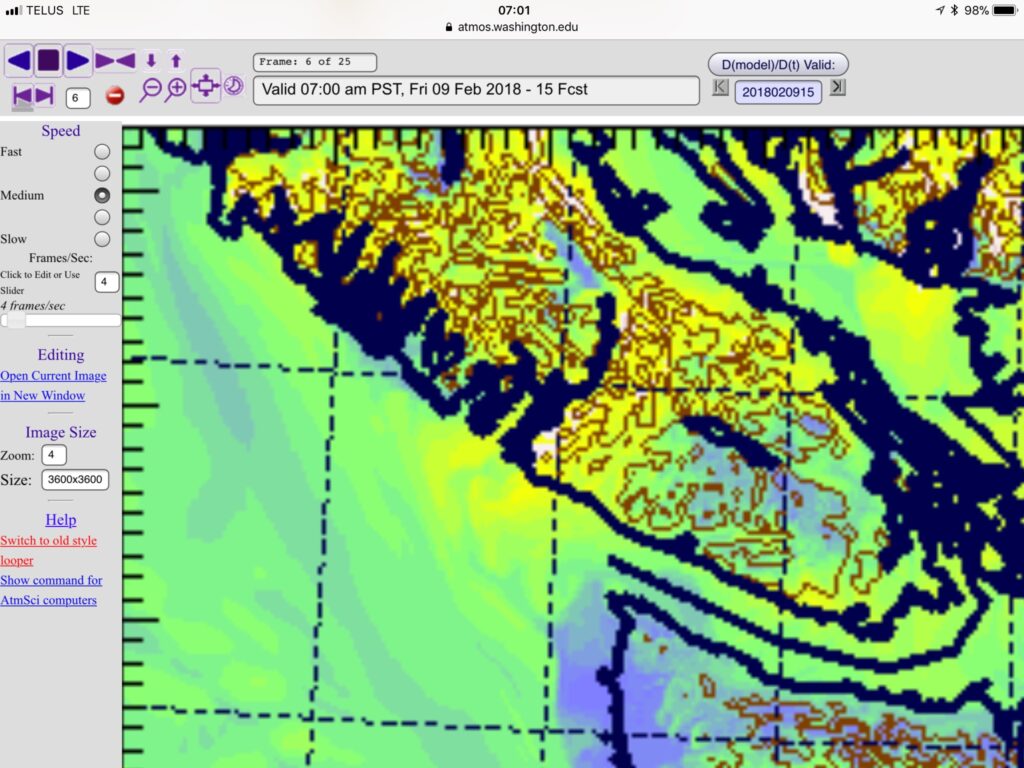 It was beautiful on Thursday. Alberniweather recorded a high of 12.2°C and the Airport got up to 11°C by 1PM but data after that is unavailable. The airport record for the day was 12.5°C in 1995 so there is a good chance we beat or matched that.
While I am on the subject of records, you might have noticed i posted a raft of monthly summaries.  I posted the summaries for October, November, December and January. We set some all time day records for heat and rain through those months.  I will post a 2017 annual summary soon.
Cold and Fog for Friday and Saturday.
There is a crescent moon out this morning and it is quite beautiful. Unfortunately, you likely will not see it this morning in the Valley as the clear skies have dropped the temperatures down to around 2-3°C causing valley fog to form.
The good news is that the models are optimistic and showing humidity levels dropping from near 100% this morning (in blue).
To around 50% by noon. This should signal a clearing of the fog.
The same pattern is likely for Saturday as well.  It is going to feel pretty nice and I think we might break out above the forecast high of 6°C.
Sunday Flurries?
As I forecast earlier this week, things get interesting on Saturday night and Sunday morning.
EC is calling for possible rain or snow on Saturday night and flurries Sunday morning.
UWash has things the only real chance for snow for Port Alberni between 1-4AM Sunday morning.
The system then moves south and most of the threat of snow will be focused on the Bowser to Nanaimo to Duncan areas.
Things should stop and possibly clear a little by noon on Sunday. Family day Monday might even see some sun!
We should then get a decent couple of days break until our next weather event is supposed to roll in next Wednesday.
Have a great long weekend!