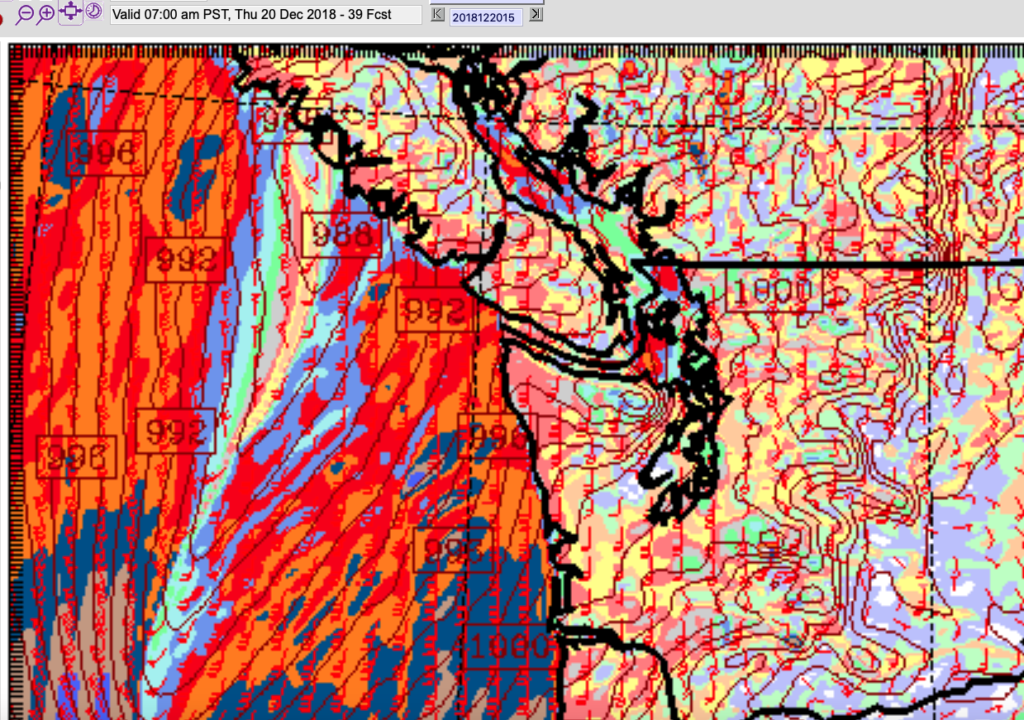 Have you had enough rain? Since last Wednesday the Alberni Airport station has reported 262mm in the 7 day period! Normal for the whole month of December (1981-2010) is 344.6mm. Environment Canada has issued a Special Weather Statement for the storm tonight. I expect we will easily beat that normal rain amount this month, if we haven't already. Lots to go over for this storm! Wind from south and northwest and lots of rain. I will make another post tonight or early Thursday morning that will go into #alberniwxstorm live update mode for the storm…
A lot more rain, and more Island focused.
The storm coming isn't as pretty on the models as last week's storm with the big swirl. But remember that the actual storm last week ended up looking like this:
Today's models for the storm coming tonight look near identical.
The low is going to be of similar strength as last week (988mb/hpa) but is predicted to come ashore further south on the Island which is going to change the wind situation. We're also going to see a lot more rain as this system is tapping even more into a subtropical atmospheric river.
The models have not been great at predicting the strength or track of these recent storms, so be prepared for worse winds (or better) regardless.
Here is the 988millibar/hPa low making landfall in the 4AM-7AM period right around Gold River.
The strongest southerly winds should hit the Island in the morning Thusrday. Expect Ferry Cancellations throughout the morning and afternoon.
The Winds will shift to Northwest and may bring extreme northwest winds to the West Coast gusting offshore to 60knots/110kph right off of Tofino and Ucluelet.
These northwest winds are expected to last all afternoon and into Thursday evening. They may disrupt Ferry service all day.
Don't forget the rain.
The biggest difference from last weekend will be rain.  We didn't get as much during the actual wind event last weenkend.  This storm looks like it is more fully tapping into the sub-tropical atmosphere and will have significant rainfall.  
If we do get high winds wih this storm, expect significant treefall because the ground is so saturated.
Here is the 24 hour rain total between 4PM Wednesday and 4PM Thursday.
We will have a bit of a break today, maybe with rainbows again, before the rain from this system starts around 7PM tonight. It will intensify overnight.
The strongest rain is currently predicted between 4-5AM. With as much as 16mm (1/2 inch) falling in that one hour in Port Alberni and Qualicum/Buckley Bay areas (in blue below).
Showers will continue throughout the morning as the winds pick up but as soon as the Northwest Winds start, the rain should quickly go away. (It should also feel a lot chillier.
Stay tuned to the weather channels. I will have a new post Wednesday night or Thursday morning once those models are done and I'll start live #alberniwxstorm updates on the page and twitter then.
Batten down the hatches! (Again!)