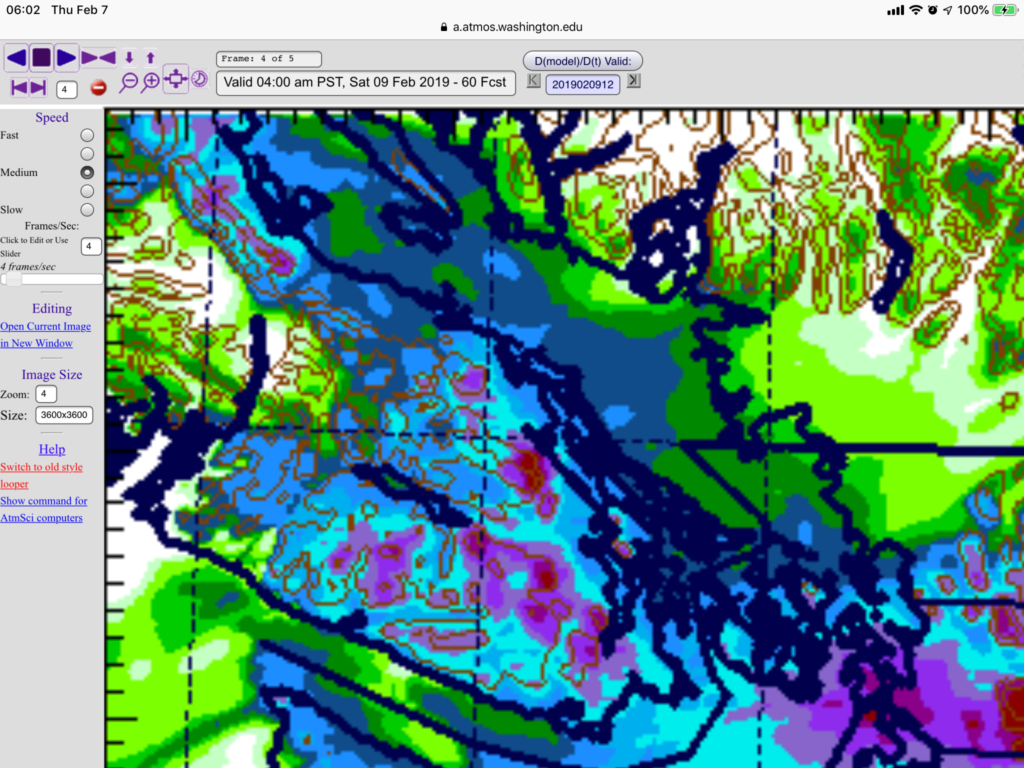 Extremely cold windchills, risk of frostbite

.

This is a first in the EC forecast in 12 years of Alberniweather that I remember so it is worth a place at the top.

"Friday night: Periods of snow ending near midnight then partly cloudy. Local amount 5 cm. Windy. Low minus 9. Wind chill minus 8 in the evening and minus 20 overnight. Risk of frostbite."
Updates…
Update 5:15AM Friday. Snowfall warnings issued.
Time to put the models away and look at what is actually happening on the ground. Snow began around 4AM this morning in various places on the Island and Snowfall warnings are now being issued. There is light snow on the radar and drivebc webcams all over the Island. Be careful out there. It doesn't look too bad yet but the potential is there.
Courtenay to Campbell River and the Sunshine Coast has a Special Weather Statement and is expected to get 5-10cm.
Port Alberni and East side has a snowfall warning.
"While snow will fall throughout the day, a band of convective flurries is forecast to develop after 4 pm from Nanoose Bay to Fanny Bay. This band has the capability of producing heavy snow and poor visibility for a short period of time. Localized accumulations of 5 to 10 cm is forecast.
Travellers along this stretch of Vancouver Island and those travelling on Hwy 4 towards Port Alberni are advised to be prepared for sudden reduction in visibility in heavy snow and rapid accumulation this evening. "
Drive safely out there and only if you have to. More updates later this morning after Inget to work.
---
Update 8:30PM Thursday. The models back off on snow, but not cold.
The UWash model has changed quite a bit. Here is a before and after.
The forecast yesterday:
The forecast tonight:
That is a huge difference. The model is now predicting basically no snow for the east and south island, and a little bit in the Alberni Valley and even West Coast.
But don't put away the shovels.
What seems to have happened is the moist Pacific Air that was going to provide the moisture for snow is not going to reach over the Island as previously predicted… and instead we will stay relatively dry, with maybe the Courtenay and Port Alberni areas getting a few flurries on Friday morning.
However, what has not changed is the prediction for very strong outflow Arctic winds in the afternoon and that could still produce "lake effect" type snowfall on the East side of the Island.
So while the chances of the widespread snowfall have lessened for the east side, which is a good thing, still expect bitter cold Friday evening and into saturday and that may feature heavier snowfall.
Stay tuned and send your reports in Friday morning!
---
Thursday morning synopsis:
Are you ready for a blast of Winter. It looks like Sunday was just a warmup. We are in for a new batch of snow and very cold air very much like Sunday but lasting all day Friday and ending with even colder winds impact East Vancouver Island Saturday morning. Here is what the UWash model is saying:
Light snow will begin in the 10PM-1AM period Thursday over Southern Vancouver Island from Duncan south including Victoria and the Gulf Islands. Don't expect much accumulation, it looks very light, except in the southern Gulf Islands.
Things pick up steam and creep a little further north in Nanaimo and Parksville by the 4-7AM period Friday. Outflow Winds are also picking up across the Strait like Sunday, but stronger, this could make for a dangerous commute.
It intensifies even more in the 7-10AM peak commute period. Expect heavy snow in pockets between Courtenay all the way down to Duncan.
Notice that Port Alberni has been pretty much completely dry. We may have some light flurries but the models don't anticipate any serious snow in the Valley on Thursday morning.
Heavy pockets of snow show up in the 10AM to 1PM timeframe Friday in Courtenay/Comox Valley, Nanaimo, Duncan and Victoria. Likely also places like Errington/Coombs and Cowichan Valley.
Things will then start to taper off Friday afternoon but the South Island will see snowfall all the way into the Evening,
There is a little blip of snow on the model for Port Alberni sometime Friday afternoon. We'll see if that happens.
Below is the final accumulation from 4AM Friday to 4AM Saturday.
We see as much as 6 inches / 15cm in pockets all over the Island. More like 5-10cm in most places and 2-5cm across the whole East side of the Island. I don't expect any to accumulate in Port Alberni.
Another batch of snow will sweep through southern VI (Duncan south) on Saturday morning and early afternoon but mostly it will just feel very cold. Temperatures will bottom out around -10°C not including windchill on Saturday morning.
Things will smarten up on Sunday and just go back to being cold and wintery but no snow.
That's it, stay tuned to Environment Canada. I will update this post if anything changes and add to it at the top through Friday.
Stay safe out there and if you don't need to drive on Friday on the east side of the Island, I would suggest preparing for not driving.