Cold Nights coming – Strait Effect Snow Sunday?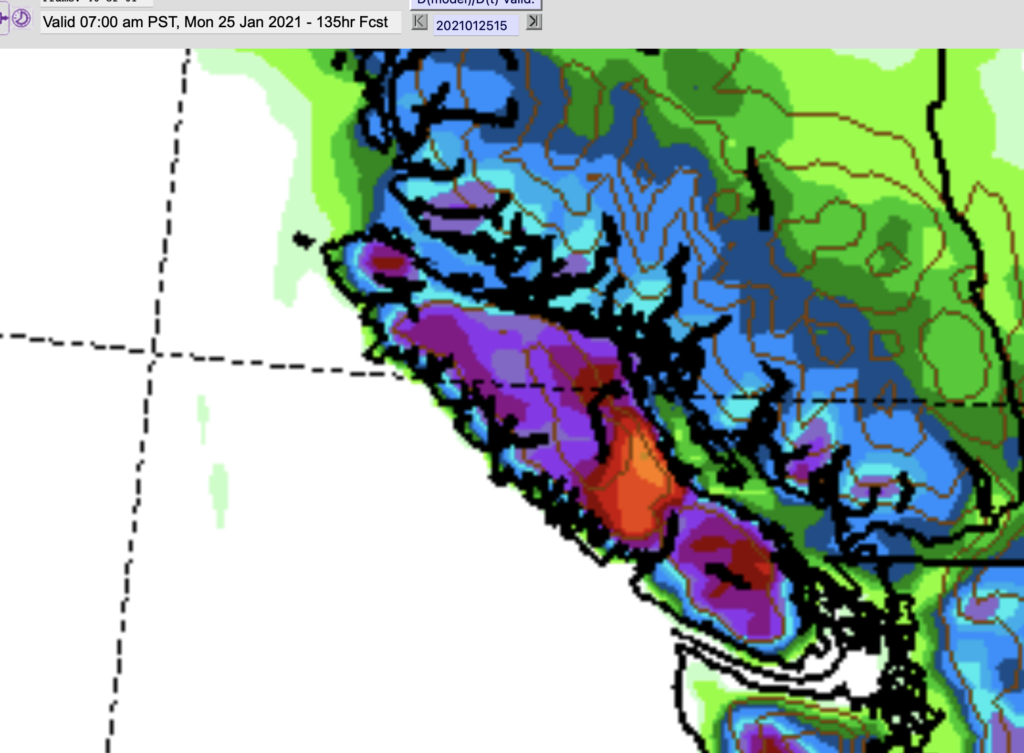 We may see some sun on Friday in Port Alberni
We are making a slow transition to cooler and more snow-friendly pattern, especially for the east island.
Some parts of the Island could see showers or light flurries on Thursday but that is just a warm up for the weekend.
A low deepening to the south of us as it crosses into Oregon Thursday afternoon will pull down more Arctic air to our region as it goes.
That will set us up for a cold Friday morning and hopefully sunny Friday but Saturday night a front will sweep down into the cold air and deliver moisture to the entire Island.
The models expect much of this to fall as snow. It will strengthen as it moves south which could mean that we have snow switching to rain, then snow again as it strengthens and finally moves away on Sunday pulling cold air across the Strait as it moves south.
This looks like an all-day Sunday event culminating in the picture below with a setup for Strait effect snow onto the East side of the Island as strong outflow winds start up on Sunday night and into Monday morning.
Early Monday morning (above) looks like classic Strait effect snow from Campbell River to Mill Bay possibly reaching over the Island into the Alberni Valley.
By Monday morning here is the accumulated snowfall.
That looks like 30-45cm in the Qualicum and Bowser areas. 15-20cm in the Port Alberni, Courtenay, Campbell River, Parksville and Nanaimo.
We will keep an eye on all of that as we get closer to the time and the short range models can get a handle on it.
New Air Quality Sensors
A quick reminder that there are two new air quality sensors in Port Alberni on the north and west side of town to go along with the official station at Alberni Elementary and my station near Redford.
You can see them all on the Air Quality Readings Page which is also under "Reports and Links" in the menu.