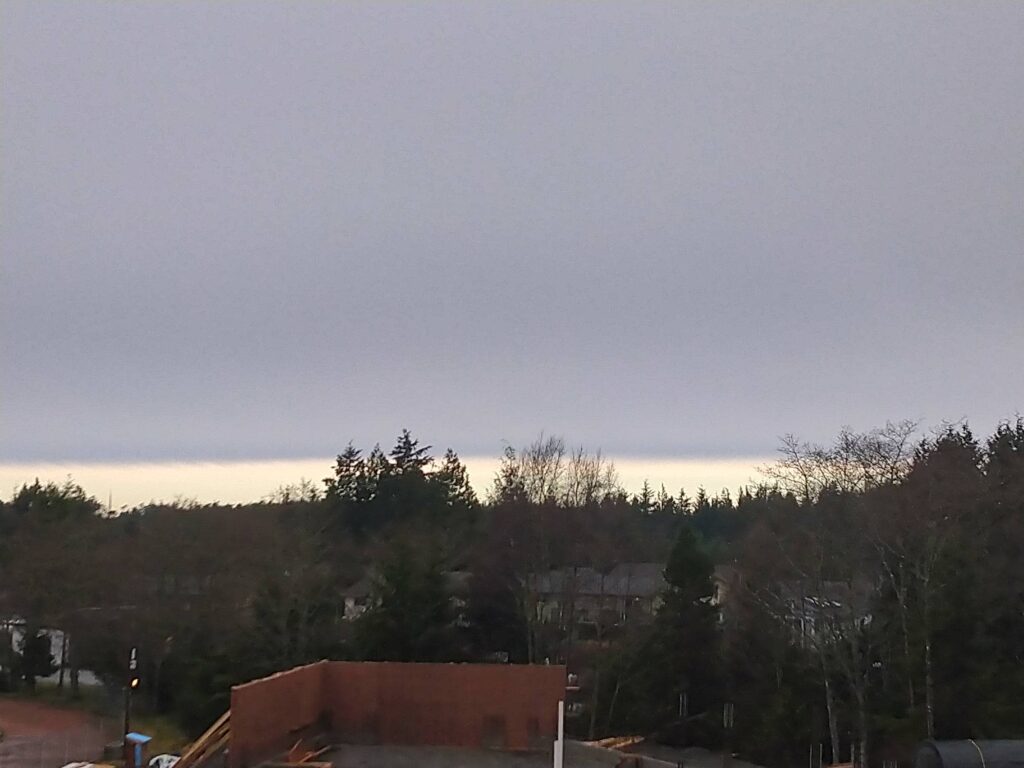 Crazy Monday morning
It was quite the morning of weather as we had another intense rain event followed by snow around 9AM in Port Alberni. There was a bunch more on the eastern side of the Island and on the mountains. Some folks might just get up to that 20cm before it is finished this afternoon. I hope you were able to avoid driving and if you did have to get out there hope you got where you needed to go safely.
Unfortunately, the heavy snow came too late at Alberniweather HQ and we AGAIN missed calling a contest winner in the Snow contest!
Surely we will have a winner in January!
Skies clearing soon
Thanks to Rob for sending a picture of what is to come:
That's a shot in Ucluelet of the clear skies beyond today's front. The entire Island should be under clear skies by tonight and we will have some strong northwesterly winds along with them bringing temperatures below freezing across the Island.
Winter Solstice Great Conjunction of Jupiter and Saturn
The Winter Solstice was this morning (Pacific time) at 2:02:09AM as the Earth approached its closest point to the sun. At the same time (by coincidence), Jupiter and Saturn have lined up nearly perfectly and are producing a once-in-800 years phenomena where we can see them very close in the night sky!
This NASA article has a nice write-up on the phenomenon.
You should be able to see the two planets to the southwest, overtop Arbutus Ridge and Sproat Lake in Port Alberni just after sunset. If the skies don't clear in time tonight don't worry, they'll only be moving away from each other slowly, so this week's clear weather should be perfect.
Clear and cold until Thursday – Liquid Snow (rain:)) Christmas Morning
The good news is that some of you are going to have snow on the ground at least until Christmas Eve! Unfortunately it looks like that snow will get washed away before sunrise on Christmas Day as a warm and wet front hits the Island but lets hope it delays it's arrival a bit!
Rain will linger throughout Christmas Day and into the weekend. A West Coast Christmas! But hey, we did pretty well with snow so close to the big day!
Updates to the Christmas Lights Map
On suggestions from folks I made some updates to the Christmas Lights route. As always you can find it at www.alberniweather.ca/christmaslights.
I'm glad it's bringing some joy to people. 🙂
Happy Snowy Monday!