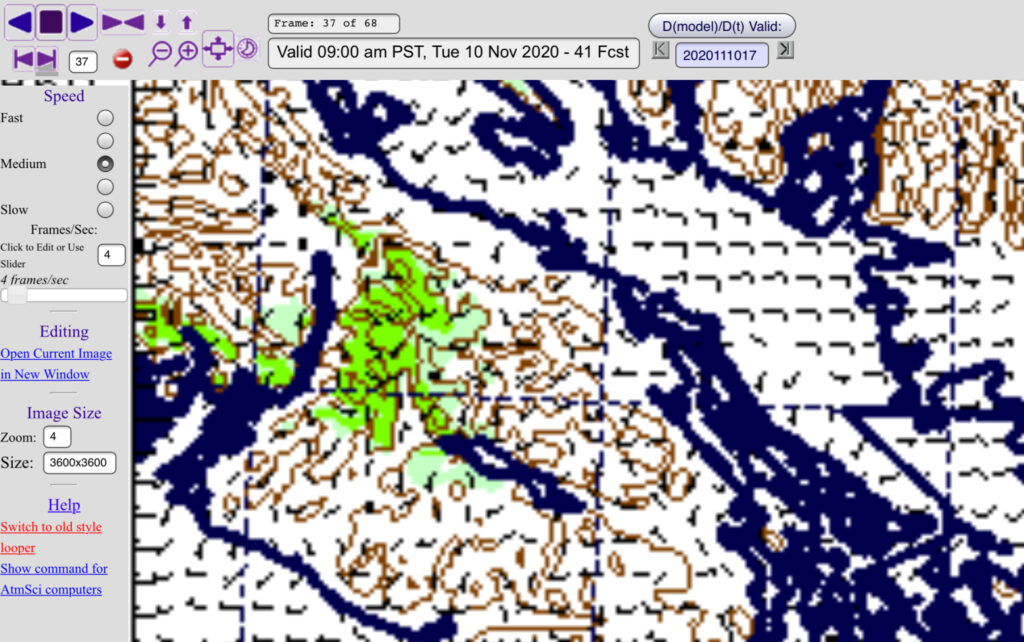 Near freezing morning temperatures could produce wet snow.
There is a chance we could see our first wet snow of the year. Don't expect accumulation near sea level or in Port Alberni, but snowfall on the Hump, Sutton Pass, and the Malahat is likely.
Check the webcam page in the menu or by clicking here.
Environment Canada has issued a special weather statement:
Special weather statement in effect for:
Inland Vancouver Island
Snowfall possible Monday and Monday night as a frontal system approaches with modified arctic air in place for the south coast.

A frontal system will arrive over the south coast on Monday. The front combined with the modified arctic air in place will give potential to produce accumulating snow for neighbourhoods and roadways above 200 metres including the Malahat Summit and Port Alberni Summit on Hwy 4. Rain mixed with snow is possible down to sea level, especially on the mainland side where a cool easterly wind may help keep surface temperatures just above the freezing mark.
Start in Morning – then stronger Afternoon.
Showers should begin Monday morning around or before 9AM in Port Alberni. Here is the UWash imagery:
This shows precipitation, in the 9-10AM period which could be either rain or snow. It is focused at high elevations including the Hump and Sutton Pass, but deeper valley areas around Port Alberni and Cowichan could see precipitation and this could fall as snow given the current cool temperatures.
However, depending on how warm we get today, the stronger likelihood for wet snow, especially on the highways, will be this afternoon when a stronger bout of precipitation will move through around 4-5PM, possibly earlier.
This is probably the most likely time that we might see wet snow falling in Port Alberni proper. I do not expect it to stick or accumulate but there might be a brief moment of accumulation when it falls heaviest, before the front passes through and moves away south around 6PM as can be seen below.
Tuesday chance
There might be a very short lived jolt of wet snow on Tuesday morning as a pocket of moisture quickly moves through in the morning around 8AM.
This will be a good chance for wet snow on the Hump and Sutton Pass as well.
Exciting start – More exciting finish – possible stormy rain and wind Thursday through Saturday.
An exciting start to the week! We should get a break on Tuesday and Remembrance Day Wednesday before our next bit of weather comes in starting Thursday and peaking Friday night with a storm moving down the Island.
Plan accordingly!