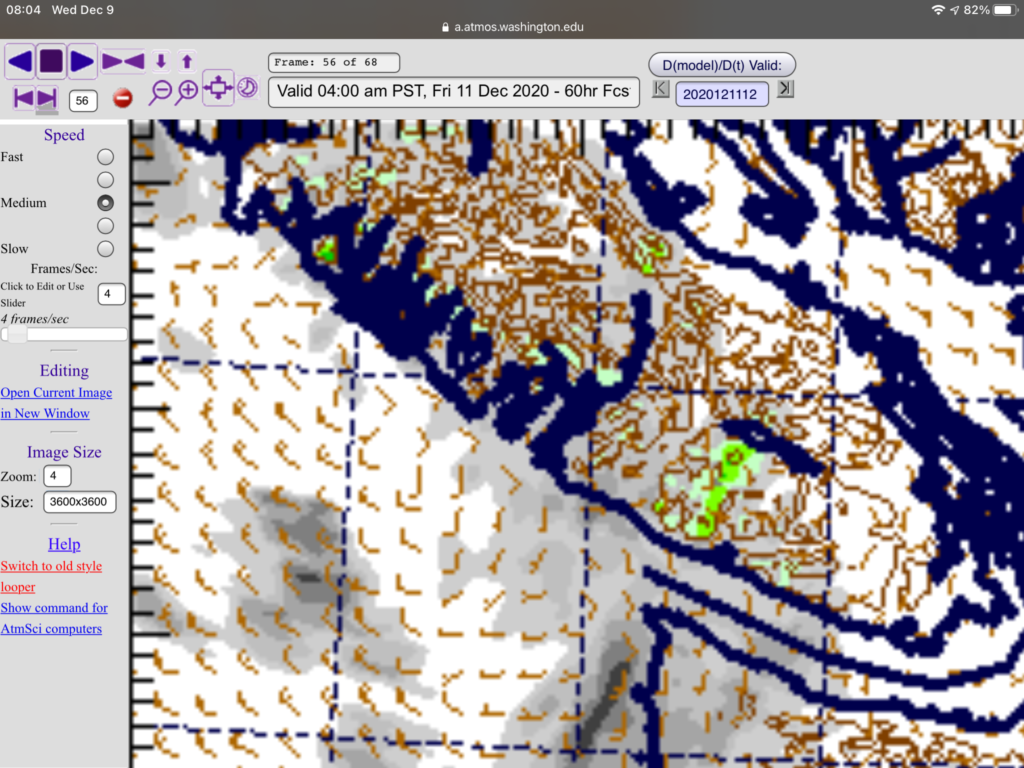 Things have settled down a little and we have a couple days of mostly dry weather. There is a slight chance of some light showers Wednesday but it will be mostly dry today and Thursday.
On Friday a weak a weak system moves in with some showers and the cold temperatures may allow some of it to fall as wet snow particularly at higher elevations.
In the picture below for 3-4AM Friday, the greys are rain, and greens are snow.
Temperatures will be hovering around 1°C in the mornings so be aware of possible frost or wet snow.
This threat will continue into Saturday. We will wait a bit to see if the forecast becomes more sure of itself before then.
More improvements to webpage coming.
You may have noticed some changes to the look of the forecast box on the front page and sidebar. Please let me know if you like having the forecast at the top of new posts like you see it here or on the front page, or if it is fine in the sidebar. I am deciding how best to do that moving forward.
Also note that the forecast on the data view page is not currently updating. I am working with the developer to get it fixed. That view is under very active development as it is improving rapidly but some stuff does break along the way. I will let you know when it is fixed again.
If you have any suggestions for improvements, links, design suggestions, or annoyances about the website don't hesitate to let me know! 🙂
Happy Wednesday!