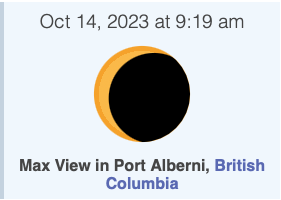 It's a long shot
It's October. Not exactly prime time for clear mornings, but you never know! The eclipse will start not long after sunrise.
Sunrise on Saturday is 7:38AM. According to TimeAndDate.com the Solar Eclipse will begin at 8:08AM which should be just as the sun is rising over Mt. Arrowsmith. The maximum of the eclipse will occur at 9:19AM and the moon will move away from the sun completely by 10:37AM.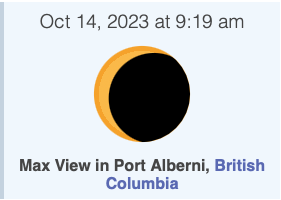 Unfortunately, there is a good chance anyone in the City will not see anything due to morning fog. Today, the fog did not burn off until just after noon as you can see from the Humidity graph below.
Not only that but the forecast calls for the threat of showers in the area on Saturday morning though mostly to the West.
Our best hope I think is that we have scattered clouds in the morning with no fog, and that we catch a glimpse of the event between the clouds. Fingers Crossed!
Rain starting Saturday night – Break Sunday Daytime
Rain showers will start for sure in the late afternoon on Saturday and intensify into the evening. It looks like the strongest rain will occur before midnight and then the rest of the night will have scattered light showers off and on.
Sunday will dry out a bit during the day but the rain will return Sunday night
Good luck looking for the eclipse! Don't forget to be safe while viewing the sun, never look at the sun directly without protection for your eyes!