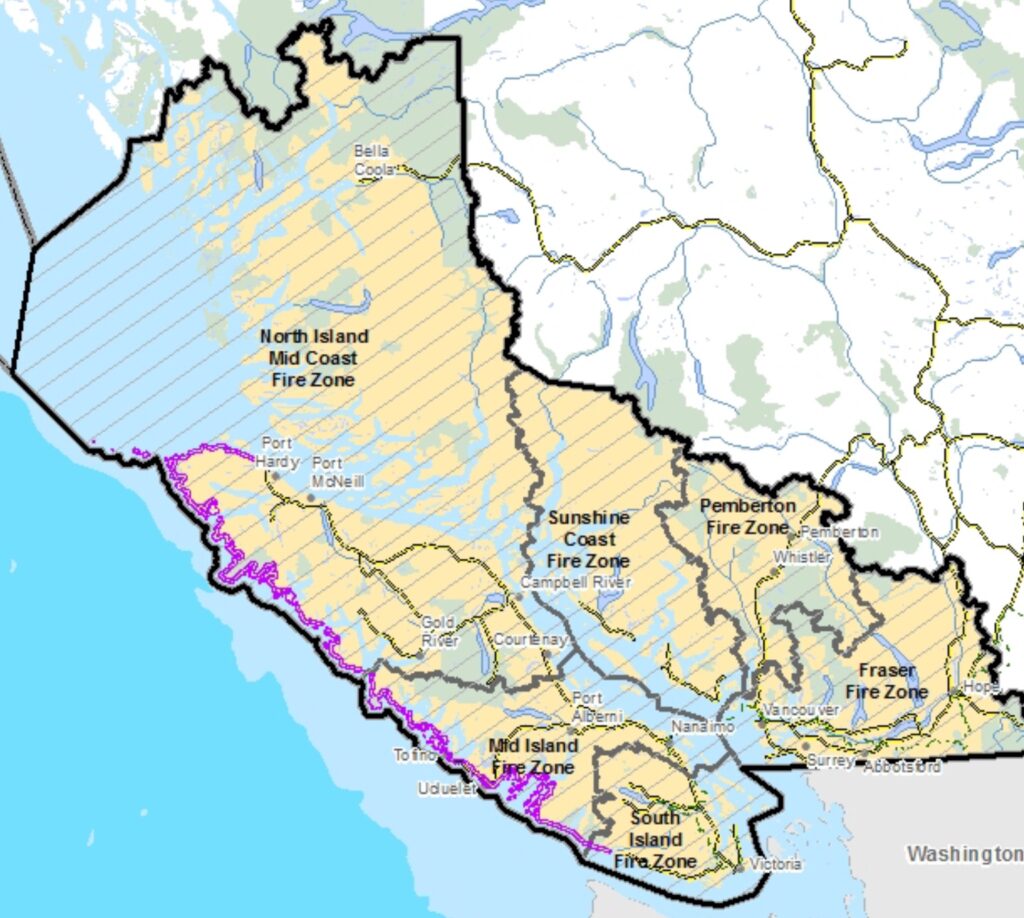 The BC Wildfire Service announced a ban on all Category 2 fires starting at noon Friday.  See the image below to see their categories.
This means anything larger than a campfire is restricted in the Coastal fire centre except the Fog Zone on the West Coast (purple below).
This is the same type of ban as is now permanently in place within the City limits of Port Alberni.
Here is some more detail from the BC Wildfire Service:
This prohibition does not ban campfires that are a half-metre high by a half-metre wide or smaller, or apply to cooking stoves that use gas, propane or briquettes. People lighting a campfire must maintain a fireguard by removing flammable debris from the campfire area, and they must have a hand tool or at least eight litres of water available nearby to properly extinguish the fire. Campfires must be fully extinguished when not attended.

Anyone who lights, fuels or uses an open fire when a fire prohibition is in place or fails to comply with an open fire prohibition may be issued a ticket for $1,150 or, if convicted in court, be fined up to $100,000 and/or sentenced to one year in jail. If the contravention causes or contributes to a wildfire, the person responsible may be subject to a penalty of up to $100,000 and ordered to pay all firefighting and associated costs.
If you see a wildfire or any fire that causes you concern you should call 1 800 663-5555 toll-free or *5555 on a cellphone immediately.
The high wildfire rating is spreading over the island now. Please be careful and respectful in our wilderness and pack out more than you pack in.
The good news is the forecast from the wildfire service does not have it moving to extreme in the next little while.  The heat today and Saturday should break on Sunday and we will have seasonal temperatures through next week and into the Victoria Day Long Weekend.
All that said, we are in for a great weekend! We should get up to about 26°C both Friday and Saturday.  It will back off to the lower twenties on Monday and early next week and then get a little cooler with a chance of showers.
To all the kids in SD70 out there: Have a great extra long weekend! Get outside and play lots! 🙂