Weather Forecast Post – Cool and possible showers coming Saturday?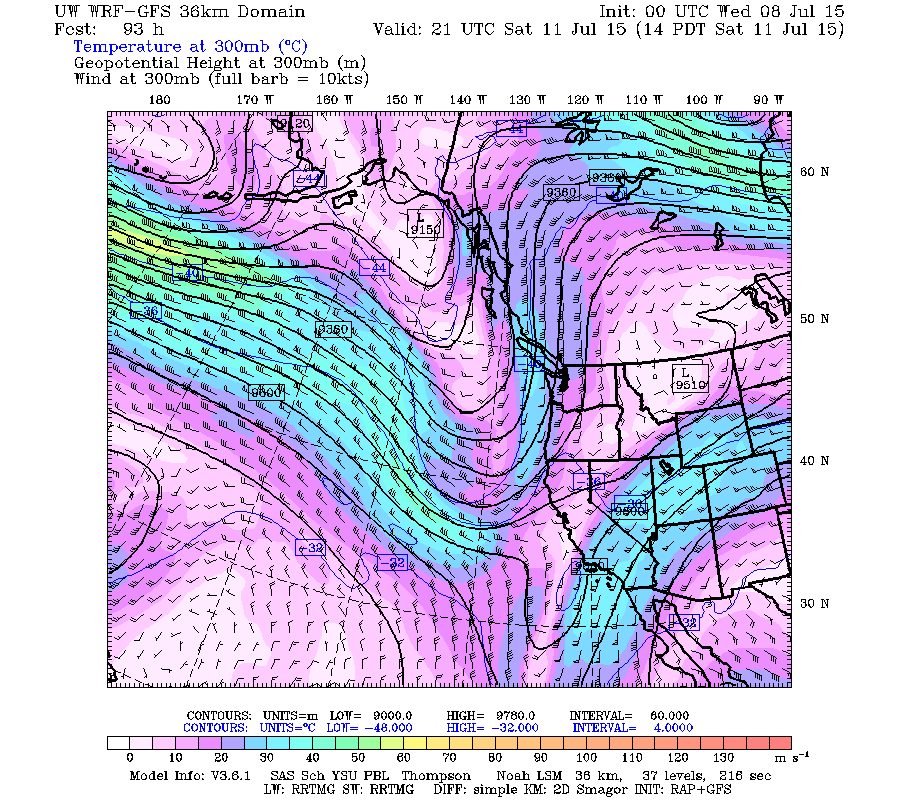 Before doing the fire post, I wanted to get back to a regular weather forecast post. There is a definite shift in the weather coming that could have important implications for our fire.
Smoke Keeps Heat at Bay Again
Where it not for the smoke, we would have had continued on our >30º C weather all weekend and through today and tomorrow. Here is what the forecast says we should get to for a high this afternoon.
The Valley is into the 90ºF/33ºC range. However, we will *not* get there with this smoke. Our high will likely be in the 25-28ºC.
Assuming the smoke continues to affect us, we can expect the same situation on Thursday.
Friday pattern shift brings wind first, then moisture.
The jet stream is finally changing. Here it is this morning looking all bent out of shape and split over and above but mainly looping high to the north allowing us to heat right up. (Anywhere there isn't smoke)
Now here it is on Friday evening.
Notice it is strengthening considerably (thicker and with deeper colours) and it is possibly diving to the south of us. This has the ability to drive cooler air from the north our way and drive a few more disturbances as well.
There is one small issue with this pattern change for our fire, and that is wind.
This will be of concern to the firefighters of course.
By Saturday though, the jet stream has bent again, directing a small flow north, and that means moisture.
Look what happens to our precipitation picture that day:
Rain across the south Island! Not much, 8mm in this image between Friday and Saturday 5PM. But it is a lot better than nothing. And temperatures will only reach into the low 20s. With smoke, it might again be less than that.
We get maybe a tiny bit, 2mm more Saturday through Sunday evening. Not enough to make any difference.
It then dries out again and will become unstable as the Jetstream doesn't really seem to know what to do.
Notice there is still a split happening with bits going into north Alberta and others going into eastern Washington and Idaho. Whether the jet decides to go above or below us will be the difference between heat and cool. And if it decides to blast right overtop, we will probably end up with rain. At this point it is hard to say what will happen. And really that is a good thing because for weeks it has been in a huge and stationary loop overtop of us which is why we have had such persistent hot weather.
If you want to know what might be causing this unusual pattern and the drought conditions it has resulted in, check out this article from Rutgers University on the Jet Stream, Arctic heat, and climate change. "More evidence for link between wavy jet stream and extreme weather, Rutgers study finds"
Numerical models confirm uncertainty.
Looking at the super-long range forecast, we can clearly see the uncertainty in the models as to whether we go back to a regime of high pressure, high jet stream, high temperature, or low, low, low.
This is the thickness which is a good analog for whether the jet stream is above or below us. Notice right now (on the left) it is quite high and it gradually declines through Friday and Saturday.
We then start to see the models and uncertainties come in. There is pretty good agreement through about Tuesday next week but by Wednesday notice the dark and light shades of purple start to stretch.
At this point from that chart I'd line toward going back to a warm and dry regime by Friday/Saturday next week but we will see. That is a long way out.