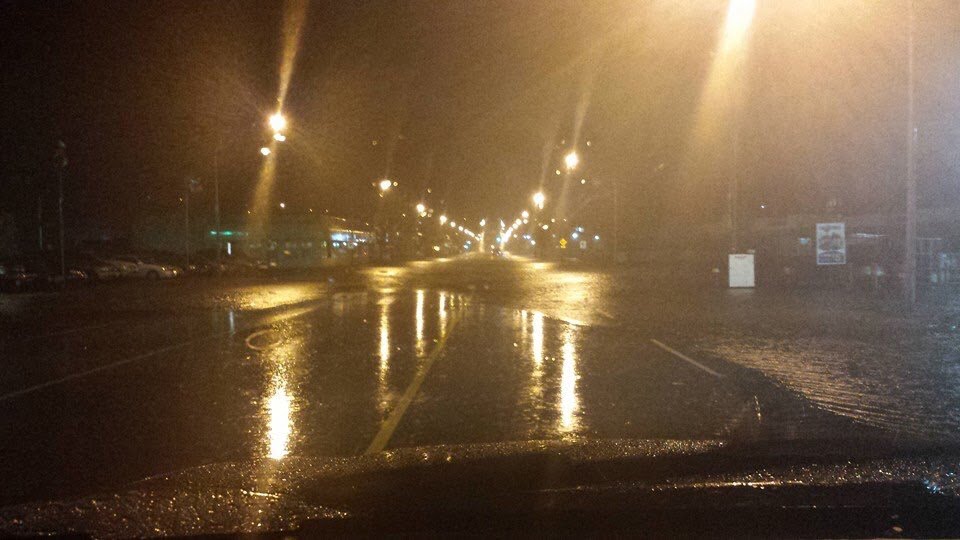 UPDATE 8AM 
It's roaring out there!  We got a gust of 103kph at 7:28 this morning!
This should be the last hurrahs of this storm.  Another hour or two.
We are currently just under 100mm of rain for the storm total.
Rainfall Warning Back – Rainfall totals 80-110mm. 3rd Ave flooding. 
DriveBC is reporting heavy rain and pooling water on all stretches of highway 4.  BC Ferries has cancelled some sailings.  Check both websites if you are headed that way.  Bc Hydro is reporting around 500 people without power in Port Alberni and more around the Island.
this should pass by around 10AM.
It's currently a balmy 14.5°C!
I was woken up by a short power outage.  The meat of the system is here now.  Wind and rain and presumably tide is combining to flood 3rd Ave.
Photos are from folks on Facebook this morning.
Please be careful driving.  The rain should stop by around 10 this morning.  Thankfully low tide is at 7AM so flooding should not be the worst it could be but avoid low lying areas anyway.
The totals from all the models from now until Tues morning are still very large, but I guess aren't warning criteria:
116 mm RAP model
90 mm LAM
76 mm GEM Regional
121 mm CMC
144 mm GFS
While the models continue to predict heavy rain for our area, Environment Canada has rescinded the rainfall warning for our area which may indicate they see things not being as severe for tonights events as previously predicted.  I have yet to see any change in amounts in the models I am monitoring however, so the update below still holds.
---
Updating the full forecast first released 8:30AM.  Rain and Wind is expected.  Also, very warm temperatures (some estimates up to 15ºC). All models agree, between Monday and Tuesday morning, Port Alberni is likely to receive between 80-150mm.
Timing:  Rain should begin by noon today (it has already been raining a little bit this morning).   The most intense period is predicted for 10PM – 1AM tonight and 4AM-7AM tomorrow.  Near high and low tide respectively. 32mm is expected in those 3 hour periods with the best chance for that in the 4AM-7AM timeframe.
The rain should taper off most of Tuesday before another system slams us on Wednesday, but for now we will focus on the first storm.
First, Rainfall Forecasts
University of Washington: 130-160 mm between Monday morning and Tuesday 4PM.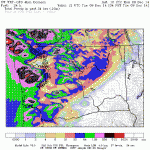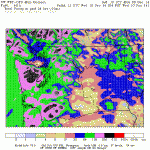 UWash predicts another 65mm by Wednesday afternoon.
Canadian Consensus Models: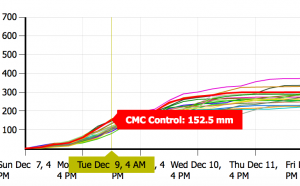 The consensus modelling is one of the higher end predictions, which is somewhat concerning. 150mm by 4AM tomorrow.
Canadian High Res Forecast: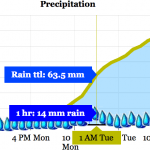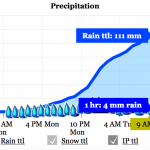 The Regional and Global Canadian models also agree with this estimation.
US GFS Model:
The GFS is the most extreme model with nearly 200mm of rain predicted by 7AM Tuesday and another 70mm or so on Wednesday.  There is little doubt this would cause flooding.
High tide could cause problems:
There is a high tide set for 2AM Tuesday morning.  This seems most likely to cause the greatest concern but hopefully the main thrust of the rain comes after that when the tide is heading out for low at around 7:45AM.  There is a high tide at 1:41PM Tuesday afternoon that could cause problems if the system is late coming through.
Second, High Winds expected.
While there are no warning posted for the Inland sections of Vancouver Island, there are 80-100kph winds expected on the West and East Coast of Vancouver Island so please be careful on the roads, expect power outages and wind blown debris in those areas and generally stay safe.
That is it for the 8:30AM update.  I will update again when there is more information.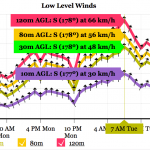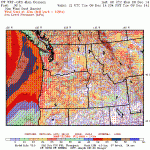 Happy Soggy Monday!
Rainfall Warning issued.
5:19 AM PST Monday 08 December 2014
Rainfall warning in effect for:

Inland Vancouver Island
Heavy rain is expected.

An incredible series of storms are set to cross the BC Coast this week. An intense jet stream over the Pacific is gathering very warm moist air from southern latitudes. A subtropically-influenced airstream will bombard the mountains of Vancouver Island and the Lower Mainland from today through Thursday morning.

The first two storms will boost rainfall totals well above the warning criteria for a 24-hour period. Following systems will add to the week's rainfall and the initial warnings will likely be extended for successive 24-hour periods though mid-week. The inflooding warm air will drive the freezing level to nearly 2500 metres. In some areas, additional water from snow-melt will add even more water to drainage basins, creeks, and rivers.

The West Coast of Vancouver Island, Inland areas including Port Alberni and Howe Sound will absorb the brunt of the saturated airstream. Rainfall totals in the range of 100 to 200 millimetres are expected through Tuesday morning, And that will be just the beginning…

Heavy downpours are likely to cause flash floods and water pooling on roads. Don't approach washouts near rivers, creeks and culverts.

Rainfall Warnings are issued when significant rainfall is expected.

Environment Canada meteorologists will update alerts as required. Please monitor local media or Weatheradio. Email reports of severe weather to [email protected] or tweet with the hashtag #BCStorm.
I will update this post in a couple hours.