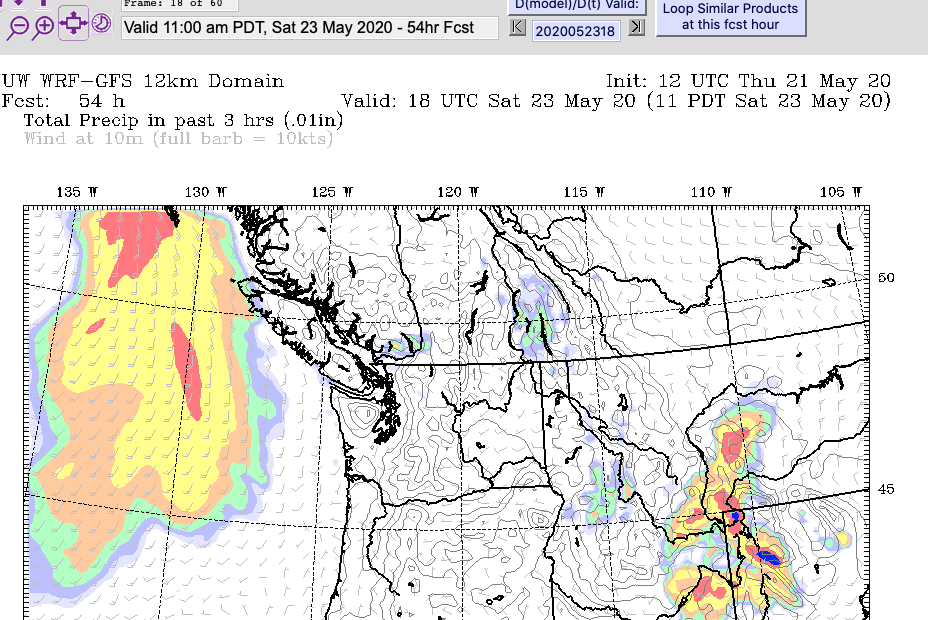 Off and on sun but generally pleasant.
It has definitely been changeable weather over the past few days but it hasn't been too bad if you wanted to get outside. Just make sure you have a wind breaker! We're definitely not into "warm summer breeze" yet. 🙂
Expect much the same kind of weather for the next few days as showers move across some higher elevations and the wind blows through.
We might see rain on Saturday and Sunday. I'll post again tomorrow. The pic below shows the model bringing rain onto the coast late Saturday.
How can you be reminded without Facebook?
I did a poll on the Facebook page (and made a spreadsheet!) about what would happen if the Facebook page went away and the most overwhelming result was how folks used Facebook as a reminder to check what was happening.
Here are some ways you can be reminded without needing Facebook.
Sign up for the Subscription service! If you are on a desktop computer, you should now have a pop up that invites you to subscribe to push notifications of updates! Whenever a post is made here, a notification will appear on your desktop web browser. Thanks to those who have already signed up! (This is not *yet* available on iPhone)

There is also email subscription! On the right hand side of this post, or below if you are on mobile, you should see an invitation to subscribe by entering your email address. After signing up, you will receive future posts by email!
I am still considering whether I will shut down the Facebook Page. In the meantime I encourage you to use one of those services if you can and would like to keep updated when there is a post here.
Also, don't hesitate to bookmark Alberniweather! Thank you all for your visits!