Vancouver Island, always on the move.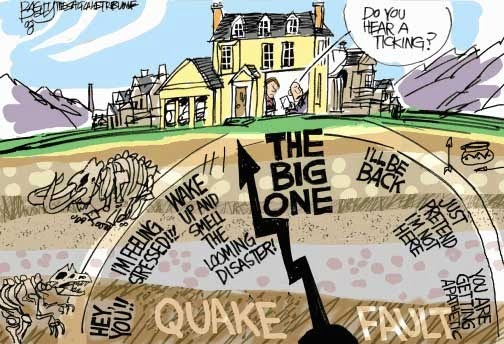 Ran across a pretty interesting article and mind boggling scientific paper today. The topic? "Slow Earthquakes".
Exciting Right!?
So what is a slow earthquake? Well according to a previous study:
It has been known for a long time that slip accompanying earthquakes accounts for only a fraction of plate tectonic displacements…
So there is a lot more movement happening under us than scientists can account for just with earthquakes.
So what does the new study say? Well basically, Vancouver Island in particular, is always on the move.
Slow earthquakes, on the other hand, recur regularly – every 14 months in the case of the slow earthquakes on Vancouver Island.

"These slow earthquakes typically last for several days – 10 days to two weeks," said Audet, an assistant professor in the Earth Sciences department at the University of Ottawa

For example, the slow earthquake on Vancouver Island produces a movement equivalent to a magnitude-7 regular earthquake, Audet said. That's bigger than the magnitude-6.6 quake that hit Port Alice, B.C. in April
So you might be thinking to yourself, GREAT! Tiny moves should relieve stress and prevent big ones, or The Big One, right?
Unfortunately, not.
"Every time there is a slow earthquake that happens, it also puts a little bit more pressure on the part of the fault that produces the regular earthquakes," Audet said. "It puts the fault closer towards the next big earthquake."
They also don't know if they can use small slow earthquakes to predict big fast ones.
Audet added, "We'll have to wait for a really big earthquake again to test that."
Ya, thanks man.
Scientists.