Updated 10PM – Upper twenties "absolutely possible"? Current high altitude temps "Absolutely record breaking"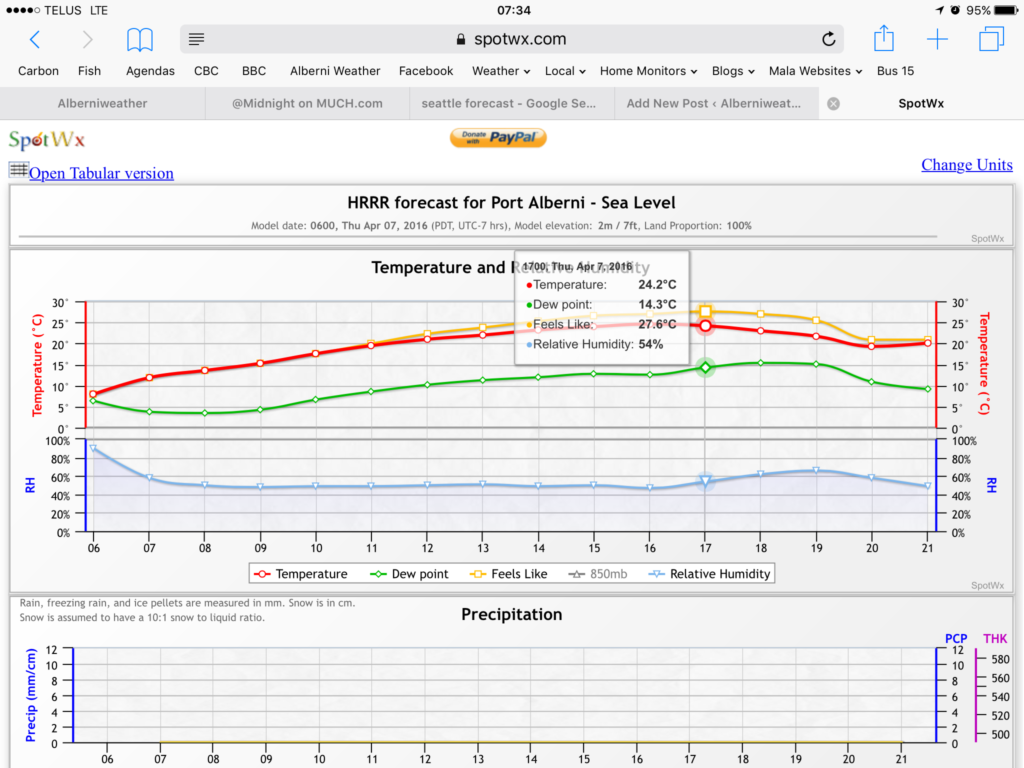 Update 10PM:
We may not have got up to the 30°C, which would have been full on nuts.  But:
Woot! 23.7°C Beat the all time record for the April 7 since 1900! 23.5°C in 1986. pic.twitter.com/WanXFuYB0V

— Alberni Weather (@alberniweather) April 8, 2016
Update 1PM:
It is currently a very pleasant 18ºC.  Near a short term record but there is no way that we will reach 30ºC and 25ºC is doubtful as well.  I am glad honestly… but I do want to see if other areas might reach those lofty heights.
Update 11AM
Mrng UWash model finally backs off a little. Now "only" up to 28.8ºC #portalberni Still record smashing near monthly pic.twitter.com/YzrPXssHCc

— Alberni Weather (@alberniweather) April 7, 2016
The US High Resolution Rapid Response model for 9AM still says it will "Feel Like" 26.5ºC.
——- Original Post —–
Contrary to the official Environment Canada forecast, the UWash model continues to insist that we could see 30°C today and locations in the Fraser Valley could see even hotter temperatures.
This would obviously smash records but UWash has been the outlier… However, now we are starting to see some possible verification from the morning observations and short term models.
Despite the low cloud, temperatures at high altitude this morning are "Absolutely record breaking" at nearly 22°C. Higher than anything observed before…. The graph below shows the current sounding aloft in Vancouver of 21.6C.  It would be normal as an extreme maximum (thin red line) for July, not April.
Absolutely record breaking temps aloft (soon at the surface) today #YVR. Temps 18.3C above the daily moving average. pic.twitter.com/8gJKhSjNU7

— Chris Doyle (@ensembleator) April 7, 2016
That certainly lends credence to the very high temperatures predicted by UWash.
Mr. Doyle is a former meteorologist, I asked him if he thought the UWash model would verify and his response:
@alberniweather I would be surprised but upper 20's absolutely possible. As soon as the highlands heat up the low cloud will vanish

— Chris Doyle (@ensembleator) April 7, 2016
Closest sounding to #YVR actually shows max potential temp 32C in the region today…although that's unlikely pic.twitter.com/Q1Mf0BRDhE

— Chris Doyle (@ensembleator) April 7, 2016
The very short range, high resolution models released at 6AM do appear to be  coming around to that as well with "feels like" temperatures over up to 27°C.
They actually changed the temperature scale on last night's UWash model run to the summer scale in order to capture the high temperatures past 30ºC it was predicting in Washington and the Fraser Valley.  It actually has temperatures up to 33ºC (92ºF) in the southern reaches of Puget Sound.  Crazy.
The short term tempersture record at the Airport is only 19.7°C from 2009.  We will easily beat that. The all time all station record for the day is 24°C set at the Somass station in 1986.  Obviously if this forecast pulls through we could smash that.  The big daddy for temperature records would be the monthly extreme for April which currently is 29.5°C set on April 29th, 1998
The fact that our best computer models are even suggesting, right or wrong, that we could break that record weeks earlier in April should give us all pause.
Stay tuned, and have a water bottle ready just in case.