5:45PM Update – New Video – New Fire Status – New Lightning.
On the fires:
Here's some more video from this afternoon. The longer clip is from 5:15PM this evening.
The wind is obviously going to be giving the fire fighters troubles and it is also spreading smoke across the west and north sectors of the Valley.  Environment Canada has issued a Special Air Quality Statement for the area.  While the smoke is missing most of the City, I would expect that when the wind calms overnight the smoke will "sink" and "drain" down the Valley and into the head of the inlet and City.  So expect poor air quality Saturday morning.
Also Environment Canada is predicting Thunderstorms before morning and we are beginning to see lightning detected offshore.
You can see the green satellite image in the "Satellite and Radar" Menu item at the top of the page.
City, Beaver Creek, Cherry Creek and Sproat Lake fire fighters have been working hard all day.  Thank you to these local heroes!
---
3:30PM Update – Museum creek fire false alarm. 
Good news! The Museum Creek item has been removed from the map! Apparently it was investigated for smoke but nothing was found.  Some good luck finally. 🙂
---
1:40PM Update – New Fire south of China Creek (Museum Creek)
Another fire has just appeared on the BCWS maps.  This one on the south side of the Alberni Inlet on Museum Creek approximately 10km South of China Creek Marina.  It is still at initial stages 0.01Ha.  The Arbutus Ridge fire is listed as 5 Hectares.
Winds have now picked up and are blowing 13kph gusting to 24kph from the SSW.
1:00PM Update – Winds still light.
---
12:00PM Update – Friday Afternoon Winds and Saturday Thunderstorm with only spotty rain Forecast
I had started the day thinking I would only be doing a forecast.  Well, apparently not.  Here is the latest from the City on the fire:

Now it has become all the more critical as we enter the afternoon and we have a fire on Arbutus ridge that might be susceptible to our afternoon thermal winds. Currently it is 27ºC and winds are SW 2kph gusting to 8kph here at Alberniweather.  Below are the Sustained and Gust Winds for the 11AM-2PM Period.  10knots (19kph) sustained and up to 15knot (30kph) gusts.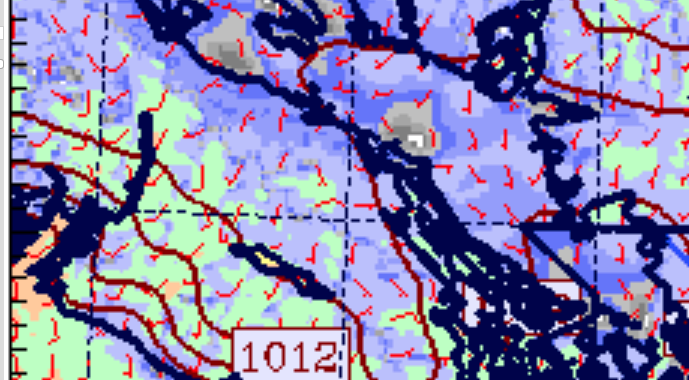 Winds build into the 2-5PM Period to up to 15knots/30kph sustained and 20knots/40kph gusts.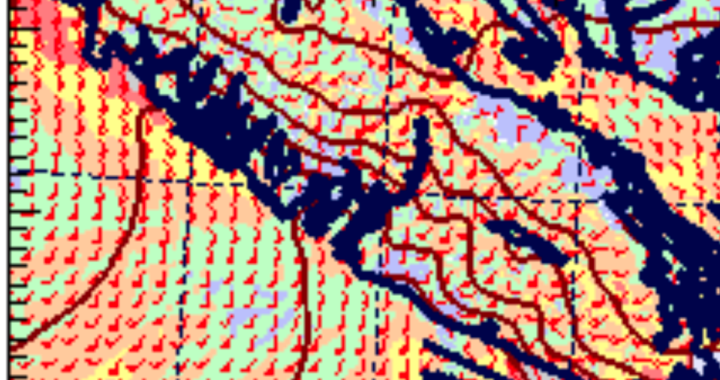 Winds should start to ease in the 5-8PM period but are still expected to be in the 10knot sustained range. There are strong SE winds slated for the Strait of Georgia over night.  Thankfully we should be protected from those.  Winds should be calm in Port Alberni from about 11PM tonight to this time tomorrow (12PM) when the cycle will start again which will give a good break for the fire and crews.
Speaking of tomorrow (Saturday)… the next problem will be the chance of Thunderstorms. And yes, there is a good chance.  Here is the progression from 5AM Saturday to 11PM Saturday.  It looks like we can expect thunderstorm activity on the Island as early as 8AM and lasting to 5PM.
And what about the Rain? Don't expect it to be widespread.  It will likely be associated only with the Thunderstorm activity and is expected to stick close to the mountains and to the East side of the Island.
Above is the 24 hour period from Friday 5PM to Saturday 5PM.  Most of this falls in the early and late afternoon. Nothing predicted for the Alberni Valley unless you get lucky in a downpour.  This will not be enough to help the fire danger. Please be smart out there.
---
10:25AM Update – Drone activity grounds Helicopter crew – Review of Exclusion Zones – Air Tankers on Scene – ACRD closes Trails.
Just heard that 2 air tankers have been spotted at the fire now, will update when I hear more. Confirmed, you can hear them on the webcam, but can only see 'ghosts' of them due to the compression. If you have pictures or video to share please do.
The Peak is reporting (see below) that Drone activity has caused a stoppage in aerial action on the Arbutus fire. This is unacceptable.  Here are the rules about Drones from Transport Canada and Wildfire BC.Any recreational drones over 250 grams and under 35kg within 5.6km (3 nautical miles) of aerodromes or 9.3km (5 nautical miles) wildfires is prohibited. Fines for violations are up to $25,000.
Alberni Harbour is an Aerodrome… so recreational drones between 250g and 35kg are prohibited *at all times*.Below is a map I have created.  In blue are the permanent Transport Canada exclusion zones, in red are the approximate wildfire exclusion zones. This map is not official in any way, it is only provided as a guide. The bottomline is by my estimation no drone activity (250g-35kg) is currently permitted anywhere in the City.
And if you missed it at the end of The Peak's report, the ACRD has closed access to the Log Train Trail, Alberni Inlet and Mt Arrowsmith trails. Please stay out of the bush until the fire risk lessens.
---
9:30AM Friday – Update from City.
9AM Friday – More Pictures and Video coming in on Arbutus Ridge.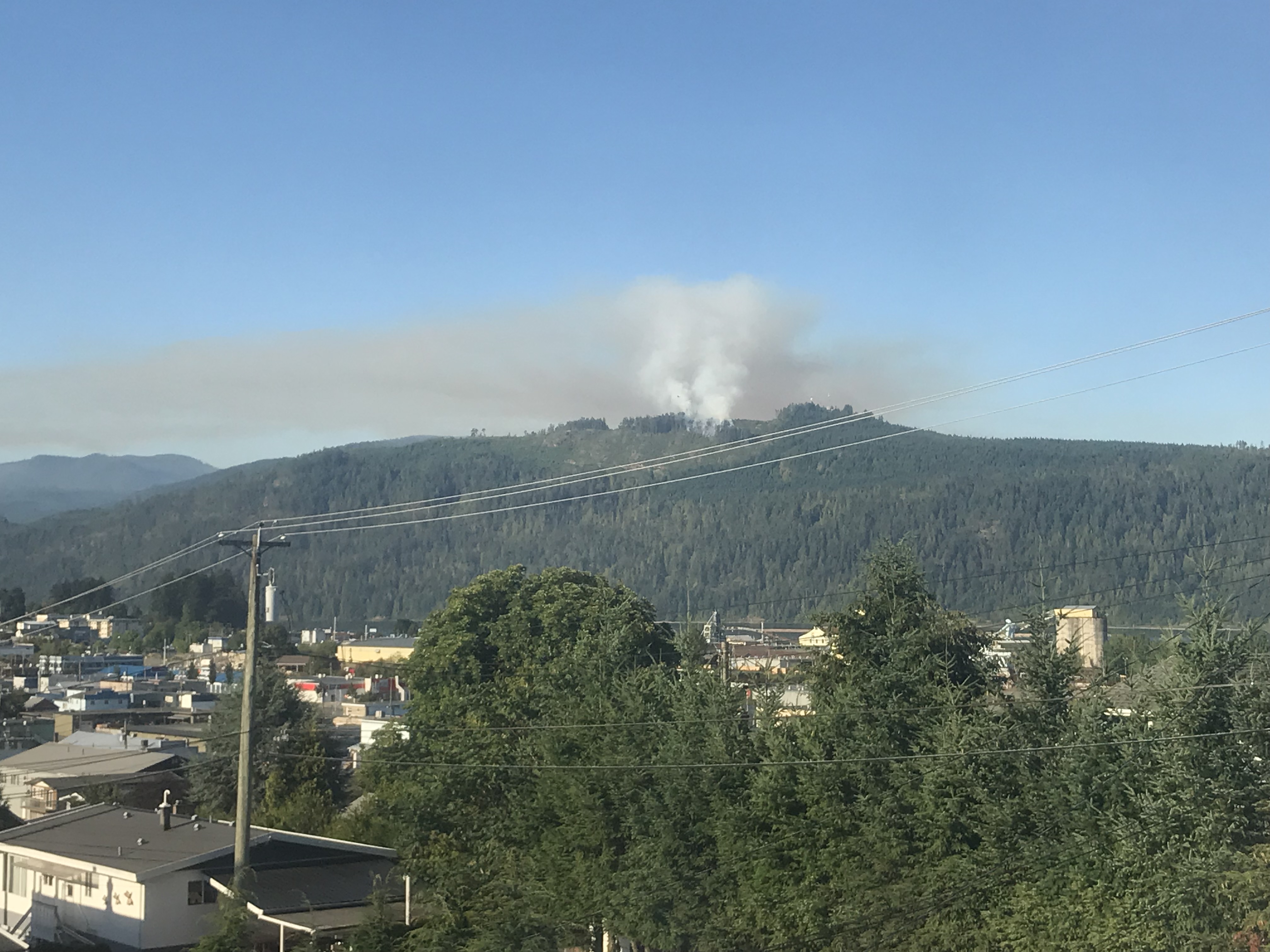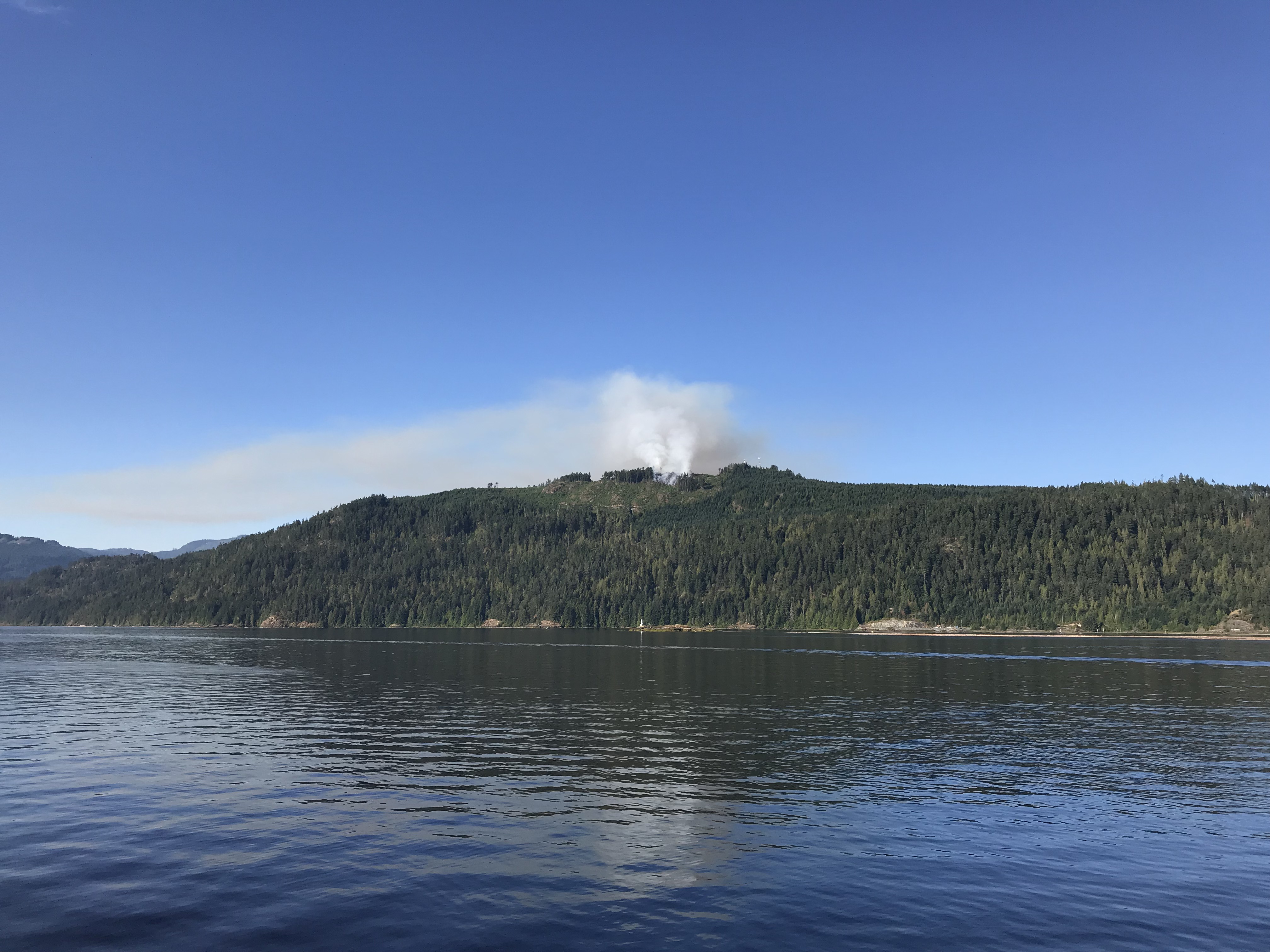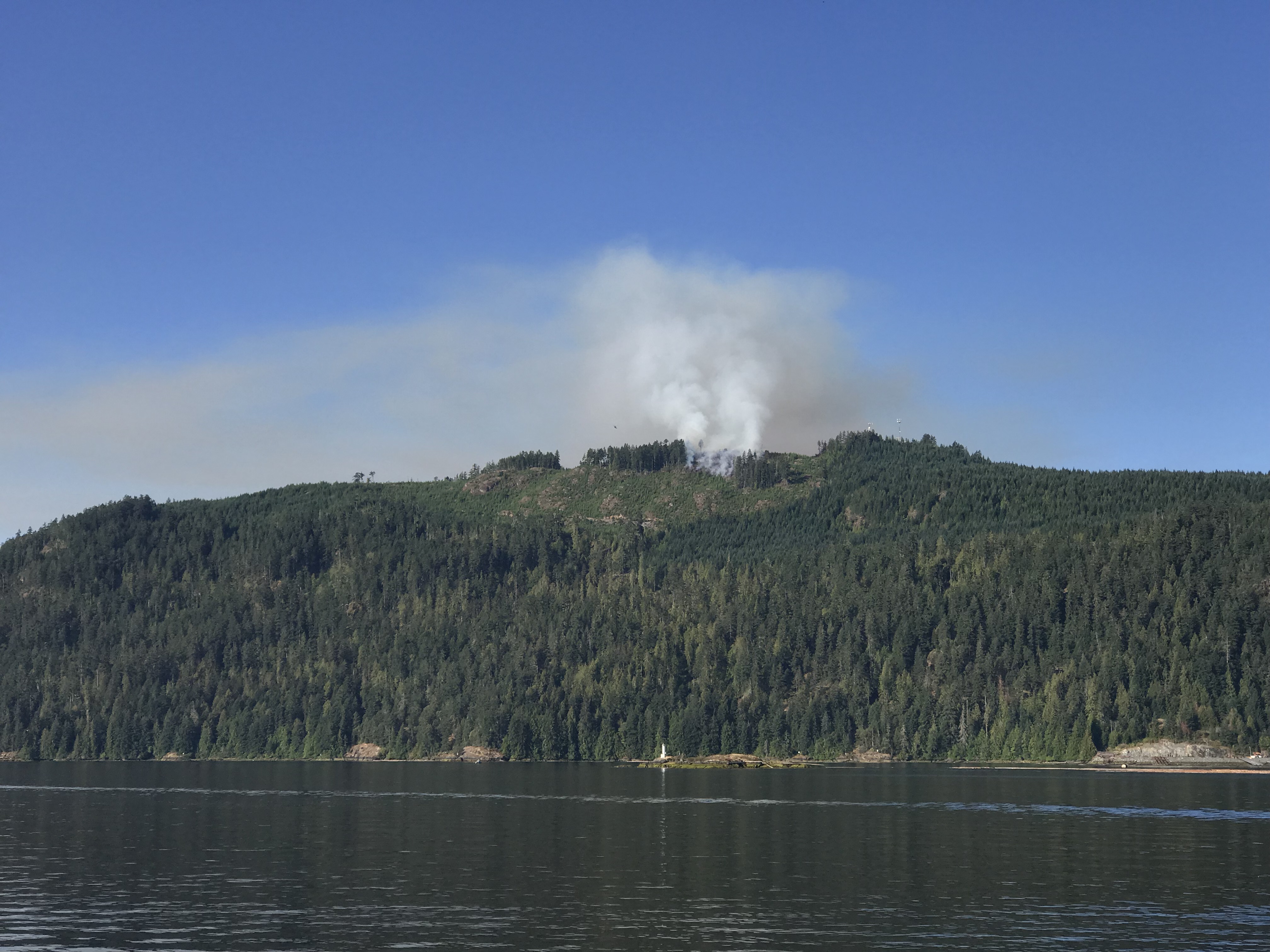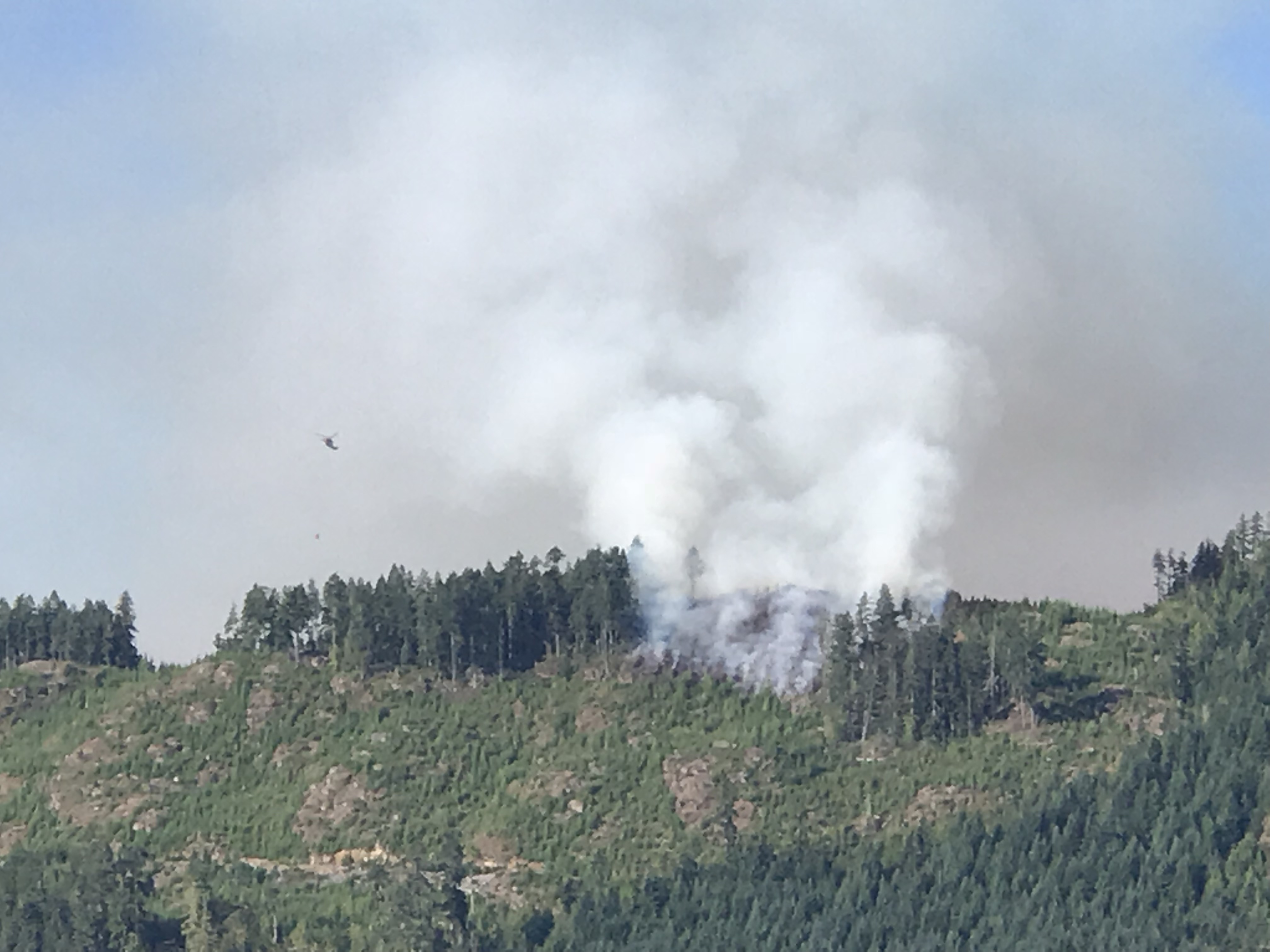 ---
8AM Friday – Flames still visible – BCWS request City PAFD assistance – Helicopters active on Fire.
Valley Volunteer crews from Sproat Lake, Beaver Creek and Cherry Creek are working on the Beaufort/Lacy Lake fire as well! All our Firefighters are very busy! Keep them in your thoughts today!
Thanks to Bill and Rob for providing updates.  Bill notes with this picture:
If there is any action on this fire, it's on the ground. I saw what may have been a reconnaissance helicopter, but nothing else yet. This is taken from my office moments ago. It doesn't show in the photo, but flames are visible.

Bill Brown – Facebook
And Rob Frolic noticed a helicopter with bucket heading to the fire:
And another image from Roman Frank on Twitter:
Here are a couple excellent pictures from about 4AM this morning from Russ Widdess.
---
7AM Friday – Progress possibly made. Smoke from other local fires visible.
There does not appear to be large flames at the Arbutus fire now.  No official word yet on what resources are attending. Observations from the public seem hopeful though.
If anyone has details on who is attending the fire that would be wonderful.  Barring any major news from this or other fires, the next update here will come once the UWash weather models are finished their mornings runs around 11AM so we can get a fully up to date sense of what might happen this afternoon and evening and tomorrow.
Stay safe out there!
Initial update 6AM Friday.
I thought we could get away with just one day without a new fire but I guess not.
I have to hit the road to work but the BCWS is aware of the fire and will hopefully be on it soon. 
I will post more in about one hour.  And later today I will have a full forecast for the weekend. We may get some strong winds this afternoon which makes me worried for this new fire.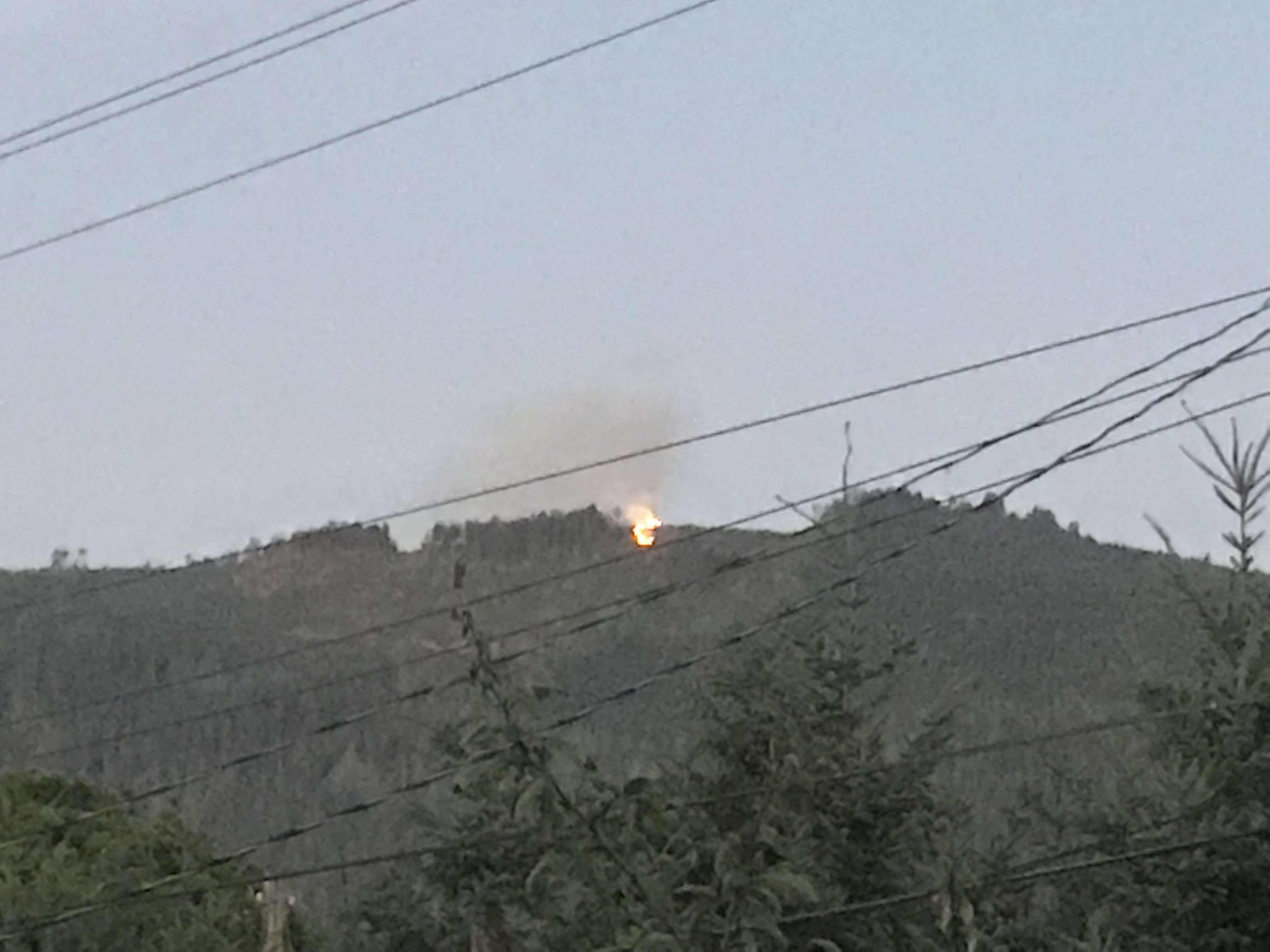 Lets hope our fire crews can knock it down fast. They must be tired.
Stay safe out there, and see you at the Five Acre Shaker!